On the verge of a first full Ireland cap, Robert Baloucoune has no hesitation in calling his journey to this point "weird".
The 23-year-old Ulster winger is hoping to get the nod from Andy Farrell for next month's games against Japan and the USA in the Aviva Stadium (3 and 10 July, live on RTÉ).
Avoiding the traditional underage-academy-province route, that he is in the running now says a lot about his determination to succeed.
An avid soccer fan, he played with Lisnaskea and Enniskillen Rangers until the age of 15, but then, at the behest of his friends, was persuaded to take up rugby.
That led to a journey that has included an Ulster Provincial Towns Cup final with Enniskillen RFC, a call-up to the national Sevens set-up, a training camp with Ireland in Portugal in 2020 and a comeback from a serious hamstring injury last summer.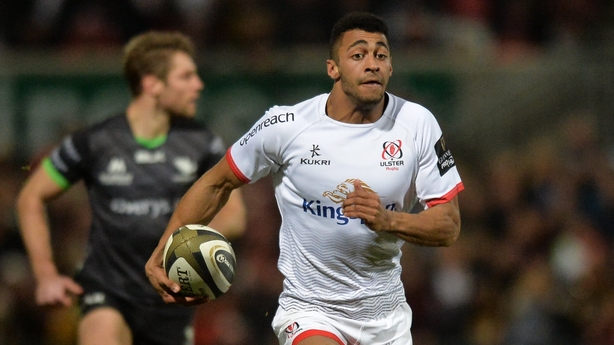 "I do look back on it and if you said it to me [that I'd be here] three or four years ago, I'd be shocked, I wouldn't have thought about it at all," said Baloucoune, who has scored 15 tries in 29 Ulster appearances.
"I'd say when I was with Enniskillen, I didn't think I was going to be involved with anything, to be honest.
"I was out of the Ulster system as well and that didn't really seem like a goal, so then when I got a call for Ulster, when I signed my first contract for the academy and Sevens, it was only then I believed I could make a living out of this and it could be a full-time job.
"It seems like long ago when I was playing for Enniskillen. I was just getting by and playing games, I didn't really see it as an option.
"[Getting capped] been an aim, what I've been training for and pushing for.
"It's the next step for me. When I started playing for Ulster it was my aim to try and represent Ireland.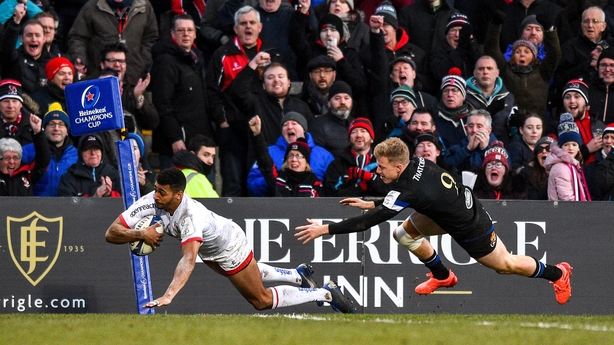 "For all those games with Ulster, putting in performances, it leads to this. I'm really looking forward to trying to get that first cap and if that happens now in this series, that would be great."
"I went into Sevens really before the academy or the usual routes. I was playing junior rugby for Enniskillen.
"Obviously other players were playing a different standard of rugby and it allowed me to catch up and put my skills to the test.
"If I'd been playing 15s I'd have been stuck on the wing and I wouldn't have got the same ball or had to make as many tackles or been involved in the game as much.
"Sevens really drove that and playing with the likes of lads that are still there and now going to the Olympics, Jordan Conroy, Terry Kennedy and then others that are here [in Ireland camp] now like Hugo Keenan and Shane Daly.
"It's been a weird journey."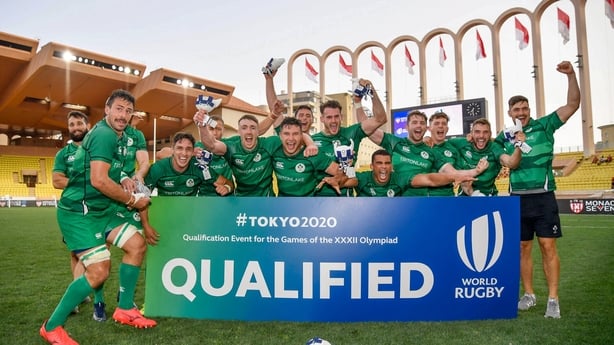 The Fermanagh man watched on with pride as his former team-mates secured Olympic qualification by winning the World Rugby repechage on Sunday.
"It was unbelievable. I had it on my phone in the car, sitting watching the games with my friends 'cos it was p******rain outside and we were all sat in, watching it all.
"It's an unbelievable achievement. To go to the Olympics is a dream for them. For all the work they've put in, especially beating France, who are a great team."
Baloucoune, whose father comes from Senegal, can play at full-back or on the wing and among his competitors for a squad shirt are Daly, Keenan and Jordan Larmour as well as Ulster team-mates Will Addison and Jacob Stockdale.
"I think what I back myself on is my defensive plays," said Baloucoune, who stands at 6' 3" and weighs in at over 14st, when asked what he can bring to the team.
"I feel I read the game well, I'll try to force [the opposition] behind the gainline and I think just bringing that intensity in defence and I suppose in attack as well, catching kicks, are all things I think I can bring to the game.
"I used to sit quite a lot on the wing and let the ball come to me, whereas I've spent a lot of time with the coaches on just trying to get involved, get off my wing and get my hands on the ball as much as I can."