As Leinster's domestic campaign reaches its conclusion, it may be an opportunity for some to look back.
But not for Scott Fardy who is about to sail off into the sunset of retirement.
The Australian second row's successful four-year spell at Leinster comes to an end after Friday's Guinness Pro14 Rainbow Cup match at home to Dragons but before that trip to the RDS, he has been looking to take all emotions in his stride.
"I'm probably pretty grateful. I've had a great career and really enjoyed it," he told RTÉ Sport.
"I've done a lot of things I probably thought I never would. I don't think I've looked back at it all. I'm just focused on playing the next game which has been great.
"I'm looking forward to Friday night with the lads and finishing the season in the right way."
However, the 36-year-old former Wallaby will at least have the opportunity to say goodbye with some spectators present, with up to 1,200 fans returning to the RDS as Covid-19 restrictions are relaxed on outdoor activities.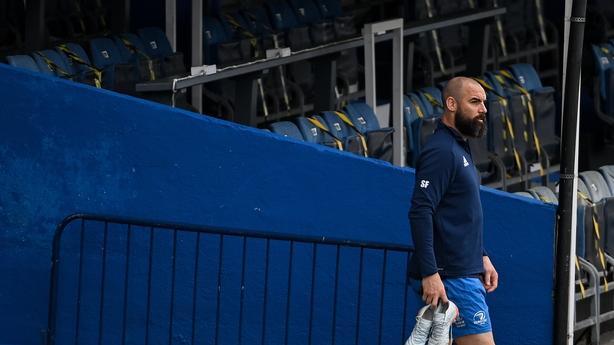 "It'll be great to see some people in the crowd - it'll only be a small crowd there - but also family," said Fardy.
"I think a lot of our families have been supporting us from afar as well. So I'll try and get my son there even though it's an 8.15pm kick-off. But he hasn't seen me play in almost two years, so I'm hoping to have my wife and one of my kids there."
He admitted that the past year in empty stadiums gave him an extra appreciation for the contribution of spectators.
"It's just been a weird one," he said, "To play a whole year without fans in the stadium, something about it... I saw the English guys talking about it after the Premiership, saying 'you probably didn't appreciate the fans' and I always appreciated the fans, loved having them in there, loved away fans as much as home fans really, so I think reflecting, you saw the importance of fans and atmosphere to sport.
"I look forward to hopefully never going through this kind of lockdown period again in sport. We need people in there supporting us and this week is the first step towards that and I look forward to having people in the stadium and having a real atmosphere. Sport without that is sterile."
In regards to his future, coaching is something he has "definitely considered" but suggested an openness to playing local club rugby in Australia if feasible.
Meanwhile, Fardy sympathised with Ireland prop Andrew Porter who has had to pull out of the British and Irish Lions tour to South Africa later this summer because of a toe injury sustained against Glasgow Warriors last Friday.
"I felt really bad for Ports. He's played so many games for us especially over the last 18 months and hasn't had that many injuries," he said.
"Playing on astro is always fraught with a bit of danger and those pitches aren't the greatest. So I really felt for him to miss out in that fashion."