The Heineken Champions Cup final will be an all-French affair after La Rochelle knocked European giants Leinster out of the competition at the weekend.
It was almost a tale of two halves in France on Sunday, although La Rochelle finished the first half strongly, having gifted Leinster territory, possession and scoring chances. Strangely enough it was the French side that initially couldn't deal with the summer sun. Dillyn Leyds handed two possessions to Leinster deep in his 22, while another one bounced into touch for a defensive lineout just five metres from his own goal line.
This piled the pressure on La Rochelle and resulted in a huge concession of penalties, along with a yellow card after just seven minutes. It's possible that it gave Leinster a false foothold in the game because once La Rochelle got back on their feet, they swung the momentum all too easily.
The first half was in favour of Leinster, yet La Rochelle turned them over in the 39th minute and had the last attacking platform of the first half. Leinster are notorious for striking a blow at this time of the game. It's common among teams that go on to win tournaments and cause big upsets, usually because of the disparity in mindset between the two teams on the field.
The dominant team will continue to play while the other is hanging on for half-time. La Rochelle stood up to Leinster, turned them over and went into the break trailing by just a point but with a strong grasp on the momentum of the game. It was a memorable moment on route to victory.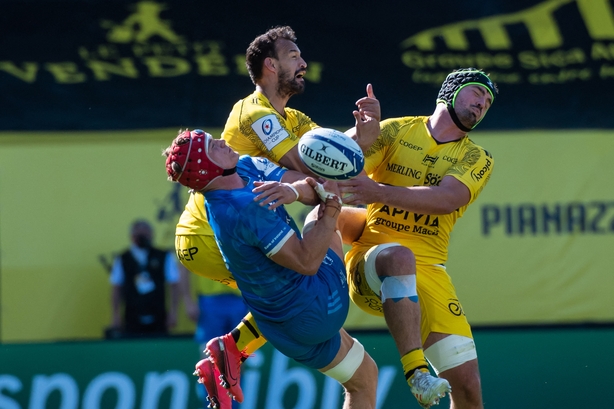 The manner in which La Rochelle went in to the second half is worrying for both Leinster and Irish rugby in general. They out muscled Leinster for large periods of the half and looked comfortable in their dismantling of the Leinster defence.
The Ronan O' Gara and Jono Gibbes-led French side created chances with slick, wide passing, mixed with close carries, powered by a fair share of Australian grunt through Will Skelton. La Rochelle turned the referee around too and really affected the Leinster breakdown, which landed Pierre Bourgarit the Man of the Match award for his efforts.
The most worrying thing about it is that Leinster are quite easily the most dominant Irish province. We've been talking them up because of their ability to balance a surplus of development while also winning trophies. They develop on the go and as a result feed into the other provinces' senior and academy teams. They are the strongest Irish hand which included a fully-capped starting team and a few more capped internationals on their bench. Yet, they were still no match for the power of La Rochelle.
In fairness, Leinster were down a couple of bodies, but they can't all play at the same time. Johnny Sexton would have made a difference when the game was in the balance, despite a positive showing from Ross Byrne, and a fit Caelan Doris is a huge loss to the side.
As a result of the weekend, the other Irish provinces can't use Leinster as their excuse for not being successful at the moment
The same question rears its head any time Leinster lose. What competition are they getting at home? Are the rest of the Pro14 teams challenging them enough? Or is the rugby world becoming separated by bigger squads and spending power in France?
La Rochelle isn't the most star-studded French squad out there, so some might argue that it's not fair on La Rochelle to compare them to other European powerhouses like Toulon at their peak. However, they have brought in a Kiwi half-back pairing, World Cup winner Victor Vito, man mountain Will Skelton, alongside a few French internationals.
On paper, you still wouldn't say they were more stacked than Leinster who have Tadhg Furlong, James Ryan, Robbie Henshaw and Garry Ringrose to name but a few. They are all world class operators. Unfortunately, they either under-performed or were outclassed this time around.
If you think about the game in simple terms, Leinster were gifted a dream start which they capitalised on, but they fell to the power of La Rochelle and made more uncharacteristic errors that have been creeping into their game all season. James Lowe was sin-binned, and their penalty count was beyond their standards. It isn't what we come to expect of Leinster.
Both Munster and Ulster would claim to be their nearest challengers. Not counting the last Munster victory, because it wasn't like for like, Munster still weren't able to topple Leinster domestically when it mattered most.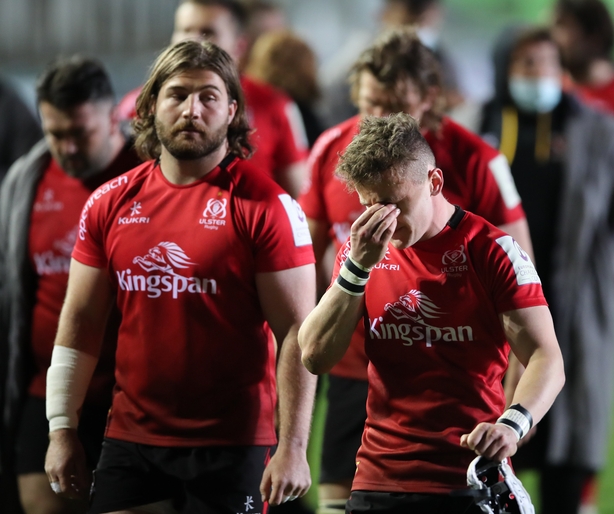 Ulster were livid because there was no play-off place for them to stake their claim in a possible Pro14 final, but at the end of the day they still finished runners-up to Leinster in the conference. Add to that, Ulster had a chance to win a European trophy to prove they were at least Ireland's second-best team, but they blew their chance against Leicester Tigers.
In a similar fashion to their game against Connacht, they started slowly, controlled the middle of the game, and then lost control again. If Ulster were worth challenging as Ireland's top team, they had to go on and win the second-tier European tournament.
As a result of the weekend, the other Irish provinces can't use Leinster as their excuse for not being successful at the moment. As it turns out, Leinster are off the pace in Europe now too, which means all of Irish rugby is weak when it comes to European dominance.
This isn't the story of a Munster man trying to shoot Leinster down for also failing to win the European Cup. It's more a story of an Irish rugby follower and supporter worrying about the highest standards of European rugby evading the Irish provinces.
On a different day, with one or two more key players available, Leinster could have come out of France with a very different result. However, this time it went against them and it will feel like an opportunity missed after the shocking start that La Rochelle made to the game. There were weaknesses there that they just didn't exploit.
No doubt, Leinster will return next year as one of the favourites to win the competition, particularly since they beat last year's champions on the way to their premature exit. Still, this feels like a loss for Irish rugby as much as it does for Leinster.
It will take a change in strategy, or something a bit more outside the box to challenge for the trophy next year because the Champions Cup is currently a battle of power and strength, a battle that Irish provinces weren't up to this time around.