Former Ireland international Alison Miller believes progress has been made but is hopeful for more ambition to close the gap to the top two in the Women's Six Nations.
Ireland sealed third place in this year's tournament after a comprehensive win over Italy in Saturday's third/fourth place play-off.
It came a week after Adam Griggs' side lost by 41 points on home soil to France, who along with 2021 champions England are far ahead of their Northern Hemisphere rivals.
In the context of the Six Nations becoming essentially two-tier between the top two and the rest, Miller told RTÉ's Sunday Sport that Irish improvements had been made.
"There is progress being made. I think unfortunately 2018 and 2019 were very low years for Irish women's rugby if anyone's being honest," she said.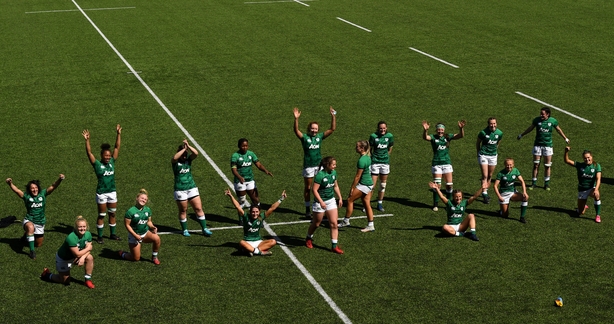 "I think there is progress being made, the team finished third but I think we have to be even more ambitious. Irish teams have finished third probably since in and around 2010 with a few seconds and firsts.
"They will be happy because they got third but they will be even more ambitious to keep driving on and try and close that gap to England and France.
"I'm a person who would always think that you have got to be mega ambitious, you should never be happy with where you are - unless you're World Cup winners.
"There were a lot of questions asked... that all comes with the increased exposure and maybe criticism of players' performances that maybe the girls wouldn't be used to unless they've played in standalone World Cup tournaments."
Along with the extra scrutiny of playing in a standalone portion of the calendar due to the impact of the pandemic, Miller added that the win over Italy was vital in building up to the Rugby World Cup qualification phase.
"It's a very much needed confidence boost for this Irish team going into the very important World Cup qualifiers which are scheduled for September," she said.
"It was quite a comprehensive loss to a really good France team but to bounce back and score tries against Italy would be a much needed boost for this Irish team."