After the high of their crushing victory over poor Wales in the Cardiff Arms Park on Saturday, the Irish players had to deal with yet more uncertainty in the days following with the news that France was among a number of countries being placed on the government's updated mandatory quarantine list.
This latest tweak in government policy obviously placed Ireland's pivotal Six Nations Pool B clash with France in Donnybrook in immediate jeopardy.
As of Tuesday afternoon, the fate of the fixture remains in the balance, as the Government seeks to finalise an alternative to hotel quarantine, after which the IRFU and French rugby authorities will still need to submit a logistical plan to Sport Ireland and the HSE for approval before the game can proceed.
It's yet more upheaval and disruption for the Ireland women's team to deal with, having gone six months without a game and seen their fixture calendar for 2021 already gutted due to the postponement of the World Cup.
For Ireland lock Nichola Fryday, it's not an issue worth fixating on and the team still need to prepare as if the match is coming down the tracks.
"We were obviously very happy to get that win against Wales. And then on Sunday, the uncertainty cropped up," Fryday said in her virtual press conference with reporters on Tuesday.
"Look, as a squad, it's something we've dealt with on numerous occasions over the last year. It's not something we can dwell on because if it goes ahead, we still have to be prepared to play.
"And if it doesn't, we'll have to deal with it. It was just to focus on ourselves and make sure we were in the right headspace to kick off training this week.
"Those external things - they're out of our control. We've just focused on what we can control which is our prep for this Saturday."
The Irish team have already endured a year when competitive action was thin on the ground. They didn't even face this weekend's opponents France in the 2020 Six Nations, with the tournament being suspended prior to their initially scheduled meeting in March and then being cancelled altogether before their re-fixed clash in November.
In this year's shortened Six Nations competition, Ireland were handed their bye-week in Round 1, meaning they had another week in mothballs before the off.
In that context, the performance against Wales was all the more impressive - although one could argue their opponents were thoroughly demoralised by their 53-0 loss in France.
"It was a long six months for us without a game," says Fryday.
"We knew we had put in really good training sessions in that time. And we knew that we were building nicely. We were just focusing on putting that on the pitch.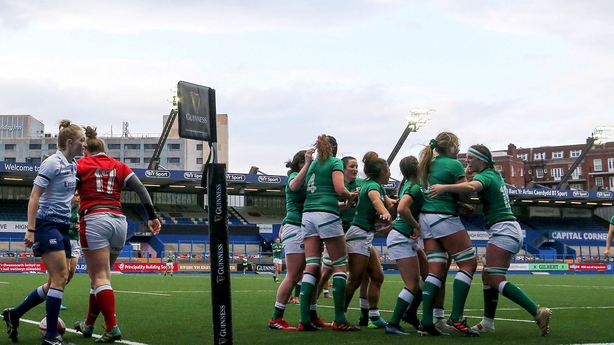 "It came together. There's still things we can improve on but we've shown that our hard work over the past six months has paid off and we're in a good place to push on now."
In recent years, there has much doom-laden talk - indeed, it is one of the chief concerns in women's rugby in the northern hemisphere - that England and France (one professional and the other semi-professional) had established a yawning gap between themselves and the rest in the Six Nations.
These fears reached an even greater pitch after Round 1 this month but the manner of Ireland's display in Cardiff has fostered a new optimism, leading some to suggest that Adam Griggs side could be capable of bridging the gap.
"We're under no illusions that it's going to be a tough test. But it's something that we're really excited for because we'll be able to push ourselves. It will really establish where we are at as a squad.
"They like to play fast and we like to play fast. If we can bring that intensity in defence, we can shut down the tempo that they may have. And if we can bring that tempo in attack, we can put their defence under pressure."
Notwithstanding the 43-0 scoreline, Fryday insists there is plenty of scope for improvement, referencing the period in the second half when the scoreboard stood still for a long stretch.
"I think we can work on our open play, we can work on our phase play. At times, we lost our way in the second half. We'll be looking to focus on that.
"We're a hugely competitive squad. Anyone could slot into that match-day 23. It's something that's come into the squad, that there's such competition for spots. It's been great because it pushes everyone.
"We knew that after Wales, there'd be another selection. So you want to make sure that you're performing your best because you know if you don't, there's someone else who can come in and do equally as good. It's great to have that competition within the squad.
"For us, it ultimately comes back to what we can do. We'll be focusing on our performance and improving on what we did last week."
Follow Ireland v France (2.15pm, Saturday) via our live blog on RTE.ie and the RTÉ News app or watch live on RTÉ2 or RTÉ Player, listen live on RTÉ Radio 1's Saturday Sport.