It's been an unusual and challenging year for Kathryn Dane with so little competitive rugby and the Ulster scrum-half is, like the rest of the Irish squad, buzzing for its imminent return.
The 24-year-old from Fermanagh has been otherwise occupied in her day-job as a physio, while also continuing a pursuit of a PhD, but the absence of regular games has been felt.
"Speaking from my own experience, it was quite challenging," Dane told reporters on Tuesday.
"I had been used to playing inter-pros with Ulster, club rugby with Old Belvedere and having that international rugby.
"It is a bit of a shock to the system when you're just in training the entire time. The coaches have been excellent at keeping the camps very focused and having set goals and outcomes to work on.
"When you're working full-time with Leinster during the week and trying to balance a PhD with it and then coming off the back of an exhausting weekend of camp, it can be tiring and it definitely challenged my motivation at times.
"We're so lucky we have amazing coaches and sport systems in place that keep us in the right place and keep us motivated."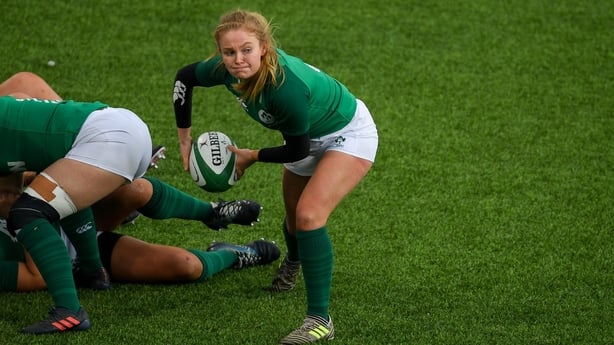 Inevitably, given the absence of matches and the frequent delays and cancellations, the training camps have had a remorseless quality. Maintaining motivation has been an issue for Ireland's women rugby players throughout much of 2020 (their last game came against Italy in October) and 2021.
However, they have become creative to liven things up, hosting a mini-Olympics - complete with events reminiscent of school sports' days like egg and spoon races but also more conventional fare like five-a-side football.
"As you can imagine, 20 weeks straight of training. It is very demanding. Even emotionally, I haven't been used to training for that long and not having a game to break it up. You do have to stay motivated to keep going and pushing on each weekend, knowing that you're not quite sure there will be a game.
"The mini-Olympics was class. We've had a few 5-a-side football tournaments and with my soccer background, I was able to unleash my skills a little bit which was quite nice.
"Especially being one of the smallest in the team, it's nice that I don't get over-powered by the big girls in the 5-a-side football. Little things like that really do keep the morale high and helps the team bond."
While the last few years have often been difficult for the Ireland women XV's team, there is a striking bullishness about them - also displayed by Aoife McDermott - ahead of the 2021 campaign.
The disappointing performance in the home World Cup of 2017 set in chain a difficult couple of years for the team, their fortunes bottoming out in the 2019 Six Nations, when they suffered defeats away to Italy and Wales and only avoided the wooden spoon thanks to a drab victory over Scotland.
However, 2020, for all its interruptions, saw something of an uptick, with Ireland winning all their Six Nations home games - against Wales, Scotland and Italy.
The players are hugely enthused by the professionalism of their training camps and the work of their coaches Adam Griggs and Kieran Hallett.
"The strength and conditioning part of our game has definitely doubled if not tripled since last year's Six Nations, just because we've had so much time to work on it," says Dane.
"Especially, when it comes to building up our robustness and physical resilience, as a smaller nation compared to the others, we've definitely worked on that and it'll stand to us.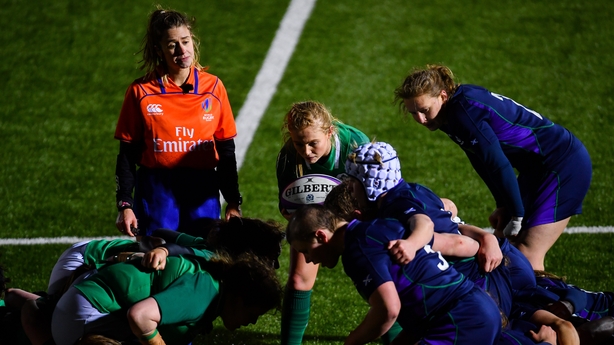 "In terms of our attack and defence, we've had Adam Griggs as our attack coach and Kieran Hallett as our defence coach really working on training us an intensity that's above match intensity so that we can perform at that really high tempo and be comfortable in the uncomfortable.
"In that sense, our skill execution, our decision-making, our intuition and instincts around the field should really have improved. We won't really know for certain until we get on the pitch on Saturday but hopefully that will show."
The results of the opening weekend have naturally sparked eye-rolls that we're in for another depressing demonstration of the two-tier nature of the Women's Six Nations in 2021.
Wales and Scotland were both victims of unmerciful slaughter at the hands of France and England respectively - the Scots faring slightly better as they lost by a mere 42 points.
Dane isn't troubling herself with these long-term considerations and is hopeful that reforms down the line could help the Celtic Nations close the gap.
"I'm not too concerned. I'm just worried about ourselves and what we can do. The IRFU have been great in giving us the resources that we need to perform at the minute.
"The picture might change in a couple of years and we could be operating at that professional or semi-professional level like England and France. For the time being, we're doing great with what we've got. It's not too much of a concern for us right now."
As regards the prospect of professionalism arriving some way down the track, it's one Dane would leap at.
"My first instinct would be yes. I'm even getting butterflies in my tummy thinking about it. From a young age, rugby has meant everything to me. It probably isn't as big a decision as it would be for other girls. Other people in more senior jobs, with families or other commitments, it's probably a more difficult decision. But for me, as a physiotherapist and PhD student, I can definitely see myself making it work.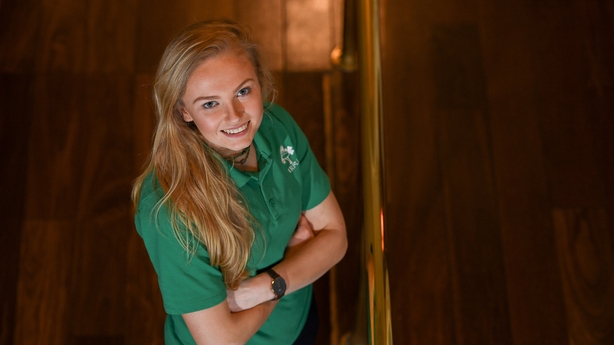 The recent men's Six Nations saw an unprecedented spate of yellow and red cards as reforms aimed at preventing head-high challenges began to take hold. Ireland hadn't had a sending off in the Five/Six Nations since Willie Duggan was banished against Wales in 1977 - "the ref asked me would I mind leaving the field. I said 'sure not at all, I was b******d anyway" - and then proceeded to get two in the one competition in 2021.
This leads us on to the interesting matter of Dane's own area of PhD study. The scrum-half works within Leinster's physio department and is currently embarking on doctorate thesis concerning the issue of safety in the women's game, an area in which, as her lit review demonstrates, there has been scant research.
"I'm a physiotherapist so I'm looking at safety and optimal tackle outcomes in women's rugby. Just to help key stakeholders like referees, coaches and policy-makers to make the game safer for female rugby players.
"I'm in the early days of it so I'm doing a bit of a literature review at the moment. We're finding there is very little out there in the women's game.
"A lot of it is being informed in research in the men's game.
"And obviously we're not just small men so it'd be really good to start profiling the women's game itself and see if there's any differences or comparisons."
Listen to the RTÉ Rugby podcast on Apple Podcasts, Soundcloud, Spotify or wherever you get your podcasts.
Follow Wales v Ireland (5pm, Saturday) via our live blog on RTE.ie and the RTÉ News app or watch live on RTÉ2 or RTÉ Player, listen live on RTÉ Radio 1's Saturday Sport. Watch Italy v England on RTÉ Player.
Follow Exeter v Leinster (5.30pm, Saturday) via our live blog on RTE.ie and the RTÉ News app or listen live on RTÉ Radio 1's Saturday Sport.