The opening weekend of the 2021 Women's Six Nations prompted more expressions of alarm about the two-tier nature of the tournament but Ireland second row Aoife McDermott isn't buying into the fatalistic narrative.
Ireland, along with Italy, sat out the opening weekend of the condensed 2021 edition. The squashed international calendar has seen the competition split into two groups of three, Adam Griggs' side being dropped into Pool B with France and Wales. 
Last weekend saw dispiritingly one-sided victories for the northern hemisphere's professional/ semi-professional sides. 
Defending champions England pulverised Scotland 52-10 in Doncaster while, in Ireland's pool, France's win over Wales was even more emphatic. 
The French ran in eight tries in a 53-0 victory over their hapless opponents in Vannes. Ireland begin their tilt at the truncated championship with a game away to Wales in Cardiff on Saturday.
Was it deflating to witness the extent of the gap between England and France and their respective opponents? Not a bit of it. 
"It definitely motivates me," McDermott told reporters at today's virtual press conference. 
"I really believe we've improved a huge amount over the past 12 months, albeit having not played a game. I think we're in one of the best places we've ever been in. I think we can go out and cause upsets in this tournament. We're going out to win every game. I'm really excited for it. I'm up for the challenge of it. We all are."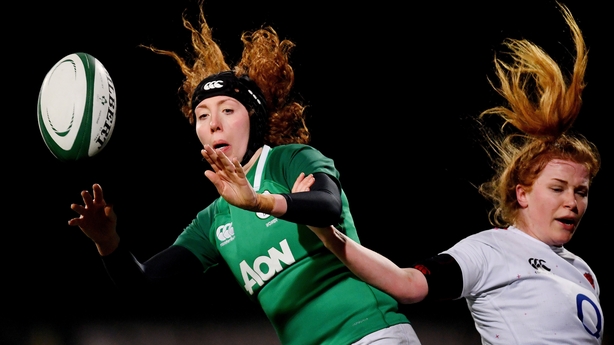 McDermott's absence from competitive action has been even longer than most of her teammates, having missed the last October's Six Nations win against Italy (a late stab at properly concluding the 2020 campaign) with a fractured foot. 
While the delays and cancellations have been frustrating - with the women's tournament moved from its traditional time running in lock-step with the men's event - there is nonetheless huge enthusiasm about returning to action, as well as a notable satisfaction with the extent of their preparation and current conditioning.
"We're so excited. There's a great buzz around camp. We're itching to go. I've been waiting 13 months - most of the girls have been waiting six - for this. Preparations have gone so well and we're so excited to get out there and put on the jersey.
"We've certainly had a lot more time than ever together. I think you'll see some new stuff from us come Saturday night, our set-piece is in a very strong place, our defence is very fluid and everybody knows their role incredibly well.
"We've never had so much clarity and understanding of what's expected of each individual and what our role is heading on the pitch."
While Wales' mauling in France can't have handed them much psychological benefit, do they perhaps derive an advantage this weekend from at least having a recent competitive game under their belt?
McDermott doesn't regard it as a significant factor and indeed, points out as a counter that Ireland will have had the chance to watch Wales and assess their strengths (which perhaps given the scoreline weren't too conspicuous) and probe their weaknesses. 
"It's not a major concern. Training has gone well, we've been incredibly sharp, we're the fittest, strongest and fastest we've ever been.
"Wales have had a game but we now have an opportunity to see what they're about, analyse them and maybe stop some of their threats. Whereas they haven't seen us playing in a while so hopefully we'll be able to catch them on the hop now on Saturday.
"Most teams are in the same position. They only have one game up on us. It's not a huge amount that's going to have a massive impact. We should be able to overcome that."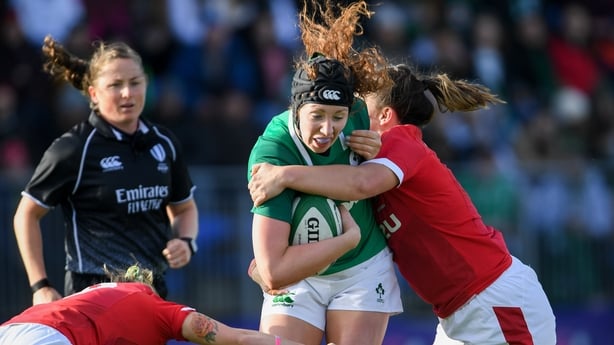 Ireland have usually had the better of Wales in the Six Nations, winning 31-12 in last year's encounter in Donnybrook but they suffered defeat in their last visit to Cardiff, a result which brought down the curtain on a poor 2019 campaign. 
Wales' showing last week didn't suggest they're in rude health but McDermott suspects they may be more finely tuned this weekend. 
"France came out firing and played a very exciting, attacking form of rugby that we'll have to be very switched on and alert to from a defensive point of view in two weeks time.
"In ways, you could tell Wales hadn't played a game in so long. They probably weren't as sharp and as tuned in as France. I don't expect the same scenario this weekend.
"They have a game under their belt. They're going to come, probably a bit battered and a bit bruised and hungry to right the wrongs of last weekend when they face us on Saturday. We're under no illusions that they'll be coming looking for a victory so we have work to do."
Listen to the RTÉ Rugby podcast on Apple Podcasts, Soundcloud, Spotify or wherever you get your podcasts.
Follow Wales v Ireland (5pm, Saturday) via our live blog on RTE.ie and the RTÉ News app or watch live on RTÉ2 or RTÉ Player, listen live on RTÉ Radio 1's Saturday Sport.
Follow Exeter v Leinster (5.30pm, Saturday) via our live blog on RTE.ie and the RTÉ News app or listen live on RTÉ Radio 1's Saturday Sport.