Munster could have really rattled Toulouse on Saturday if they had the power of the Thomond roar behind them, says Rory Best.
The Top 14 side returned to France with a deserved 40-33 victory in the last 16 of the Heineken Champions Cup, having turned on the style in the second half particularly.
Toulouse oozed class in Limerick but Munster had their moments, certainly improving on their tame defeat to Leinster in the Pro14 final.
Speaking to RTÉ's Game On, former Ireland and Ulster captain Best conceded that the best team won but wondered how the visitors would have reacted if the famous ground was rammed with supporters.
"I think Munster badly missed the crowd mainly because of the pressure you can put on," he said.
"We know what French teams can be like Munster were never able to get under their skin enough. When you get under the French skin, and the crowd really exaggerate it, that's when they can go to pieces a little bit. Munster could never get to that point.
"There were a couple of moments they needed to go their way that the crowd could [have helped] to go their way.
"I think all in all when you contrast the week before [against Leinster] there were more positives than negatives but it was a statement of where Toulouse are that you're kind of looking at a Munster loss in Europe at home and taking a few positives from it.
"A few years ago that just wouldn't have been heard of."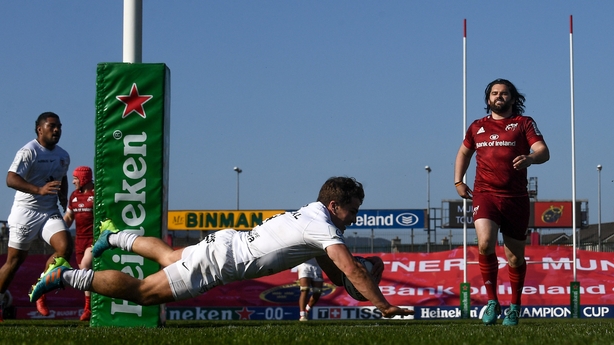 Best was frustrated by Munster's lack of self-belief at times, adding: "They seem to be struggling a little bit. The big difference between the Leinster game and the Toulouse game was you felt that Munster at least went and played.
"They almost looked like they were playing against Leinster to limit the damage at times, which isn't Munster. They started the game like that against Toulouse. They got a really good turnover early on, and they slowed it down and box-kicked it.
"You wanted them to go and play. In the second 20 minutes of the first half they did and they looked really strong."
It was a much better weekend for Ulster in the Challenge Cup. They annihilated Harlequins 57-21 to make the quarters, and Best likened the display to Munster performances of old.
'The beauty of the Irish system is the young players coming through' - Rory Best has a word of warning for Munster. From @GameOn2FM #RTERugby #RTESport pic.twitter.com/YOT5B4qtus

— RTÉ Rugby (@RTErugby) April 5, 2021
"They figured out what their strengths were early on and kept going to it and didn't get bored with going to it.
"It was very Munster-like. You knew what was coming, you didn't how to stop and there was really nothing you could do about it.
"People might call it boring. I loved it. There was an air of inevitability about it every time the ball went into the corner. Ulster showed more of a ruthless edge than I've seen from them in a while."