Saturday's 14-point victory over England was the most impressive performance of Andy Farrell's Ireland reign thus far, according to RTÉ Rugby analyst Shane Byrne.
Both teams came into the clash in Dublin off the back of indifferent campaigns. Ireland had lost games against Wales and France that they might have won, before showing character to earn a late victory against Scotland.
England meanwhile were coming off the back of a moral boosting victory against then Grand Slam-chasing France, having being well beaten by Wales and suffering a first defeat to the Scots at Twickenham since 1983.
The visitors started brightly in Dublin, but first-half tries from Keith Earls and Jack Conan turned the contest on its head. The reliable right boot of out-half Johnny Sexton, who kicked 22 points of their eventual total, helped to give Ireland an unassailable lead despite finishing the game with 13 men.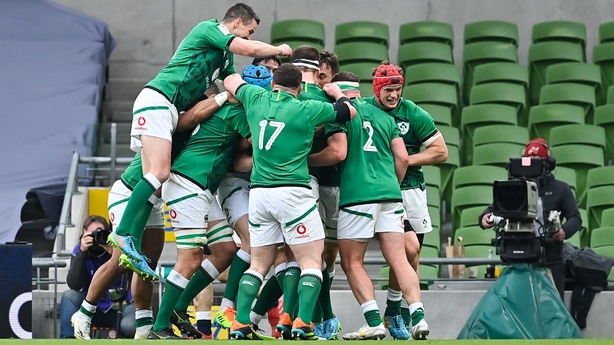 Three wins on the spin leave supporters in a far more positive frame of mind than they were after the first two fixtures.
Those defeats against the Welsh and Les Bleus gave Ireland their worst ever start to a Six Nations campaign, and marked the first time they'd lost their opening two games since 1998, when it was still the Five Nations.
"We're going to have to go back to the years where we were getting silverware for a performance like that," suggested Byrne on RTÉ's Sunday Sport.
"I'm happy to say - and I think a lot of people are the same - that I did not see that coming from that side. There was nothing in the form book; there was nothing in the games leading into this to show that anything like that was going to happen from both sides.
"Something that has been seriously lacking from Ireland during the Andy Farrell era has been intensity, but that was exactly what it was.
"Ok, in the first 15 minutes it was a bit of a struggle. England looked like they were doing it again, like they were getting on top of us physically. But once we got into the game it was so impressive right across the team - so many guys put their hand up."
On a good day for Ireland in Dublin, Byrne singled out Robbie Henshaw for special praise.
"The way he started the game just seemed to get infectious and everyone else seemed to get onboard. Once they got the momentum going it was a joy to watch."

Ireland are currently second in the table, but they're likely to finish either third or fourth depending on how things go in Paris on Friday between title-chasing France and Scotland.
Ireland have not finished outside the top three since 2013 when a poor campaign spelled the end of Declan Kidney's time in charge of the national side.
And while this campaign started with a stumble, Niamh Briggs, speaking on the same programme, said there were signs that the team was beginning to find their rhythm in the triumphs over Italy and Scotland.
"Against Italy they attacked the ball at pace, which we hadn't seen in the first two games," she pointed out.
"They stayed square, and that brings intensity. Albeit, I know we're talking about Italy but I thought in a huge amount of patches against Scotland they did the same. They came around the corner, they tried to move the point of contact, and that then built momentum.
"I thought yesterday they just went up another level. Rugby is obviously very physical and a very attritional game, but it's also a very emotional game. To be able to get to the pitch of the emotion and to balance that can often be a really difficult thing.
"I thought Ireland did that unbelievably well yesterday and they got their just rewards."
Tempering the expectation that a run of wins like that might give to Ireland fans, Briggs acknowledged that England had gone from championship winners last season to their joint worst performance in the history of the competition this time around.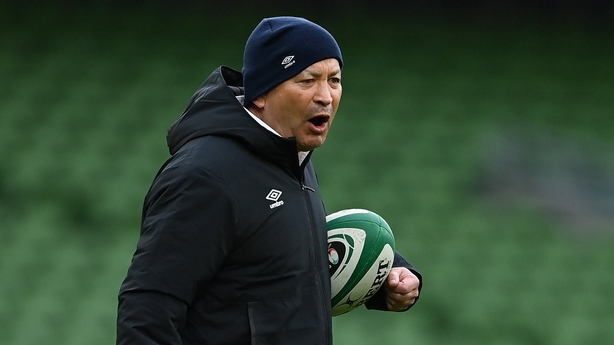 Over two years out from the World Cup the pressure is on Eddie Jones to start finding both performances and results.
"Over this tournament as a whole they've been very average," Briggs said.
"When you look at the Premiership week in and week out, they don't seem to be selecting players on form - they're sticking with the tried and tested.
"The type of rugby, bar that French game which was the anomaly, is absolutely lethargic, very robotic (and) incredibly boring to watch but it had been effective.
"It was a bit like Ireland going into 2019. You get to a point where you've been really successful but you can't evolve the game plan to go with the way the game has gone.
"England are very stale and their players looked short of match fitness - obviously the Saracens players being the big ones on that.
"Ollie Lawrence I think touched the ball twice. Anthony Watson touched the ball once. These are x-factor players but it doesn't seem to be in their (England's) game plan to be able to give them the ball as often as they should get it.
"You're always going to put yourself under pressure when you can't get results. Since that World Cup semi-final, where they hit their pitch against New Zealand, we haven't seen them play that type of game since - that's where the issue lies.
"The fact that there seems to be players ripping up the European Cup and the Premiership over there and don't get selected - Sam Simmonds, Marcus Smith, Danny Care - that's probably where the issue is.
"It almost seems to be harder to get out of the England team than to get into it."
Returning to Ireland, Byrne concluded that the challenge for Farrell and his players is to build on the performance yesterday at the Aviva.
"It can't just be a 'so long to CJ (Stander)' and that's why emotions were high. It has to be a development of the game.
"The game has to change. That's been the biggest critique that we've had that particularly in attack it's been blunt. We haven't been doing anything to challenge defences.
"We just have to make sure that the steps that have been made now continue and that the next time we get together that's how we play."
Highlights on the weekend's action on Against the Head on RTÉ2 and RTÉ Player, 8pm Monday.