Hugo Keenan says Ireland were feeling pressure to perform as they rounded off their Guinness Six Nations campaign with their best performance since 2018.
The 32-18 victory over the defending champions and World Cup finalists was the statement win that Andy Farrell's squad felt they needed to deliver following defeats to Wales and France, and an unconvincing success over Scotland.
England looked to be coming good at precisely the wrong time for home side. Wounded by two losses – to the Scots and the Welsh - a resurgent Red Rose were too good for France in a high-quality clash and aimed to finish on a high in Dublin.
Eddie Jones insisted that Ireland's vastly improved showing didn't surprise him, but it certainly caught his charges off guard.
"Well, we knew we were doing a lot of things right in this campaign, and were just those small fractions and small percentages off," Keenan, who has started 11 games in a row since making his debut last autumn, told RTÉ Sport.
---
'It was the performance we wanted' - Sexton
---
"We were always training well, and we had chatted about bringing those performances into games.
"It was our last game for a while. Lads will go off to the Lions and we'll have a summer tour, hopefully, so next time that group will be back is in November.
"So we did put a bit of pressure on ourselves to deliver, so it is a bit more enjoyable and satisfying, I'd like to think, that we did do that today."
While the team had failed to click in the opening games, there had been a number of notable individual performances.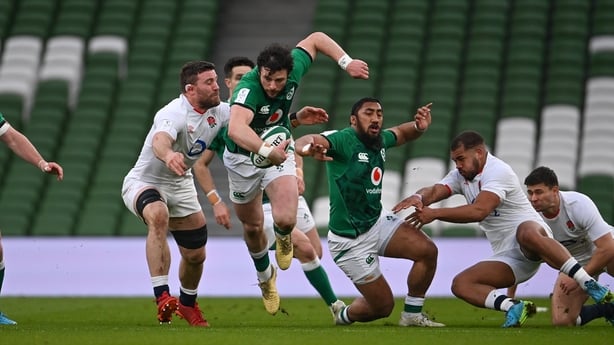 Yesterday's man of the match, Robbie Henshaw, was – alongside Tadhg Beirne – Ireland's best player over the last seven weeks.
"He's an animal, isn't he?" said Keenan of the 27-year-old Leinster centre, now firmly set for another Lions selection.
"He was unbelievable today and he's been a stand-out performer for the whole campaign, in fairness to him. He keeps stepping up, game after game, and delivering.
"He can do it all, to be honest. He's got that whole, rounded game.
"He's a great footballer and he's a big powerful guy, and he brings that to his defence as well. Ah, it's been unbelievable to see him go so well.
"He's someone that's I've gotten a lot closer to since making my debut, so it was enjoyable seeing him play so well."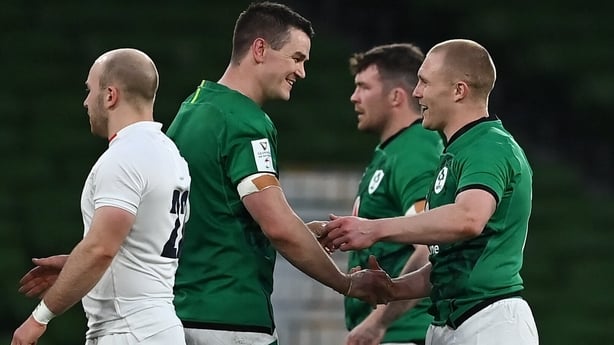 What format the Lions tour takes is unknown at the moment. A trip to South Africa appears to be unlikely.
What's certain is that after yesterday's victory over a team that they had failed to stress in any facet over the last four meetings, is that Ireland's squad have given Warren Gatland serious food for thought.
"One hundred per cent," said Farrell about how many of his side have now pushed themselves into the frame.
"Warren came in during the week and watched our training session and it was a great tonic for us.
"There was a lot of good individual performances in this competition and some lads have just carried that on, and there'll be one or two more headaches for Warren after that game."
The game marked CJ Stander's last appearance in green and his 18 runs yesterday, all hard yards, along with seven tackles, mean he could finish off his international career with a series against the country of his birth.
"It's been an emotional week," said Farrell.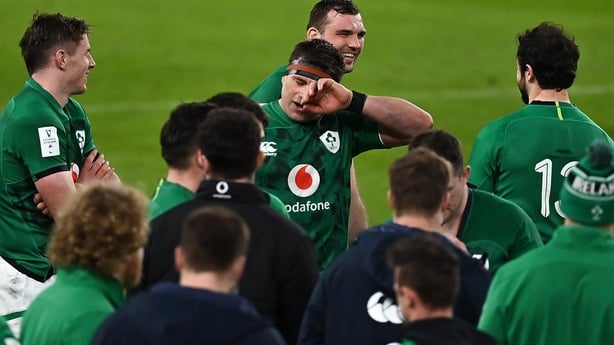 "We've tried to keep a lid on it the best we can and you can say whether we should have brought that out or not but it as fitting that CJ was able to say goodbye to his friends and tell them the truth from where's he's coming from, the reasons why.
"How they've responded to him and how he's kept a smile on his face has been totally fitting to what this team is about and we're delighted that we're able to put a performance together for CJ to send him off in the right way.
"We're delighted that we managed to control the emotion in the right way and he's emotional in the changing rooms, but happy emotional.
"I cannot say enough about him as a bloke. He's the most kind-hearted, most genuine bloke that you'll ever meet."
The players and backroom staff stayed out on the pitch soaking up the last few minutes with Stander as a team-mate and the celebrations continued in the dressing room, revealed Keenan.
"Yeah, it's a good buzz," said the 24-year-old.
"We put in a good performance that we were putting pressure on ourselves to deliver on, all week and all campaign. Everyone's happy. It was a great way to send CJ off.
"So we sang a song and it was enjoyable in there."
The song?
"Simply The Best!"
Watch highlights on Against the Head on RTÉ2 and RTÉ Player, 8pm Monday.