Andy Farrell said he always believed that Ireland were capable of producing a performance of the calibre that saw them dispatch England.
A mixed bag of a campaign, in which Ireland lost to Wales and France before finishing with wins over Italy, Scotland and Eddie Jones' side, had threatened to fizzle out before today's dominant 32-18 win at the Aviva.
"To win your last game in a tournament is always pleasing because it's a long time between drinks until the next one," Farrell told RTÉ Sport after Ireland avoided a fifth straight loss to their rivals.
"To finish off with a W [win] is pleasing but I'm just delighted for the lads because they have come in for a bit of stick.
"Obviously, we've lost a couple of games and lost one here to France which we never like to lose but the lads have always believed in how they're progressing and they've always thought there was a performance like that in them.
"The performance wasn't perfect, there's still a lot to work on but I'm so pleased for them that they got over the line with a nice victory against a very good side."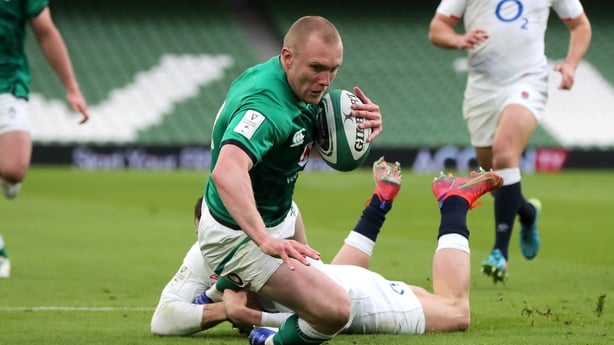 Ireland's stale attack, in particular, had been in the firing line over the course of the Guinness Six Nations.
However, today's display was filled with purpose and clarity and yielded two superb tries, the first a strike play from midfield, which was finished off by Keith Earls, and a multi-phase passage that resulted in Jack Conan's score.
"[Earls' try] was something we had worked on all week," said Farrell.
"You're always trying to find a way to, first of all, win the lineout cleanly and second, how you can manipulate a defence on the back of that
"We worked all week and practiced it hard with the timing of Keith Earls and thankfully it paid off.
"I thought Jack Conan's skill was outstanding to deliver the ball because Tom Curry had read it very well. That was very pleasing.
"I actually thought that if Keith Earls' second [disallowed] try would have stuck, that would have been pretty special in itself as well.
"The lads really believe that they're making good strides. Attack is always the one that gets put under the most pressure in a Test match and it's always the last piece of the jigsaw.
"I'm delighted for them that they went through so many phases, held onto the ball, and broke them down.
"I thought Jack Conan was very good today. He hasn't started an international for quite some time and he was just himself, so it was pretty fitting that he finished that try off."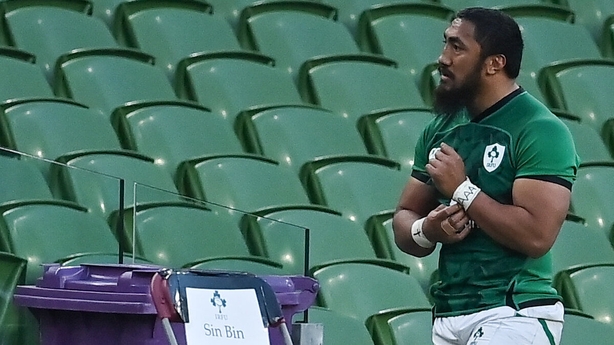 The one black mark on the performance was Bundee Aki's red card for a high challenge on Billy Vunipola, but that had no bearing on the outcome.
"It's a tough one," said Farrell when asked for his appraisal.
"I have just been speaking with the referee there and he was asking me my thoughts and obviously I'll analyse it properly to have a good look at it.
"It's tough, isn't it? The rules are the rules but at the same time it's very tough.
"I'll have a look at it again but Billy seemed to be on a downward motion, certainly with his head, but if there's any contact obviously they are very stringent with that at this moment in time."
"He's gutted, Bundee. He's good mates with Billy as well and he's in the tunnel there making sure they're still friends, which they definitely are."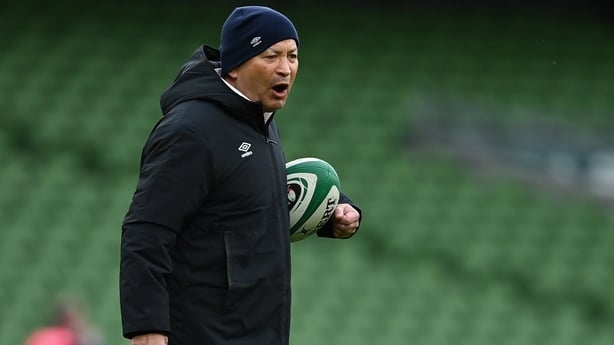 England boss Jones saw his side, the defending champions, slip to a third defeat of the campaign, which sees them finish in fifth place.
"It's a difficult one," he said.
"We thought we started well, the first 20 minutes was nip and tuck and then a couple of things went well, and we allowed that to get to us and dropped our intensity off and Ireland took advantage of that and established a winning lead.
"Tribute to my team that they are honest, they work hard, they came back in the game, fought hard when things were difficult. Congratulations to Ireland, they were too good for us on the day.
"We felt [Ireland] would come pretty hard at us through the front door. Given the previous results between the teams we knew they wanted to settle the physical stakes particularly.
"We thought they'd come hard, we thought they'd kick a lot, which they did and they did it very well."
Watch highlights on Against the Head on RTÉ2 and RTÉ Player, 8pm Monday.