Andy Farrell hailed his side's mental toughness as Ireland fought back after conceding two late tries to nick a 27-24 win against Scotland.
The visitors appeared to be in total control of proceedings when Johnny Sexton kicked a fourth penalty in the 55th minute to establish a 24-10 lead.
However, Huw Jones took advantage of some poor tackling to get the hosts back in the running with a try in the 60th minute, while Hamish Watson twisted his way over the line for a converted score that levelled the game with just six minutes to play.
Replacement Ryan Baird and Iain Henderson combined to win a late penalty, which captain Sexton struck between the posts from the sideline to secure Ireland's second win of the campaign.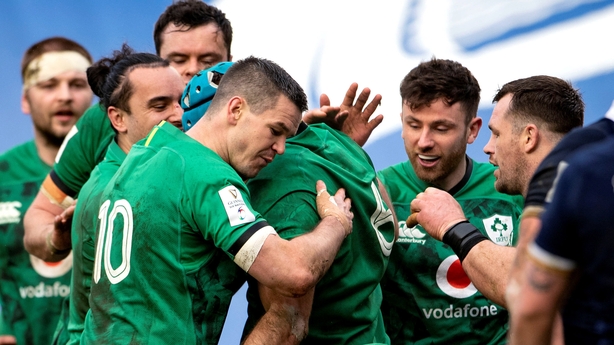 "I suppose my overriding feeling is one of pride really," Farrell, whose side now lie in second place in the table but are out of the title race, said.
"When things were not quite going our way at the business end of the game, in those last ten minutes where it could have been won and lost, to come back from a few slip-ups, error-wise etc, from the restart of the line-out and defensively letting things slip a little bit [was good].
"To then defend your own line like we did, time and time again, just knocking them back and getting up off the floor, obviously for them to get the seven points to draw the game, it would take down a few teams mentally.
---
Ryan becomes injury concern ahead of England finale
---
"They stayed together, they re-focussed, they re-grouped, great kick-off, good chase, good pressure and they stayed next-moment-focussed. We got the turnover and big players, that's what they do, they take responsibility.
"Johnny put over the points.
"We'll pick it apart like we always do and there's plenty to work on as always.
"[Overall feeling?] One of pride. Why?

"Everyone knows Scotland are a good side, nobody finds it easy coming here and getting away with a victory, never mind with the form that they've been in.
"I've been here plenty of times and struggled with most teams that we've been up here with.
"So really proud to get the win, really proud of how we started the game and how we ended the game but obviously there's things to work on."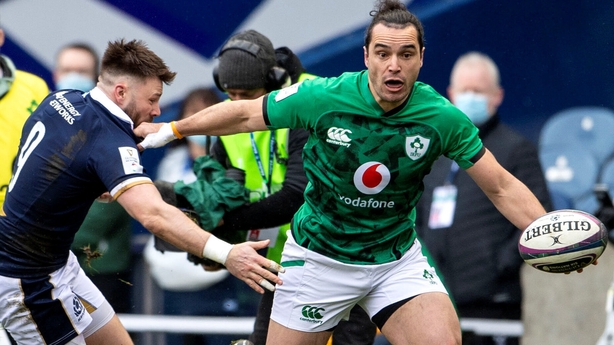 Leinster wing James Lowe, having been singled out for defensive errors against Wales, was again found wanting for Jones' score.
"We'll sit down with James and some others as well to keep educating regarding what international football is all about," he said of the New Zealander, who has won six caps since making his Ireland debut last autumn.
"There are guys that are in there that are very young as far as their experience is concerned but to come up here and experience a win at Murrayfield is something they can be proud of when they're looking back.
"As far as progressing James's game, I suppose we'll help him as we'll help everyone else as well."