The rescheduled Women's Six Nations Championship is coming at a good time for Ireland, according to head coach Adam Griggs.
While vaccines are our main hope of escaping fully from the clutches of Covid-19, forward planning is still problematic. On Tuesday it was announced that the 2021 World Cup in New Zealand would be pushed back a year. That postponement throws into doubt as to when exactly Ireland will play Spain in a RWC qualifier semi-final or indeed what format the qualifiers will now take.
What we do know is that the rescheduled Six Nations will take place in April. 
The championship will see a condensed format, comprising two pools of three teams, with each team playing one home and one away fixture.
Once the pool round matches are complete, teams will face off against the opposing ranked team from the other pool in the play-offs matches, with first place in Pool A taking on the top-ranked side in Pool B and so on for the second and third spots.
Ireland have been placed in Group B alongside France and Wales and will kick off their tournament on the weekend of the 10 April away to the Welsh.
The following weekend, 17-18 April, the Irish will host France at home.
For Adam Griggs and his coaching team, there are competitive games to look forward to amid a period of much uncertainty since his side last played against Italy (Six Nations) last October.
"I don't think it (World Cup postponement) was something we were expecting and so it was pretty deflating for all the players," he told RTÉ Sport. 
"We were hopeful that things would carry on especially with how well New Zealand had dealt with the current situation. At the same time it's understandable but it is disappointing for us a group, even though we were not guaranteed qualification. There are still a few hurdles for us to jump."
The Irish coach is now unclear as to what might transpire with regard to qualifying for what is now New Zealand 2022.
"The qualifiers have changed circumstances in the last year due to Covid and so now we are waiting for conformation from World Rugby," he added.
"There was talk before Covid of playing Spain, Scotland and Italy in a round-robin format. They then reduced that to a semi-final and final. With the tournament postponed, we've got to see what format they will actually use."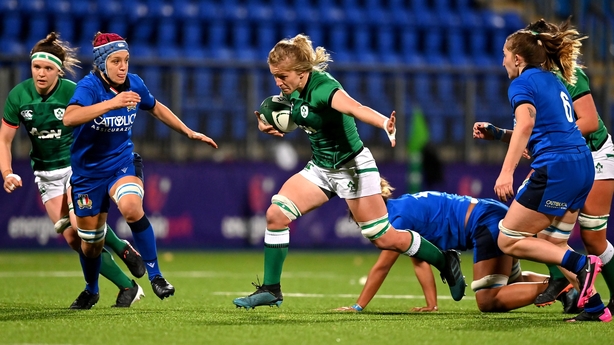 With it being over four months since Ireland last played, Griggs' squad have been making use of the High Performance Unit in Blanchardstown as they strive to stay in shape.
The women's game in Ireland is still not professional, but the national ream have been afforded elite status during the pandemic. And while they can't prepare in strict bubbles like their male counterparts, Griggs did compliment all involved in keeping the virus at bay.
"We are tested weekly through the IRFU and since we have been tested we have not had any cases in our group. While we are not technically in a bubble everyone in our group is taking it seriously, are looking after themselves and keeping a strict social distance. I can only commend the players and management for keeping Covid at bay." 
And now competitive rugby looms again and the New Zealand-born coach can't wait.
"We are really excited to get that going after 18 training camps and only one test match against Italy. We're looking forward to getting stuck in. While all the training is good, there is nothing quite like playing the game. From a learning point of view, there is only so much you can take away from training. 
"The Six Nations is now the real motivation for us. It will set us up nicely for when those World Cup qualifiers come around. Our group have shown the more we play together the better we get. If we keep positive and put a silver lining on it, the Six Nations will come at a good time for us." 
Follow Munster v Connacht (7.35pm, Friday) and Ulster v Leinster (7.35pm, Saturday) via our live blogs on RTE.ie and the RTÉ News app or listen live on RTÉ Radio 1 Extra and RTÉ Radio 1.
Follow Scotland v Ireland (kick-off 3pm, Sunday 14 March) via our live blog on RTE.ie and the RTÉ News app or listen live on RTÉ Radio 1's Sunday Sport. Highlights on Against the Head on RTÉ2 and RTÉ Player. 
Listen to the RTÉ Rugby podcast on Apple Podcasts, Soundcloud, Spotify or wherever you get your podcasts.