Jack Regan, son of Offaly hurling legend Daithi, will make his Super Rugby Aotearoa debut on Friday after being named to start for the Highlanders against Crusaders.
After a two-year stint with Ulster Rugby, the 23-year-old second row joined the Dunedin Sharks club, who participate in the third tier of New Zealand competition, in March 2020.
Subsequently, the high quality of Regan's performances earned him a call-up for regional side Otago with whom he featured in last year's Mitre-10. 
And his meteoric rise in Southern Hemisphere rugby took a further upward curve last October when he was drafted in as an injury-cover player on a four-month contract for Super Rugby side Highlanders, who, like the Sharks, operate out of the south-east Southern Island city of Dunedin.
Commenting on the latest development on his son's career, 1994 All-Ireland hurling medalist Daithi said: "Jack was told the tremendous news over the weekend that he will be in the starting 15 for the Highlanders in their first game of this year's Super Rugby against the Crusaders on Friday, in Dunedin.
🚨 TEAM ANNOUNCEMENT 🚨

Your Highlanders have been named for Sky Super Rugby Aotearoa opener vs Crusaders on Friday Night! Kick off 7.05pm 💥

Click here for more: https://t.co/5MhKrW4RlB

🔗 https://t.co/Hl5vmm2uRt#itsabeautifulthing #HIGvCRU pic.twitter.com/Sq2pg1mXxe

— Speight's Highlanders (@Highlanders) February 23, 2021
"In two of the Highlanders' pre-season warm-up games, Jack played against the Crusaders and the Hurricanes and he obviously did well enough in both of those to earn his starting place for the Super Rugby game.
"It's a fabulous opportunity for Jack and he will be up against two current All Black second rows in Scott Barrett, whose brothers Beauden and Jordie are all also All Blacks, and Sam Whitlock.
"Of course, it's a massive test for Jack being up against two such quality players, but he told me that's he's really looking forward to it and that he can't wait to get out on the pitch against the Crusaders.
"It's a big help to him that he works so hard on his game and is so determined to improve in his all-round play, and that he's a very humble and honest player who has no time for flamboyance of any sort.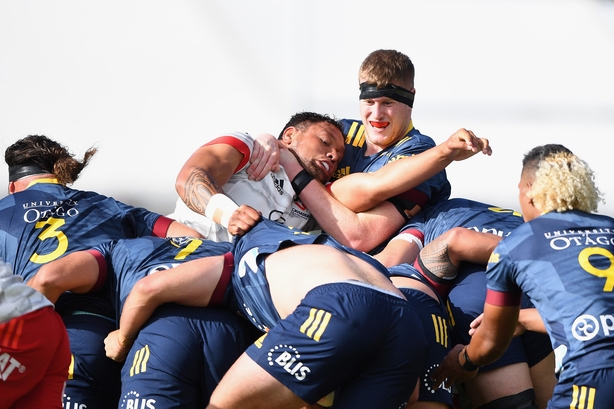 "As well, it's a big plus that Jack loves the New Zealand style of rugby, that he's settled in very well in Dunedin and that he feels very privileged to have gotten this opportunity," added Regan on his son, who didn't start to play the oval-ball game until he was 13, having previously exclusively focused on hurling with the Birr club, for the previous four years.
Incidentally, Daithi Regan, who himself played rugby with Birr, CYMS Terenure in Dublin and Ballinasloe, feels that the 6ft 6ins, 17 stone forward owes a considerable degree of gratitude to Ulster Rugby for their assistance in helping him recover from a very serious back injury.
"Jack's injury was so bad that one time when I was driving him to Belfast, he had to get out of the passenger seat and go and lie down on the back seat to ease the pain, after we had travelled only seven miles from Birr to Kilbeggan," he explained.
"In fact, Jack deliberately covered up the injury from Ulster for a long time, but when he eventually told them about the injury, (former Ireland second row) Willie Anderson and other people in the set-up could not have been more helpful in having his problem seen to and having an operation organised for him as quickly as possible."