Ulster head coach Dan McFarland refuses to believe that Leinster are more vulnerable after their 26-match winning run came to an end.
The three-in-a-row Guinness Pro14 champions lost at home to Connacht 35-24 at the weekend and on Friday face an Ulster side who are 10 points ahead in Conference B, albeit with two games more played.
Leo Cullen's side also have a mounting injury list, with doubts over captain Johnny Sexton and Scott Penny among others.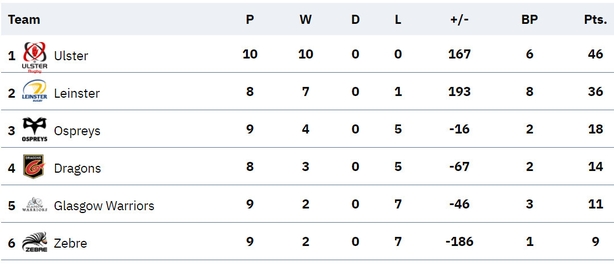 "It was always going to be a massive game whether we won or lost of whether they won or lost," said McFarland, whose side have won both of their derbies in the last two weeks.
"They are going to be very disappointed. Does that motivate them more? I don't know. 
"I don't live in their camp but whenever I hear things that come from there, they talk about their process and focus on their performance and I genuinely believe that's why they've been as good as they have been for this length of time.
"And if that is the focus, I suppose there'll be a little bit of proof in the pudding of how they go out this week but I suspect when they win, which they usually do, and they don't play very well, they are pretty hard on themselves.
"So when they've lost and they haven't played as well, they'll be hard on themselves again.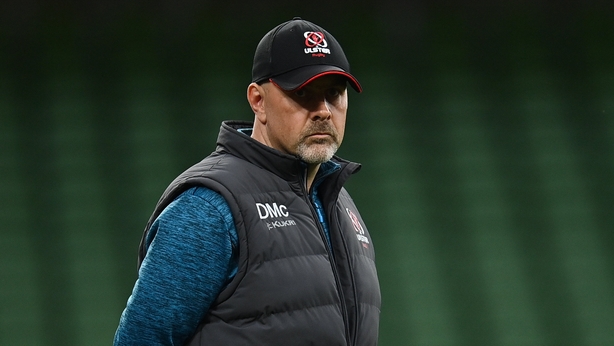 "In terms of how that affects us, they had real injury problems last week, we all know that. They had some Covid problems to deal with and they had some inexperienced guys in there." 
Asked if Leinster might be more vulnerable, he said: "That's not how I see it. They've a lot of quality players.
"They lost a game of rugby, the biggest surprise is it's one out of 26. If I said a team that has lost one out of 27 games was vulnerable? I don't think so.
"This is a massive challenge for us and we recognise it as such." 
The revamped format sees only the winners of each conference progress to the final and after this game Ulster will have five rounds left.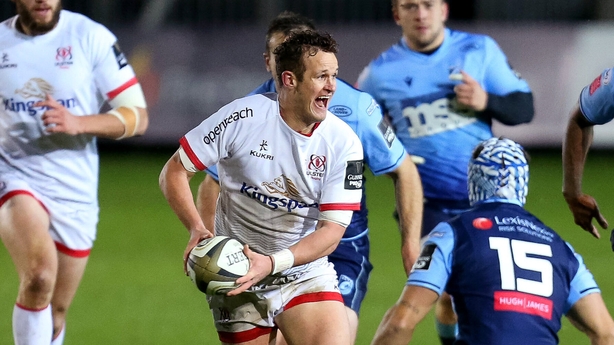 Out-half Billy Burns, who won three Ireland caps during the Autumn Nations Cup, is not shying away from its importance. 
"An interpro is not just another league match, there is always an added energy to the week and the game," said the 26-year-old. 
"Leinster have proven to be the top province over the four provinces for a while now so the opportunity to go to their place and to try to beat them at any time is an exciting one.
"This will have a pretty big bearing on the standings and with the new format it becomes more important. 
"I know they have a couple of games in hand, but we've got a bit of a gap and we want to build on that so it's all about going down there and getting four points and pushing our claims on that final spot.
"There is still plenty of rugby to be played after this weekend but it will put the side that wins on the front foot." 
Follow Leinster v Ulster (7.35pm Friday) and Connacht v Munster (7.35pm Saturday) via our live blogs on RTÉ.ie/sport and the RTÉ News app or listen to live commentary on RTÉ Radio 1 Extra and RTÉ Radio 1.