"I thought we were generally awful," said the former Ireland head coach. 
Eddie O'Sullivan isn't one to gloss it up.
"We didn't know what we were doing with the ball.
"It was a poor performance all round and if England had really held on to the ball and played well in attack it could have been an even longer day for us." 
If you missed the game and just caught some of Ireland's post-match interviews you might have been forgiven for thinking that the team in green had actually won the game. 
"Some of the boys became men tonight," said the current boss, praise usually reserved for a real achievement, not for getting tackled all day long. 
Captain James Ryan burst out of the blocks when talking to the virtual press conference.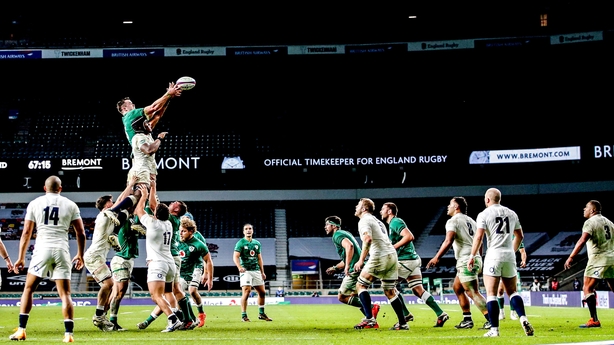 Possibly under strict instructions get make sure the message gets out, he responded to the straightforward question about where the game got away by first answering a question that wasn't asked, what were the positives? 
"The positive thing was we put them under real pressure at times, I thought," offered the lock forward, proving that if the team weren't on the same page on the field, they certainly were off it. 
Truth is, if England were under pressure, they wore it easy.
Eddie Jones' men swamped the defensive line and Ireland's assault never really threatened to breach it.
They did, of course, avoid a shutout when Jacob Stockdale ran in late on.
But everyone knows there are two games within a game.
The first game, in this case, is the one where England score two tries in the first half and then Owen Farrell kicks two penalties to ensure Ireland need three scores.
That's the real game over, the result done and dusted.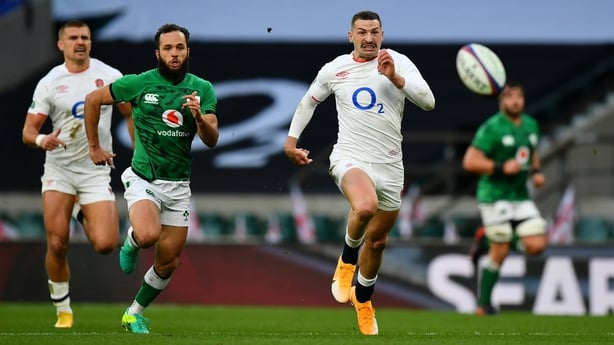 The second game is the one where the winning team takes their foot off the gas and let in a consolation try or two.
"We've won the second half," said Chris Farrell on message. 
"As far as that second-half performance (is concerned), coming away with more points than they had and territory and possession, we can be proud of that," said Andy Farrell.
Technically they are right but that's an appraisal of a scoreline, which puts some sort of positive spin on defeat without telling the story. 
Ireland, as it happens, also won the second half of the game last February, and the first 29 minutes of the hammering before the World Cup - it means nothing. 
"We've got a bit more to go there," was Eddie Jones summation and just because Eddie says it doesn't mean it's not necessarily true.
The Six Nations champions are great at what they do and they looked as if they could move up a couple of gears if they had to.
Ireland 'enjoyed' 61% possession and 63% of the territory but couldn't make anything of it.
Was Ireland's game plan flawed from the outset? #ENGvIRE #AutumnNationsCup pic.twitter.com/EjFjQlZ0N6

— RTÉ Rugby (@RTErugby) November 21, 2020
"We're expending so much energy in the middle of the field and getting no return on it," said Jamie Heaslip in the RTÉ studios afterwards. 
Yes, Ireland were under intense pressure from the powerful English pack but that doesn't explain all the unforced errors.
Aimless kicking and ill-discipline, which visibly irked the boss when the camera cut to him, were all too common.
"Looking back on those things, those unenforced errors are the things they (England) don't do," said Iain Henderson.
"Good teams make other teams do them. A really good team will make another good team look like they have got poor skills. Today England made fewer unenforced errors than we did." 
Andy Farrell had targetted some sort of progression as a goal of the match, and most of the pundit world agreed that while victory was not a necessity, some signs of resistance were. 
"They said they had to improve on their performance, I don't think they did that," said Heaslip bluntly.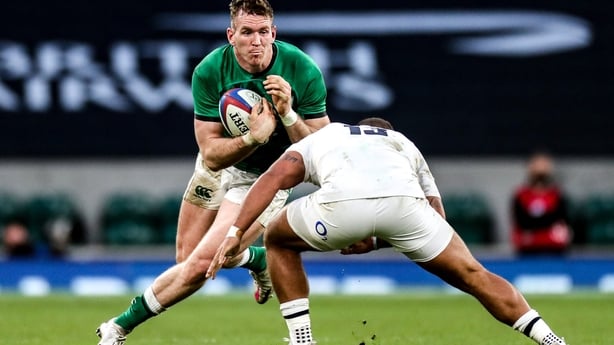 Asked just what it was like to play against an English wall that racked up 238 tackles to Ireland's 72, Chris Farrell said: "The one thing I felt out there is that at the breakdown they were phenomenal.
"Every time I carried, I felt it was an absolute battle getting the ball back. I know the rules have made it tough, that you can't have too many movements on the ground now.
"It's always going to be tough in the game now, but they took advantage of that massively. They are so good at contesting attacking breakdowns.
"As we carry, they get in over the ball so quickly. That was what I was most impressed with against them."
But that's what England do. And Ireland and Andy Farrell know that well. 
Of course, the Ireland players and management know their post-game game well: accentuate the positives, talk up the opposition, leave the gory autopsy for inside the bubble. 
"They are not going to be bouncing into the [Monday review] session," said Heaslip.
O'Sullivan went further, as he might: "The question here in the review is the players asking the coaches, 'can you give us a game plan that might work here?' 
"They are sending guys out with a game plan that is tailor-made for England's defence. 
"There was nothing there today to say we were on the verge of tearing England down.
"Take [the try and Keith Earls break] out if it and it was nothing but head-on frontal assault regardless of casualties.
"If they were in charge of an army it would be off the charts in terms of causalities.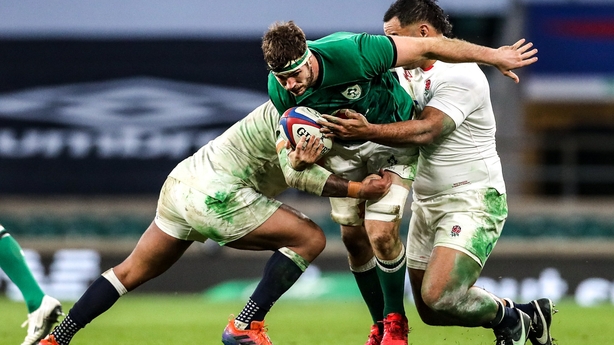 "England were gobbling this up all day: set the line, double tackle, stand up, set the line, double tackle. 
"There wasn't one scintilla of evidence that we knew how to break that English defence down.
"We knew that was coming."
Ireland will beat Georgia next week and then face a play-off the following week. But Andy Farrell's task is now to figure out a way around what England offer, which is unlikely to change much before the next Six Nations. 
Running into the same brick wall and expecting a different result won't cut it.