Garry Ringrose says Leinster's Heineken Champions Cup games in December are the earliest realistic targets for his return to play.
The centre suffered a broken jaw in Ireland's Six Nations victory over Italy last month in Dublin after taking an accidental knee to the face in an attempt to block an Edoardo Padovani kick.
At the time he was given a minimum of four weeks out, which would have brought him up the last week of November.
But Ringrose, speaking at an Aviva event, said that he'll probably face a little bit more time on the sidelines.
"The first couple of days post-op were the toughest," he admitted.
"I'm getting into a bit of a routine on the old liquid diet at the moment. The swelling has gone down thankfully, which is a big bonus because it means I can leave the house for a coffee or a walk.
"In terms of targets going back, I know there's those European games with Leinster. So that's certainly a target.
"I'm meeting the surgeon and reviewing with him each week to make sure things are progressing. I know Leinster won't let me go out unless they feel I'll be able to play.
"But that (the Champions Cup) is certainly a target of mine."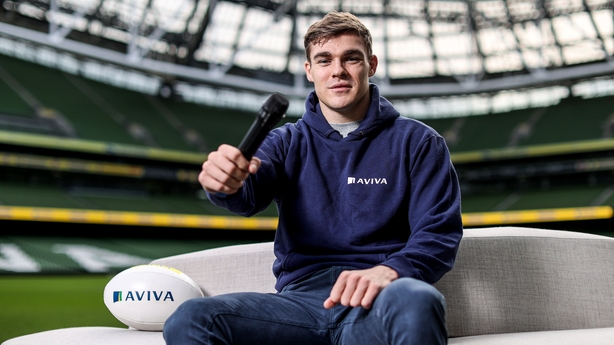 It's not the worst break he could have suffered, and Ringrose admits he's lucky to have a short time away, citing the more long-term injuries suffered by Jordan Larmour (dislocated shoulder) and Max Deegan (knee).
He's found the biggest challenge to be holding on to weight, with his diet currently being a liquid one.
"The swelling is gone, I can talk fine," he points out.
"Get back the movement now and I hopefully I can kick on with training-wise from next week onwards, in terms of intensity. I'm definitely through the worst of it at this stage.
"I've a couple of screws and a plate to lock it up, so it's hopefully stronger than it was before," he jokes.
"At the moment I'm on a liquid diet, so there's a lot of smoothies, a lot of protein shakes. My mum and girlfriend are helping out on that front, in terms of blended meals and soups.
"I've the guidance of Ruth (Wood-Martin, IRFU Performance Nutritionist) and Daniel (Davey Leinster Performance Nutritionist) who are both sending me on a tonne of information on how to keep the calorie count as high as possible.
"Someone like me would lose weight pretty quickly, so it's trying to fight that battle."
Leinster's domestic form has been exceptional by any standard, of late. They've won the the last three Pro14 titles in-a-row, and last lost in the competition in April 2019.
It hasn't translated into European success however, with a final defeat last year repeated at the last-eight round this year - both against Saracens.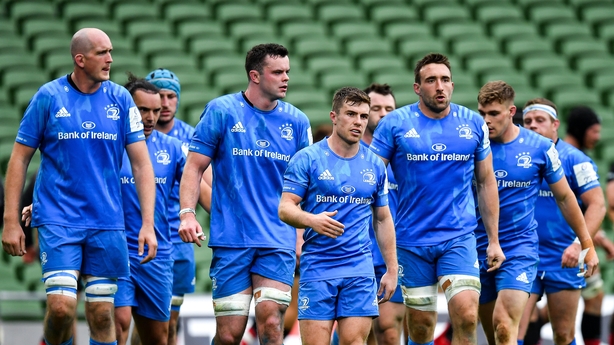 In the once off format of the Champions Cup for the 2020/21 running, owing to the upheaval caused by the Covid-19 pandemic, Leinster will play Montpellier and Northampton Saints home away in the group stage.
Despite those recent knockout defeats, Ringrose says the gap between Leinster and the best the Gallagher Premiership has to offer is minute.
"Being able to debrief and reflect on that game (Saracens defeat in September) the margins are so fine," he says.
"If we were to go back to the start of that 80 minutes - be a bit more disciplined and a bit more clinical in one or two circumstances it gives us the opportunity to turn that result.
"The game falls on fine margins that we didn't get right against Saracens. It was a learning curve dealing with how they approached the game, tactically (speaking).
"And we could have been... maybe not necessarily better prepared, but just dealt with it better out there at the moment and been a bit more adaptive.
"Even just the experience of losing and how tough it is, that's a contributing factor to taking it to the next level because who's to say we're not in the same position again next year?

"Hopefully we'll have learned from that previous experience, as well as learning from all the experience of every week we play along the way, to be better than we were."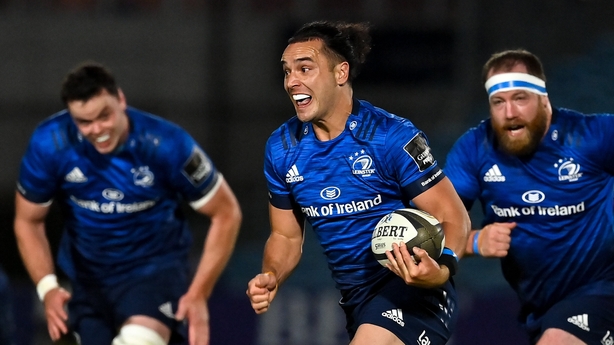 Before all that, Ireland begin their Autumn Nations Cup campaign on Friday night against Wales, in a game you can see live on RTÉ2 (7.0pm).
Andy Farrell named his team earlier today, and it includes Jame Lowe for the first time since he qualified to play for Ireland through the older residency rule.
Ringrose's injury keeps him out of the game, but he knows the New Zealander well and believes he will be a welcome addition to the national side.
"I've no doubt that he'll rise to the occasion. He's really settled in unbelievably well since he landed. He adopted Ireland as his new home and has committed everything to Leinster, and being here in Ireland.
"He fully deserves, based on his performances I think from a Leinster perspective, to get the opportunity.
"He's a good dude. I've a lot a time for him, a lot of respect for him. From not knowing him, and watching him play for the Chiefs, to actually get to know him.
"I'll be excited to see him (play)."
Ringrose at the launch of Aviva's Ireland's Call competition, which will give some lucky fans across the country the chance to sing Ireland's Call alongside Andy Farrell's team ahead of their game this Friday