Ireland head coach Andy Farrell is keen to complete the 2020 Six Nations as well as the busy programme of planned fixtures but, with those games now in doubt, acknowledges that "there are more important things than rugby".
As it stands, Ireland are set to resume their Six Nations campaign at home to Italy next weekend, though NPHET's call this morning for the whole country to be moved to Level 5 restrictions may yet scupper these plans.
It remains to be seen whether the government will heed these calls or in the event that they do follow the recommendation, whether elite sport will receive an exemption and be allowed to proceed.
Either way, Farrell, while hopeful the season can resume, says they will take their lead from the government advice.
"There's bigger things than finishing the Six Nations," he told reporters at a remote press conference early on Friday afternoon.
"If that's what the government feel that's needed for the health and safety of the country, we'll be more than happy to follow that. But obviously, we'll be doing everything to keep our side of things nice and clean and we'll wait for the advice.
"The players have been brimming to come into camp. They've been in camp for two days and the session they've just finished today was a high level of quality and high level of intensity and that just shows how they want to be in this situation and looking forward to a test match next week against Italy.
"I'd love to play the games. I'd love to get the Six Nations finished and play in the Autumn Nations Cup.
"We've waited for international rugby to come back. It's a nice tonic for the whole country to be able to watch the international sport when it comes back on the screens. We're desperate to put a good show in for the people of Ireland.
"But, as I said, there's bigger things than rugby. So, we'll abide by the advice and do the right thing by the country."
Technically, should it run to a finish, Ireland not only can still win the 2020 Six Nations, they are the only team whose fate is entirely in their own hands.
However, bonus point wins over both Italy at home and France away would be required to deliver the title. With Eddie Jones' England likely to pick up maximum points in their final game in Rome, anything less than 10 points will surely not be enough for Farrell's team.
Looking away from the permutations, the head coach appears focused on broader and more long-term concerns.
And developing the team's style and game-plan seems to be uppermost in the coach's mind.
During Joe Schmidt's era, wildly successful for the most part, Ireland were criticised for being too rigid and programmed. In his comments today, Farrell indicated that Ireland needed to be more adaptable and varied.
"One of our strengths is sticking to the plan. One of our work-ons would be being adaptable around that plan.
"We want our boys to see the whole pitch. And I'm not just talking about the generals of the team, I'm talking about everyone now.
"We want players to play with a vision, play with an appetite to see things, play with an appetite to make good decisions and execute those decisions. That's something that we've started. It may be a long enough old process but it's something that I'm willing to stick to.
"You're trying to educate them on those decisions, regarding the different scenarios they're looking for. The first policy has got to be to look for them. The second process has got to be to execute and back up that mission."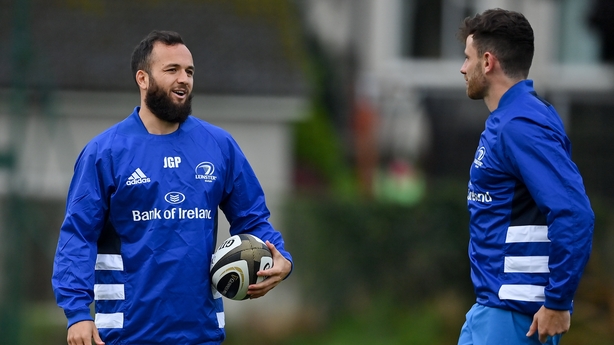 Farrell selected six uncapped players in his 35-man squad - Ryan Baird, Shane Daly, Will Connors, Hugo Keenan, Ed Byrne and Jamison Gibson-Park - and has been enthused by their hunger and energy in current block of training.
"They're bringing a lot to the squad, an energy that's relentless. It's what's needed to grow the international ladder. They've done unbelievably well to get selected, this is the start of their international career. They're hungry for information and their attitude has been first class.
"It's a difficult world, coming into international camp for the first time. They're obviously behind the eight-ball because there's a lot of people who've been around the while and know the set-up.
"The potential is there for everyone to see and we've got to make sure we bring that out."