The Taoiseach has said that the Covid-19 situation is very serious and that further action will be needed.
Speaking from the EU summit in Brussels, Micheál Martin said that he read through the advice from the National Public Health Emergency Team this morning, which recommended a move to Level 5 restrictions.
He said that he will meet the party leaders tomorrow, along with the Minister for Finance, Minister for Public Expenditure and Minister for Health.
Mr Martin said his officials already met Chief Medical Officer Dr Tony Holohan and Deputy Chief Medical Officer Dr Ronan Glynn this morning.
He said the Government will give NPHET's recommendation "very detailed consideration, examining all aspects of this, and make sure when we respond, it will be with a comprehensive response".
Mr Martin said he shares the objectives of NPHET in terms of protecting the elderly and the vulnerable, as well as making sure children can stay in school.
Taoiseach @MichealMartinTD says the Government will give careful consideration to the recommendation from NPHET that the whole country should move to Level 5 #Covid19 restrictions | https://t.co/rhL4zAf7KF pic.twitter.com/wgm8b5mWQo

— RTÉ News (@rtenews) October 16, 2020
The Taoiseach said that there are also enormous economic consequences that it has to "plan for and deal with".
He said he did not want to put a timeline on a decision because Government will have to meet. However, he said in advance of that, he wanted to have the situation "well documented and well prepared".
Earlier, Tánaiste Leo Varadkar said that he was "not surprised" that NPHET had again recommended moving the entire country to Level 5 given that virus rates have continued to rise
Speaking at Government Buildings, he said the Government would consider the recommendation, but the decision needs to take into account both public health and the impact on society and the economy.
He warned that a second lockdown would be a lot more difficult than the first and said the public would want to know what the exit strategy would be.
A second lockdown would be difficult for people, says Tánaiste Leo Varadkar | Read more: https://t.co/fHllnGhi5I pic.twitter.com/9x2Df6uE0s

— RTÉ News (@rtenews) October 16, 2020
Asked about inter-county GAA matches going ahead, Mr Varadkar said that the question is can inter-county sport be done safely and he said he believed it was possible for elite sport to continue, but it must be done safely.
He said this involves being able to "bubble and cocoon" teams and players, which was easier for professional sports rather than amateur sports, such as the GAA.
It is understood the NPHET letter does not recommend the closure of schools.
Government sources believe consideration could be given to some tweaks to Level 5, which says people should not travel any further than 5km from their homes.
Asked about the possibility of a nationwide move to Level 5, Minister for Health Stephen Donnelly said he did not "want to speak specifically about any recommendations", adding that he was "not at all surprised at what the data is showing".
''Are we always looking at the potential of other levels? Of course we are,'' the minister said on a visit to a HSE self-isolation unit in Dublin for homeless people.
Mr Donnelly said the five levels are there for a reason, "to respond to the virus and get it back down".
He acknowledged that uncertainty around moves to Level 4 or 5 "is not fair on people", adding that he believes "people need to know what the current situation is".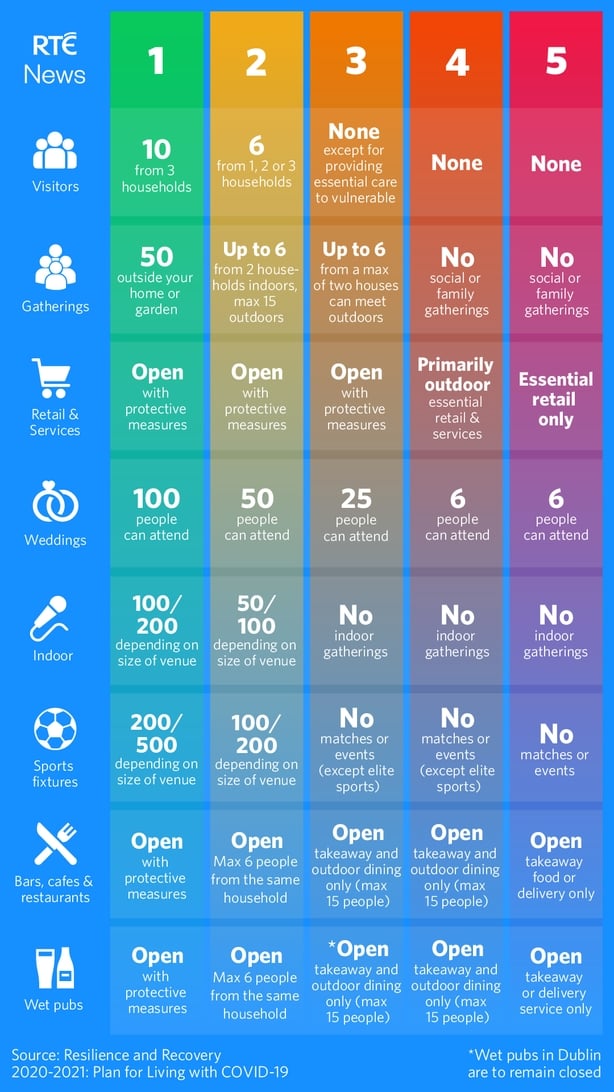 Sinn Féin leader Mary Lou McDonald has said the Government needs to meet as a matter of urgency to consider the latest NPHET recommendation.
She said a single, a uniform approach to tackling Covid-19 is also needed across the island and "everything needs to be on the table", including school closures if necessary.
Speaking on RTÉ's News at One, Ms McDonald said the country is in "a very dangerous and grave situation" and if Level 5 restrictions are introduced the Government needs to do everything to ensure that "people are not struggling in desperate financial straits".
She called again for the restoration of the Pandemic Unemployment Payment and wage subsidy schemes to their original levels, along with rent and eviction protections and mortgage breaks to be addressed "as a matter of urgency".
Labour Party leader Alan Kelly has called on the Government to move the country to Level 4 for the next three weeks, with a view to keeping this in place for another three weeks if it is deemed necessary.
Speaking on RTÉ's Drivetime, Mr Kelly said his "main concern" was the impact of rising Covid-19 cases on non-Covid healthcare.
"We need people to do the right thing so that we can get on top of this," he said.
Mr Kelly said four areas require attention from the Government.
He said: "The appropriate use of face masks, rapid testing, greater emphasis on employers to get people back to working from home, and the introduction of social bubbles for older people."
Social Democrats co-leader Róisín Shortall has said action needs to be taken now and there is no justification for delaying decisions for a number of days.
Speaking on RTÉ's Six One, she said again appealed to the Taoiseach to ensure cross-party support saying it was important that opposition parties are provided with all the information from NPHET briefings, so they have access to the kind of evidence and arguments that is being provided.
Restrictions on household visits, three counties at Level 4
A four-week countrywide restriction on household visits is in effect since midnight, while Cavan, Donegal and Monaghan have also been moved to Level 4 restrictions as part of measures announced by the Government.
It comes after it was confirmed that three more people with the virus had died and 1,205 new cases were announced yesterday evening.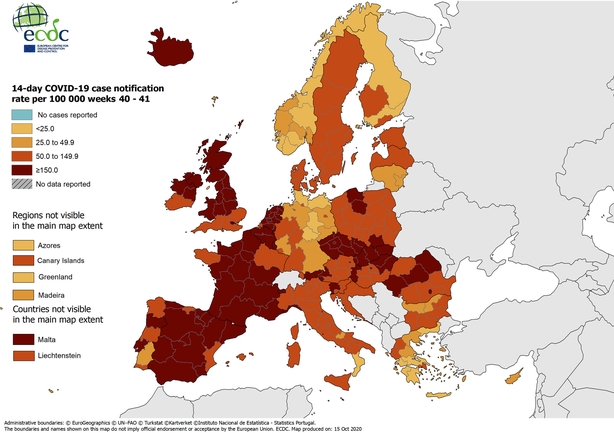 Across the country there are restrictions on visits to homes and gardens, except on compassionate grounds or for essential reasons, such as providing care to children, elderly or vulnerable people, and in particular those who live alone.
In the three counties where Level 4 is in operation, restrictions mean that non-essential retail and personal services have had to close.
Bars, cafes and restaurants can still serve up to 15 people outdoors, but from Monday weddings will be reduced to a limit of six guests.
The measures will remain in place until at least 10 November.
Yesterday evening, Dr Holohan said it is now clear Covid-19 is not under control, with the disease trajectory nationally rapidly deteriorating.
He said the virus growth rate has accelerated and is a matter of grave concern, as he again appealed to people to cut non-essential social contacts with others.
---
Latest coronavirus stories
Interactive map: Covid-19 cases in your area
---
This is "not a message of hopelessness or despair", Prof Philip Nolan says. "The message here has to be more of those basic things [following public health advice] could turn this around quicker than we might think" | https://t.co/bXHSGf30fT pic.twitter.com/h55kqwgzoj

— RTÉ News (@rtenews) October 15, 2020
Minister for Agriculture Charlie McConalogue said Level 3 restrictions had brought about a stabilisation of numbers in Donegal , but this was "at a very high rate", which needs to be reduced.
The Donegal TD said the move to Level 4 was a very difficult one for border counties, but "the reality is we are in a very difficult situation" and called on the public to redouble efforts to drive figures back down.
He added that it was important to have ongoing cross-border cooperation on tackling the virus and the Government was making every effort to do this.
Meanwhile, gardaí have launched a high-visibility plan for the next three days to support the public health guidelines and will focus on support for vulnerable people and crime prevention.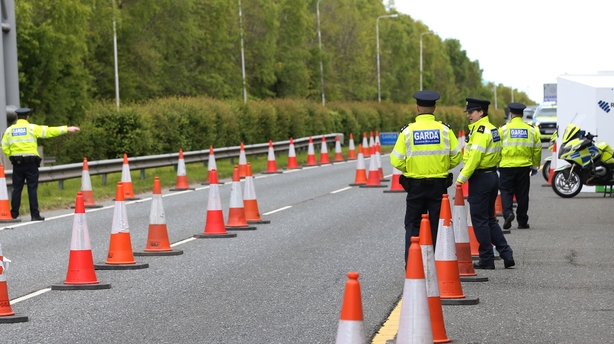 The plan came into effect at 7am and will run until midnight on Sunday.
It will see community gardaí work with community groups, local businesses and individuals to provide services to help vulnerable people during the current restrictions.
Crime prevention patrols will be increased across the country, particularly at locations such as public amenities, parks, and natural beauty spots and there will be a number of checkpoints in place over the weekend.