The Covid-19 pandemic is ongoing despite some positive news from the Taoiseach last Friday evening around reopening the country. There seems to be some light at the end of the tunnel for businesses and employees if we can follow the phased outline that has been given to us by Leo Varadkar.
However, we are still in the dark and speculating regarding sporting events. There are guidelines as to when teams can get back to training, perhaps in small groups initially but filling a stadium for the Pro14 final or for the GAA championship to go ahead is still looking doubtful for now.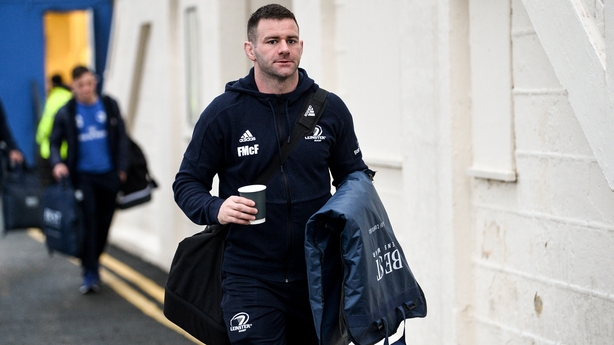 News broke of Fergus McFadden's retirement on Sunday. The versatile Leinster back will call it a day at the end of the season. What we don't know is if he is already retired or if he will get a chance to play for the Pro 14 trophy before hanging up his boots.
There's no doubt that in the practical sense the hard working winger is still treating the situation as if there is a final to be won and he will be continuing his training programme until he is told to do otherwise but it is a very hard season for some players that are in the twilight of their career.
Players won't know if they have played their last game for their county, their province or even their country. Is the GAA season going to come back for a few big knockout games in Croke Park? Will the games be played on television but behind closed doors? Will the games get a chance to be played off at all?
"The purse strings are going to be well and truly tightened for the unforeseeable future in professional and amateur sports"
Retiring is a tough enough time in the career of an athlete as it is, even without the doubt that the coronavirus has cast over our sport. There are enough doubts in players' minds when they are making the decision to retire. Is it the right time? Are they making the right decision?
Is it in their hands or the hands of their employer or would they be better off trying to find work elsewhere? In the current climate it will be the most difficult time to pick up work elsewhere in sport. Budgets have been cut massively as a result of gate revenue being non-existent. The purse strings are going to be well and truly tightened for the unforeseeable future in professional and amateur sports.
Even in the regular economic climate, businesses are going to be more selective with who they hire and for how long, possibly on shorter term contracts and there have already been freezes on hiring in some of the big multinational companies around the country. It doesn't make for an easy time for a transition from sport unless you have already had plans in place before 2020 kicked off.
"The friendships and memories I have made are ones I will cherish for the rest of my life." 💙👊@fergmcfadden has confirmed he will retire when the 2019/20 season concludes: https://t.co/2KzSEPA0xR#ThanksFerg pic.twitter.com/KUlMUMRZ64

— Leinster Rugby (@leinsterrugby) May 3, 2020
Fergus McFadden has often been the underrated winger that has filled a gap wherever he is needed. He has played across the backline at various levels and has even kicked at goal for Leinster on a number of occasions. You only have to look at the tributes being paid to him by legends of the sport to know the impact he had on the dressing room which we don't always see from the outside looking in.
He has put his body on the line many times for his club and country in a way that disregarded his own safety and by all accounts he is a huge character in the group. You love to see players like that putting their work ethic and charisma into something successful post retirement and I'm sure the future will be bright for the Kildare native.
I've spoken before about how the uncertainty of retirement and the loss of identity is the toughest part of transitioning to everyday life. The uncertainty can be less for some guys that get to retire at the end of a season and cut ties straight away.
My retirement came at the very start of the season so it felt like things had dragged on for quite a while for me before I could attempt to cut ties because I had already kicked off the season with the current group.
I was younger and was forced into my retirement through injury so maybe the long and gradual process of phasing me out was easier for me to deal with but at the same time you need to rip the plaster off quickly instead of the slow and agonising pain of dragging it out.
Unfortunately for anyone who is caught between representing a team in 2020 and retiring at the end of the season will be in similar shoes to mine back in 2016. I knew from 1 September that my playing days were over, it was more the detaching from the group and surroundings that dragged on for me.
"It's always nicer to see retirements happening while players are waving to their family in the crowd with a trophy tucked under their arm"
Others won't know if they will play again, if they'll be involved with their group again and I'm sure there are many sports people trying to figure out the landscape in the next few months across all levels of sport.
Younger players can scratch it off as a couple of missed caps or games with their team that won't necessarily affect the end number too much. They're probably distracted by getting their exams done and training away for their future career knowing that they will be back in 2021 regardless of what happens this year.
How hard would you be training if you were at the other end of it? Would you be desperate to come back in better shape than before and dispel any doubts over your career at an older age or would you start to take the foot of the gas until things are more concrete?
Everyone is different and will deal with it in their own way. From McFadden's point of view he made a definite decision in light of a very positive career and has announced some degree of certainty around his retirement.
Too often we see retirements go against players because of injury and factors outside of their control. It's always nicer to see retirements happening while players are waving to their family in the crowd with a trophy tucked under their arm. I hope Fergus McFadden gets the send-off that he deserves.