Despite Ireland and Italy not playing last weekend due to the outbreak of the coronavirus, the other two matches served up every talking point we could have had.
There were an abundance of disciplinary issues including a red card in both games, a tip tackle that only resulted in a yellow card when it would have been a different colour in years gone by, a nasty no-arms tackle from Manu Tuilagi and more of Joe Marler's messing which sparked plenty of debate.
All that aside, we saw a very high standard of rugby played between Twickenham and Murrayfield.
England were the dominant force for most of the game in London. It was as if they could turn the tide whenever they wanted to, using their pressure game to really put the Welsh under pressure.
England kick very tactfully, which we have seen them do superbly in the last two Guinness Six Nations games against Ireland. Sometimes it's to put the opposition back three under a lot of pressure but other times it's to get the ball out of their half and possibly transfer the pressure in a different way.
It's no coincidence that we saw a huge hit on Dan Biggar from one of the first contestable kicks of the game.
England time their arrival to the dropping ball with ferocious intensity, this time Tuilagi and Tom Curry were looking to inflict the damage on Biggar and very nearly did too.
The defensive display that we've seen from England in the last couple of games is a nightmare to play against. They fly off the line but they back it up with good defensive reads and execution, normally led by Maro Itoje who had been outstanding in his tournament so far and right on the line of legality.
They almost come with a brazen approach to defending. However, it does spill over into a lack of discipline as we saw from captain Owen Farrell when George North fumbled the ball over the try line. He lost his team three points in that instance and offered Wales a lifeline into the game after England took a healthy lead through their line-out variation and peel moves that Wales scrambled to defend.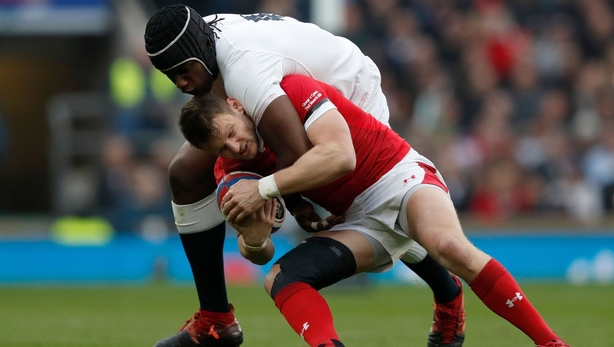 Wales displayed their own kicking game through Biggar, always looking for the cross-field kick-pass option which was seen across the whole weekend. With the aggression displayed in modern defences, this option has been a go-to when trying to break down the high line speed defences that play with their wingers high and narrower to shut down the space on the tackle line.
A couple of minutes either side of half-time gifted Wales ten points and a chance to stay in the game. England had a scrum on the stroke of half-time but chose to play on in an attempt to extend their lead. They coughed up possession which resulted in three points for Wales, who then went on to score almost untouched from the restart for the second half due to a poor defensive set up from England; 20–16 and the game was still in the mix but England settled it down and chipped away to get to 33-16.
Wales managed to own possession for long periods, again resulting in a yellow card for repeated infringements. Ellis Genge was sent for a rest. Tuilagi then had one of his crazy attempts at a tackle with high force and no shoulder a minute later. There should have been no complaints from Eddie Jones but it was no shock to hear him trying to change the narrative afterwards when speaking to the media.
A late surge brought the game back to 33-30 but the scoreline did not do any justice to the English dominance at various times throughout the game.
The French implosion was confirmed by Mohamed Haouas receiving a red card near the end of the first half for a clear punch on Jamie Ritchie who was not innocent in the matter either.
But France were already finding it tough in Murrayfield which was proving to be a test of their maturity and consistency which is needed to win a Grand Slam.
They had found their rhythm with a well-executed try finished off by a cross-field kick from Antoine Dupont which put them 7-6 ahead.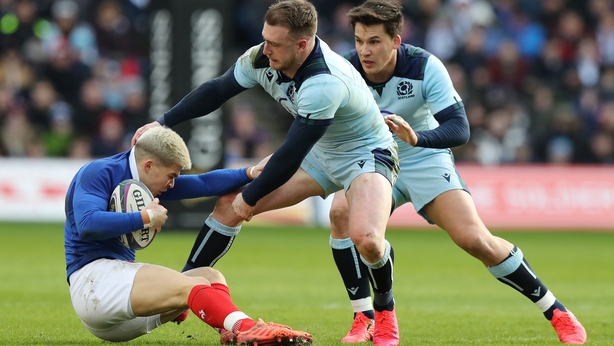 Losing Romain Ntamack with a suspected concussion after just seven minutes was a huge loss for them.
Matthieu Jalibert did not play with the same control that we have seen from the other young half backs.
Scotland scored eight points in the final three minutes of the half and another seven-pointer in the 45th minute which put the game to bed from a French perspective. We saw another capitulation from France but in fairness to Scotland they were not far from a big result like this in the competition and were well worth their 11 point victory in the end.
It was a very exciting weekend of action overall from a neutral point of view. The tournament is wide open again with three teams back in the running to win the championship.
From an Irish perspective it's massively disappointing that the tournament is in jeopardy. Even if it does get played it is more than likely going to be in October, so we won't be able to see anything else from the new regime under Andy Farrell. We've missed the experiment with selection for the Italian game and how this Irish side will bounce back and on top of that, now the France game has been postponed as well.
It must be disappointing for any player waiting for their chance in this Six Nations. If ever they were going to get a shot at proving their club form, it would be against Italy after having lost to England.
But now none of the players will get a shot before the end of the season with the game versus France gone as well.
Hopefully there won't be as many domestic games postponed because there is nowhere in the calendar to back-date those. There is no doubt about it, public health is far more important than a game, but the uncertainty and potential for a lot less rugby is pretty grim too.