"I got some great advice recently," said Johnny Sexton.
"When you are leading an orchestra you've got to turn your back on the audience."
The captain had been asked how it felt when former players, who had been team-mates only a few years ago, are so critical of his performance and Ireland's in general.
We need your consent to load this Facebook contentWe use Facebook to manage extra content that can set cookies on your device and collect data about your activity. Please review their details and accept them to load the content.Manage Preferences
In this case, it was Ronan O'Gara, who had possession of the 10 shirt when Sexton first came on the scene, and was later his coach at Racing 92 from 2013-2015.
Accepting that playing on the back foot accounts for many of the reasons why an out-half might have a bad game, O'Gara, now in charge at La Rochelle, told Newstalk Sexton would still be disappointed with his own game and that he was never keen on the idea of giving his former rival the captain's armband.
"[Turning your back is] something that you've got to live by and sometimes when it's going well you can fall into bad habits and have a little peak at what's going on in the audience," continued the 34-year-old, who spoke to reporters yesterday, five days after the 24-12 humbling in in Twickenham.
"I don't think that...I thought ROG was coaching La Rochelle, how is he talking about us?"
Sexton scored all of Ireland's points in the opening-round win over Scotland and was instrumental to the side's four-try victory over Wales.
But there's no escaping from the fact that Sexton's performance against England was nowhere close to his usual standards.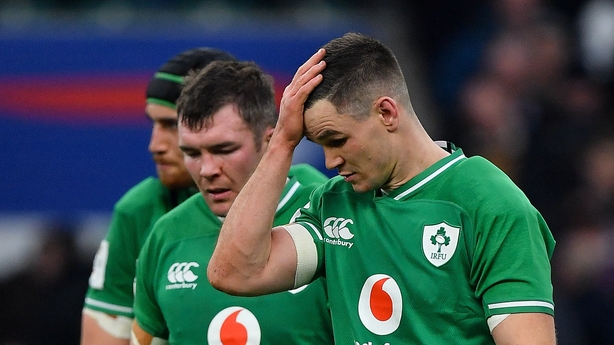 "It's funny how a week can change everything," he added when asked if captaining the side made Sunday's defeat more difficult to take.
"It is tough, that's the toughest part: when you are captain and you don't perform. It's then [makes] trying to lead...hard because obviously you are making mistakes," he said.
"You've got to just put it to the side and then lead as best you can. Again, I make 'glaring errors', which everyone can see because you are an out-half.
"I think everyone is in the same boat when you look at the review. The mistakes that you guys [the media] wouldn't see. Not because you don't know the game but because you don't look at it in the same forensic detail that our coaches do.
"We are all in the same boat, that's made it a bit easier. It's a massive privilege to do the job, it's not too much.
"It wasn't too much the first three times I did it. I just made mistakes. It happens, I'll just try and bounce back. I've done it.
"I've had a lot of performances like that. When you've had as long of a career as, luckily, I have, touch wood, a little bit longer to go.
"You've got to draw the character out of trying to bounce back from it. That's what I'll try and do, I'll try to lead by example in that regard."

Ireland, as it stands, have a three-week gap before they can try to redeem themselves with an assault on Paris.
If it goes ahead, and if France beat Scotland in Murrayfield next weekend, then the hosts will be on the cusp of a first Grand Slam since 2010.
The cancellation of the Italy match has denied Andy Farrell's men a chance to get another game under their belt before facing Les Bleus and he plans to use the gap weeks to work hard.
"We've got to try and get ourselves better," said Farrell.
"We're not going to stand still over the next couple of weeks. If we do that right we can take advantage over the rest weekends.
"We saw that in [the postponed games in] the World Cup.
"We'll watch France play Scotland and we'll assess that. We'll prepare accordingly. The best thing about the game is that it's not going to be too dissimilar to the one we've just lost.
"We're gutted with our last performance but the one in Paris is similar in many ways.
"They are a big strong aggressive side that kick the ball a hell of a lot, pressurise you down in your own half, have a good solid defence, a good set-piece and will challenge you physically."
Listen to the RTÉ Rugby podcast on Apple Podcasts, Soundcloud, Spotify or wherever you get your podcasts.