Sene Naoupu may be relishing the chance to take on the might of England in Six Nations fare on Sunday afternoon - but the Irish centre admits the 'wise soul' of Beibhinn Parsons has been missed within the squad this week.
Teenager Parsons stole the show in earlier wins over Wales and Scotland with stunning tries, but the Leaving Certificate student is sitting out the remainder of the tournament to focus on her studies.
Former Ireland international Fiona Steed pointed out in her RTÉ Sport column that it "would have been decided way before the Six Nations started what Beibhinn's course of action would be this year" and therefore Adam Griggs and his management team will have had a plan in place. 
Leinster star Naoupu, for her part, insists that, while the focus will always be on the collective, Connacht winger Parsons had certainly been making her presence felt.
"I miss her already, she's a wise soul for a young girl," Naoupu told RTÉ Sport's Damien O'Meara. 
"Beibhinn has done a fantastic job for the national team. She is a fantastic talent and really mature within our mini units as well - as a back-three, outside-centre group. I wish her all the best actually for the studies that she's got on at the moment."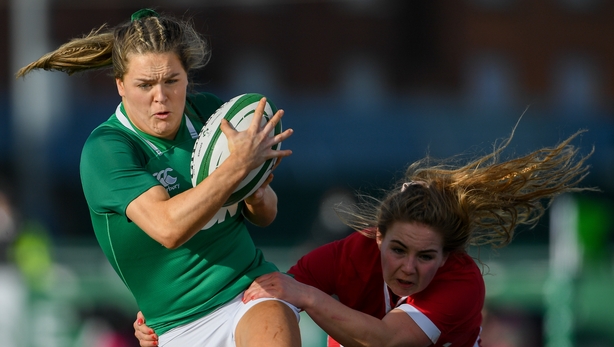 "But look, we're a full squad, it's a 36-man family for us. The 23 that get the chance to represent Ireland need to be there because they're the best within the training sessions to prepare that 23. 
"While we're out there performing on the Sunday, it's all about the full squad and for them to be able to prepare us for that."
It is all systems go within the Ireland squad ahead of their visit to Doncaster to take on an England side who beat France in Pau first day out, before dismantling Scotland at Murrayfield eight days later.
Naoupu knows travelling to take on Simon Middleton's side represents a massive step up from Ireland's opening two wins at home to Scotland and then Wales.
"You can acknowledge that they are the second best team in the world at the moment," the Old Belvedere club woman said. 
"We've been focusing on ourselves to be honest, what we can control and some processes that we've needed to fine-tune. So we've been putting in some quality sessions this week in preparation for that and now we're looking forward to the Captain's Run.
"We're excited to have the opportunity to play against one of the best teams in the world. It gives us an opportunity to test ourselves and our processes so we're really looking forward to it."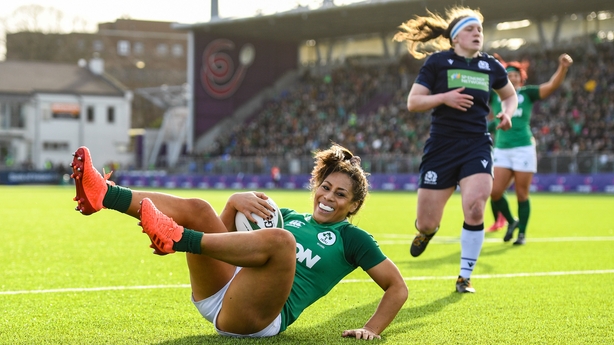 Those wins against Scotland and Wales have allowed Ireland to enter the England tie with their tails up. Ireland saw off the Scots 18-14 on opening day and were then 31-12 better than Wales on Match Day 2 a week later. Both games took place at Energia Park.
"It's been great to be building that momentum.," Naoupu said.
"The last couple of games in the group have been important to us for that very reason. It's taken the last few years to get us to a place where we're in an environment where we're able to get the best out of each other as team-mates.
"With our core leadership group in there, we've a super relationship with our coaches and management.
"The engineering group of our team is super, the formal leaders in there are super so it's about us being able to harness all of that energy and processes we've been working on - defensive systems, attacking style, what we're able to do and being able to execute that against the best teams in the world.
"This week is just a super opportunity to do that."
"We're pleased with what we've been able to execute and what we've been able to achieve - but we have to get to another level this week against one of the best teams in the world.
"Everything is all about balance, isn't it, just making sure we still have that other level to go." 
Follow all of the action from England v Ireland (12.45 kickoff, Sunday) as it happens, right here on RTÉ Sport.