Just two matches into the 2020 Women's Six Nations, Ireland have already surpassed their performance from last year's championship.
The 2019 season was one to forget as the Irish team languished second from bottom with just one win from five matches.
But victory over Wales last weekend means Adam Griggs' team already have two wins from two in this year's edition before a difficult trip away to face pre-tournament favourites England on 23 February.
The feelgood factor has been boosted by a wave of emerging talent and chief among them is second row Judy Bobbett who played a key role in the Irish pack against Wales.
Speaking to the RTÉ Rugby Podcast, the Ashbourne native is taking a long-term view as Ireland look to build on a good start to the new year.
"Obviously, the Six Nations is our aim but I think we're looking long-term as well," she said, pointing to the World Cup qualifiers.
"The two games [against England and France], we're looking to put together a good performance to show what we can do and what happens happens."
Bobbett feels the addition of fresh faces has helped reinvigorate the team, on top of the existing foundations.
"The girls have been doing great over the last few seasons, just not getting the results or playing the rugby that they wanted," she said.
"But it's the same management and the same style that everyone's playing.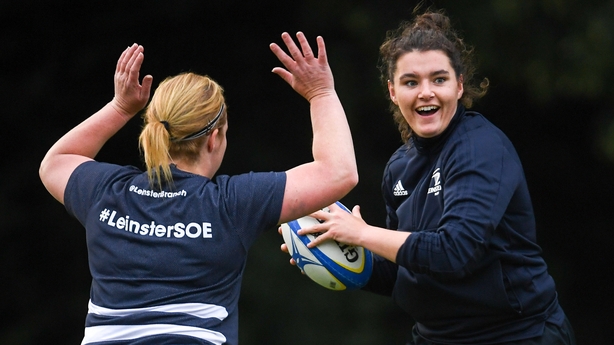 "Maybe just a few fresh faces kind of helped that push along. But senior players definitely welcomed us in as one of their own."
The 20-year-old made her international test debut against Wales last November, earning praise from Ireland head coach Griggs, before making her mark against the same opposition on the Six Nations stage.
The weather did not derail Irish hopes even with Storm Ciara making its presence felt across the weekend.
But it was not as much of an outlier for a team that had experienced inclement weather during winter training.
"We would keep an eye on the weather throughout the week going into camp on Thursday," said Bobbett.
"So it was always at the back of my mind. You couldn't really miss it as it was all over the papers.
"But we did our captain's run on Saturday and it was actually sunny weather so we didn't get too much of a taste of what the weather was going to be like.
"Even when we pulled up to the ground on Sunday morning, it was sunny. Even if you look back at the game in the first half, you couldn't tell there was a storm coming.
"But we had been training throughout the winter and we had been doing content in Abbotstown when the weather had literally just been like that.
"So we approached the game where if the weather did turn, a lot of forward dominant play could happen.
"So [it was a case of] being secure on the ball, not pushing wide plays and just keeping the ball in hand."
But how has a previous life playing with a different shaped ball in an altogether different sport contributed to her current skills as a second row?
Bobbett won a minor medal for Meath as a goalkeeper and a few skills from Gaelic football have become transferable to the rugby environment.
Well done @judy_bobbett on Sundays performance. All @AshbourneRFC very proud of your success and I am sure all the Bobbett family are delighted as well in particular, our esteemed senior member and your grandfather Pat.

Keep it going

— Ashbourne Rugby Club (@AshbourneRFC) February 9, 2020
"In terms of skill, you're looking at the high ball would be the main one and reactions," she said.
"I remember when I was a goalie, our training would be separate from the outfield players and we would do a hour or hour and a half of reactions, quick hands and stuff like that.
"Skills-wise, it has definitely helped my rugby game. If you ask Eimear Considine or Lindsay Peat, they would say the same.
"And then mentally from the Gaelic, you get that team morale that you build around the girls and it's like any team sport, you work together and I have learned a few skills from the Gaelic that came through to the rugby."
It has also been a swift journey to international recognition, having famously been immortalised in an image from when she was a team mascot walking onto the pitch alongside then-Ireland captain Fiona Coghlan for a Six Nations game.
"I think it was the Six Nations 2009 and I'm pretty sure it's against Italy," Bobbett said of that photo.
"I grew up in Ashbourne and Ashbourne is my home club and that's where I would have started.
"At that stage, I was the only female member in the rugby club, so I would have gone to all the Women's Six Nations anyway.
"I would have hung around for autographs and then the opportunity came up to be a mascot which I took.
"I remember the night being extremely cold but it was a lovely experience. I remember being brought up to right outside the changing rooms and I remember the door being just a little bit open and I could hear the team talk and hear the girls getting ready. That memory is definitely stuck into me."
And as fate would have it, just over a decade later, Bobbett is now on the other side of that door.