Ireland coach Adam Griggs says his team's improved performances have not surprised him after they picked up their second win of this season's Six Nations.
Three first-half tries set them on their way to a 31-12 victory over Wales at Donnybrook in game that was massively disrupted by Storm Ciara during the second-half.
It means Ireland have already won one more game than they managed in last year's running of the competition.
"Definitely satisfied," was his response when RTÉ Sport's Damien O'Meara asked Griggs for his primary emotion after the victory.
"I think that was probably one of the better games that I've seen us manage, when those conditions came in during the second-half.
"Obviously the ball was slippy for both teams, but I thought the way we controlled it was really impressive.
"If you look at last year, we had glimpses of doing really well and putting teams under pressure.
"Today, I think we really put them under pressure, and did well with it.
"We spoke about the training quality that we've had. While we haven't had a lot of test matches, our training quality has been right up there.
"That's reflected in how we've played. We've got a stronger squad. We spoke about better squad depth, and they're putting pressure on the starting players.
"It shows in the way we're playing. That's the outcome you get from better training as well."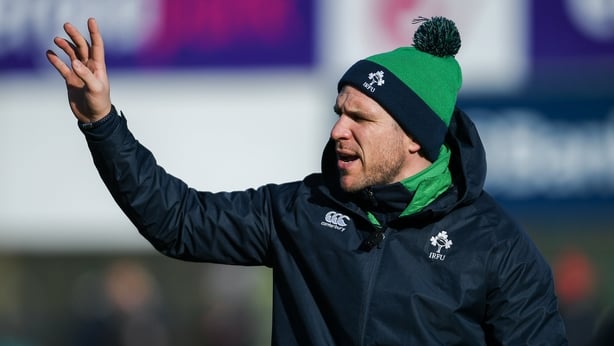 Ireland started the game slowly, and it took them nearly 17 minutes to gain a foothold in the Welsh half.
That first attack also resulted in the game's opening try, scored by Laruen Delany.
"Our warm up was actually a little bit scrappy, and that showed in that first ten minutes," admitted Greggs.
"At the same time, I'm really proud of the way the girls dug in, focused on the task at hand, and made sure that we got ourselves back in the position that we did.
"We're delighted that we've got two of the three targets that we set, but we definitely want to push on and make sure that we put those teams (England and France) under pressure.
"I think some of our play showed that we will be able to do that."
Two attacks - two tries #RTERugby pic.twitter.com/zpl11OQMOH

— RTÉ Rugby (@RTErugby) February 9, 2020
Player of the match Cliodhna Moloney, who scored Ireland's second try, confirmed that the team had tried to make preparations for the weather in training during the week.
"We were expecting Storm Ciara in the first-half," she said, "and she didn't arrive until halfway through the second.
"It's hard to know what to do when weather like that arrives.
"You can't really train for it. We were wetting balls during the week, but you can't make hailstones!
"Sometimes we end up on the wrong side of the referee, but it's about sticking to our game plan, and getting our game right.
"That's where we'll continue to grow, hopefully, throughout the tournament.
"Look, we got the win, it was a messy auld day. Fair play to Wales, they gave it everything, but we'll march on now, train next week, and hope for the best against England."