On Saturday, we caught our first glimpse of Ireland under Andy Farrell.
The Irish team laboured at times against a battling Scottish side, ultimately prevailing 19-12 at the Aviva Stadium to get the Six Nations campaign off the ground.
That result aside, intrigue surrounded the evolution of the post-Joe Schmidt era and what changes Farrell has made tactically in conjunction with his staff.
On the face of it, there was no radical change. But what differences and minor style shifts did RTÉ 2FM Game On's Donncha O'Callaghan notice against the Scots?
The former Ireland and Munster lock cast his magnifying glass over the attack, defence and set piece, where he feels Rory Best's absence is beginning to be felt post-retirement.
We need your consent to load this YouTube contentWe use YouTube to manage extra content that can set cookies on your device and collect data about your activity. Please review their details and accept them to load the content.Manage Preferences
Attack
Arguably the area that fascinated observers most was whether Farrell would allow for more unstructured play in attack in comparison to Schmidt's time, especially with new attack coach Mike Catt in place.
"I think it was quite similar," said O'Callaghan.
"I think Mike Catt is going to put his impression and I'd say [kicking and skills coach] Richie Murphy will probably be better pleased with Johnny [Sexton]'s try because it was a skill.
"It was a skill by Cian Healy to be able to make that offload.
"So maybe what we would have seen before is that he'd have two cleaners either side and carried the ball into contact.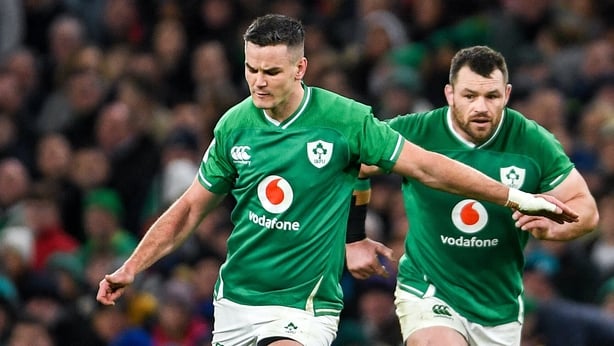 "But it was an incredible bit of skill out of Cian. He takes all the punishment and Johnny's able to run around that corner and do such a good job.
"I think we were still very strict to our structure of exits. We did still box-kick an awful lot to get out, maybe even from 40 metres on, from our half and even closer in.
"Personally, I don't think that's a bad thing. I like that we exit that way. I think it's efficient and smart.
"When you have players like Conor Murray and John Cooney, you'd be foolish not to do that."
But he added that there is "loads more that can be worked on and the big area I think is the set piece".
Set Piece
Ireland's scrum struggled against Scotland, unlike at the Rugby World Cup.
For O'Callaghan, observers should not underestimate the void left behind by former captain Best's retirement at the centre of the front row.
"Our line-out functioned well but our scrum was disappointing," he said.
"I think it's only now people will see the value of Rory Best.
"Rory Best is like a tighthead playing at hooker. He locks out a scrum like you've never seen before.
"Rob Herring and Ronan Kelleher are incredible players. But sometimes when someone's gone, you understand their value and you got to see that in the scrum.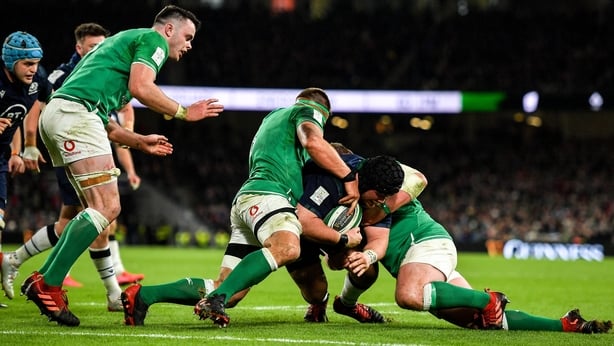 "Hopefully, that's an area for [scrum coach] John Fogarty. But for me, that's an area for the likes of Cian Healy, Tadhg [Furlong] and all that front-row club to step up and take ownership of."
Defence
Farrell had previously served as Schmidt's defence coach, so has anything changed in his brief time since elevation to the head coach role?
"If you were looking for a new system or new style of defending, that isn't the case," said O'Callaghan.
"But I actually think that's a good thing. If we get a new coach, you never know do they want to have a drift defence or do they want to work from the touchline and in?
"So the lads are really comfortable with what they're getting. I just thought it was incredibly physical.
"I thought Scotland brought their best performance in maybe two years."
Scrum-Half Battle
One of the pre-team selection talking points ahead of the Scotland game centred around whether John Cooney would usurp Conor Murray for the nine jersey.
Farrell stuck with continuity as Munster's Murray started but Ulster's in-form Cooney did come on as a second half replacement.
Did Cooney's introduction make any subtle changes to the Irish approach?
O'Callaghan pointed out that, like Murray, Cooney also made use of the box kick as an exit strategy.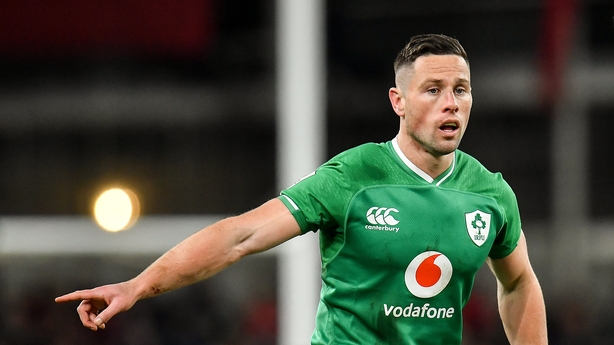 "[Cooney] used the box kick quite smartly twice when he saw wingers off and that's what I like about John Cooney," he said.
"He's a heads-up kind of player. He sees the wingers closing the gate, knowing that there's space there and just being efficient with how he moves his pack around.
"It's certainly a brilliant tussle between the two of them now and it's exactly how you want it to be."
He concluded by adding that he feels there is a sense of "negativity" about Ireland's overall performance from some quarters.
"They're not giving it the credit it deserves. That was proper test match rugby."
We need your consent to load this YouTube contentWe use YouTube to manage extra content that can set cookies on your device and collect data about your activity. Please review their details and accept them to load the content.Manage Preferences