It was 3-1 in favour of French teams over the Irish provinces last weekend in the Heineken Champions Cup.
That's more or less how we all expected it to play out, but it was still disappointing after some positive performances.
I felt Ulster had a good chance against Clermont Auvergne considering their recent form and although my heart hoped that Munster could pull a result out of the bag at Racing 92, my head thought they'd struggle a lot more than what they did.
Both sides put up an extraordinary fight away to two of the French rugby powerhouses but as time went on the strength and power of Clermont and Racing didn't waver.
That is obviously helped by the depth in their squads and the fact that the players coming on to the field off the bench are as physically capable as the last guy.
In Irish teams some replacements are like for like, but others are either younger and still growing physically or not as strong as those the French are bringing on. That opens up the conversation much wider to salaries, budgets and the lure of the French league but I'll leave that for now.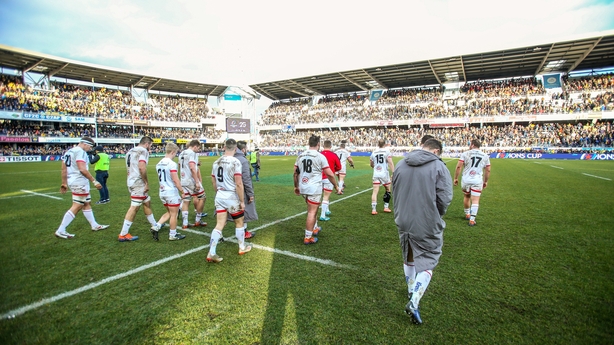 Ulster started the match on the front foot over in Clermont. Big carries from their leaders such as Iain Henderson, Stuart McCloskey, Marcell Coetzee and Sean Reidy had them battering the Clermont defensive line.
They went ahead with a penalty after some promising play from Will Addison and McCloskey until Clermont were under enough pressure to infringe.
Unfortunately, McCloskey missed the opportunity to blend his power in the contact area with a pass to the wider channels, where Clermont were down numbers. It is a tough thing for any player to balance the mindset of being really confrontational at the line and having the deft touch to pull back a pass when it's on but he is well capable of mixing it up.
John Cooney continued his effective upfield support lines to touch down again after Jack McGrath exploited Clermont's inside defence with a pass to Moore who subsequently offloaded to Cooney. Subtle play from two prop forwards in the lead up.
Clermont were forced to kick a drop goal before this because they couldn't put a sizeable dent in the Ulster defence and things were looking good for Ulster. Clermont were quiet and Ulster were winning the battle at the gain line.
Ulster had the chance to go to 13-6 with a penalty in the middle of the field which they turned down in favour for a kick to the corner but they couldn't convert. When playing away from home it is vital to keep the scoreboard ticking over, especially against French opposition who don't play as well from behind.
You would wonder if the Ulster leaders and coaches would look back and think about taking the points on offer if they had their chance to do it all again.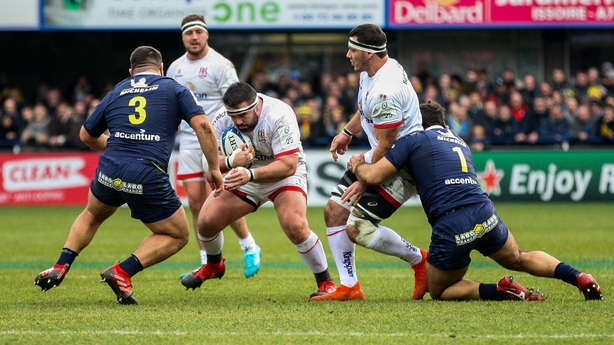 Ulster weren't without their mistakes and gave away a lot of penalties in the game but that shows how good they were to be ahead of Clermont in France despite some of these errors. Clermont weren't free-flowing in the first half but that was largely down to Ulster's physicality.
The French side managed to squeeze a few penalties from Ulster at the scrum, a couple of turnovers from substitute Fischer and all of a sudden Moala and Raka were on the front foot and causing trouble.
The scoreboard changed as a result of these penalties and Ulster didn't fire back with much more than a penalty in the second half.
A scoreline of 29-13 didn't reflect the Ulster performance but the upturn in form from Dan McFarland's men in the last while has been commendable.
Munster will also have felt hard done by in Paris. They took control of the game early on in a more traditional style, going to 3-0, 6-0 and 9-0 from the boot of JJ Hanrahan.
A silly, unnecessary penalty from Jean Kleyn gave Racing a foothold in the game and Munster were hanging in there defensively.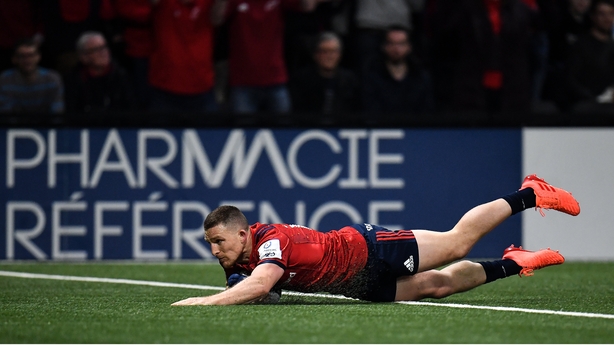 Racing benefited from what looked like a knock on in the lead up to a spectacular pass from Teddy Iribaren for Teddy Thomas' first try.
Munster were under increasing pressure from there until the end of the first half and just when you thought Racing were going to strike a vital blow before half-time, Andrew Conway intercepted an almost certain try and ran the length of the pitch for Munster to go in at the break in the driving seat.
Similar to Raka for Clermont, Vakatawa had been causing Chris Farrell trouble in midfield throughout the game but it was a piece of individual brilliance from Thomas to claw the ball in to the try-scoring area that pretty much distanced Racing from Munster.
There have been complaints about camera angles and the grounding but it was more than likely a try anyway.
From Munster's point of view, they were behind in a game where the two tries were scored under serious doubt. It looked like Munster were deflated from that point and couldn't hang in there for a losing bonus point, Vakatawa himself ran in for a pretty soft try but the damage had been done.
'What you couldn't say with certainty was whether the ball was touching the deal-ball line...'

Donal Lenihan tells @GameOn2FM that he wasn't impressed with the available camera angles for the TMO in Munster's defeat to Racing 92 yesterday #RTERugby pic.twitter.com/keonxowpxJ

— RTÉ Rugby (@RTErugby) January 13, 2020
Going away from home in these big games and winning requires a strong mentality and for a lot of things to go your way.
The crowd are going to be all over the referee and touch judges and despite this being professional sport the officials are still human. Humans can give into pressure, the offside line has to be a little bit further back on your side of the ruck and players will also make fundamental errors that they might not make at home.
When the pressure came on Munster's ball handling fell down and they lost the flow in their attack.
They had to work extra hard for anything they got. Ulster might look back at their decision making and regret one or two decisions but overall I think both sides showed up and competed away from home to potential winners of the competition.
Not getting bonus points could prove costly in the standings but Ulster are well within qualification to the quarter finals if they win at home next week to Bath. Unfortunately for Munster, their fate is almost sealed.
They aren't mathematically out yet, but it is very much outside of their own control.