There is only one round of action to go before the Heineken Champions Cup moves onto knockout conversations.
As things stand, four pool winners from five have already been confirmed with a game each to go and have thus qualified for the next stage.
They are as follows: Leinster, Exeter Chiefs, Racing 92 and Toulouse.
The only pool where top spot is up for grabs is Pool 3.
Currently, Clermont Auvergne are three points clear of Ulster in that group ahead of the final round of fixtures. Already on 20 points, the French side have qualified, regardless of whether they top the pool or not.
So ahead of Round 6, we know the identity of five of the teams in the last eight.
As we know, Connacht were eliminated on Saturday. But what of Ulster, and can Munster find even a glimmer of hope?
POOL 3
Starting with the outstanding pool-topping situation, Ulster host Bath next Saturday and at the same time, Clermont will visit Harlequins.
Ulster will qualify for the quarter-finals with any manner of victory over Bath.
They would qualify as pool winners on 22 points should they earn a bonus-point win over Bath, coupled with a Clermont defeat at Harlequins.
Even with a losing bonus point, Clermont would only get to 21 points if they drop points at Quins.
It gets a little bit more complicated though if Ulster don't get a bonus point win in that same scenario or if they do get a bonus point but Clermont draw their own match, thereby gaining two points.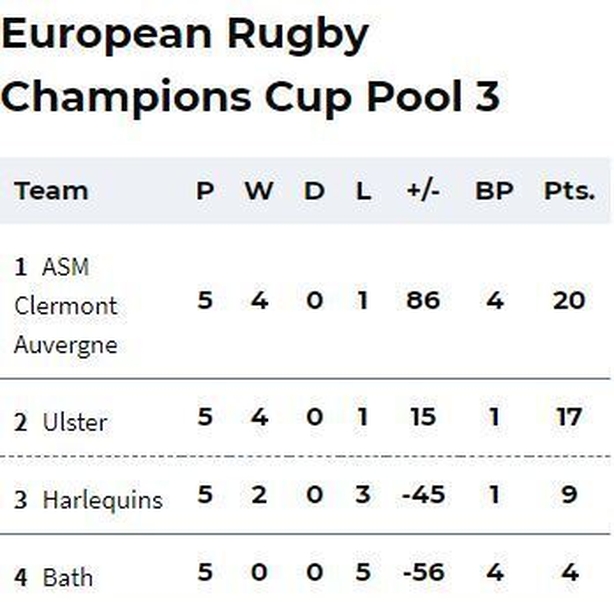 In the first case where there is an Ulster win and a Clermont losing bonus point, both Ulster and Clermont would end up on 21 points.
In the second where Ulster get a bonus-point win and Clermont draw, they would both end up on 22 points.
It would go to head-to-head results between the two teams as per the EPCR's rules.
The first criteria is the greater number of match points between the two teams. Ulster beat Clermont 18-13 in Belfast but lost 29-13 in France.
Crucially, Clermont earned a losing bonus point in Belfast, meaning they picked up five competition points to Ulster's four in their head-to-head.
The French side's points difference is also superior, although with the above competitions points criteria already a deciding factor, points difference would be of no further importance.
However, Ulster's chances of a home quarter-final remain slim, even with a bonus-point win and a Clermont loss.
They would need certain results to go their way in the other pools.
Pool 3 also has an effect on Leinster's home quarter-final hopes, albeit marginally and only if Clermont get a bonus-point win at Quins.
HOME QUARTER-FINAL RACE
Leinster, on 24 points, are within touching distance of a home quarter-final after beating Lyon at the RDS.
Exeter, Racing 92 and Toulouse on 22 points each are the next in line and face La Rochelle (H), Saracens (A) and Gloucester (H) in their Round 6 games.
Should Leinster beat Benetton Treviso away on 19 January, Leo Cullen's side will secure a home quarter-final automatically and without needing to worry about the sides behind them.
But should they lose without gaining a bonus point, then a Clermont bonus point win against Harlequins would see the French side go one point above them to 25.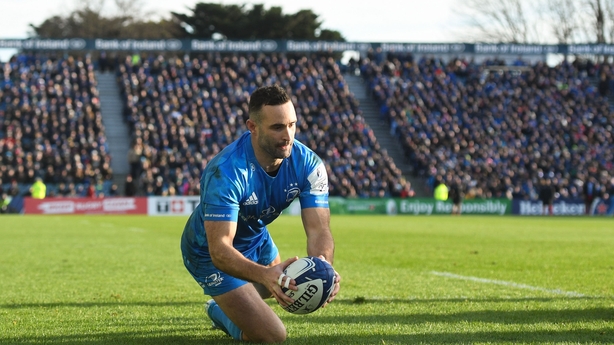 Coupled with final round victories for Exeter, Racing and Toulouse, that would see Leinster slip back to fifth in the overall standings.
It appears to be a very unlikely scenario given the sides involved and recent form.
How about Ulster and a home quarter-final?
They would require Clermont to lose as well as defeats for Racing, Exeter and Toulouse - including a significant points difference swing towards Dan McFarland's team.
Currently, the points difference after Round 5 for those three teams (Racing, Exeter and Toulouse in that order) and Ulster are 71, 62, 56 and 15 respectively.
BEST RUNNERS-UP
Munster's defeat earlier on Sunday away at Racing 92 all but ended their qualification hopes. The key phrase is "all but".
They are not completely out of the running for one of the three best runners-up places.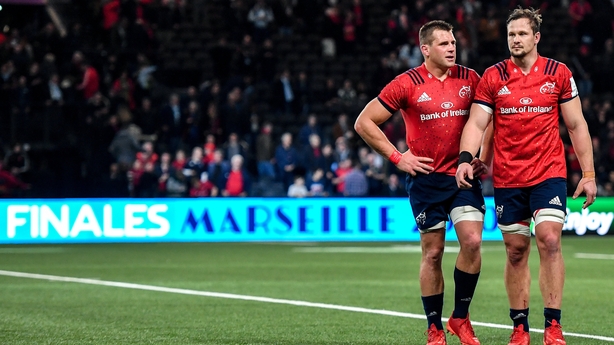 However, the most they can attain is 16 points, should they take a bonus-point win against Ospreys on 19 January. Currently, they sit on 11.
That would still leave them behind Ulster, even if the latter lose their Round 6 game, for example. (Ulster could still slip out of the top eight if results in other games don't go their way in that scenario but that would have no bearing on Munster).
Munster currently sit 11th in the qualification standings for the last eight, behind Saracens (14 points) who are also in their pool. Saracens host a Racing 92 team already assured of progression.
Gloucester (14 points), who take on already-qualified Toulouse in France next weekend, are another team above Johann van Graan's team at present.
Northampton (14 points) and Glasgow Warriors (12 points) who take on Lyon and Sale Sharks away respectively are also ahead of them heading into next weekend.
If all of those sides win their final round of games, Munster would of course be definitively eliminated.
But if all four - or at least three from four - of Saracens, Gloucester, Northampton and Glasgow lose (even with losing bonus points) and Munster earn a bonus-point win, then the province would take one of the two final best runners-up places behind Ulster/Clermont.
In essence, they need a hell of a lot of cards to fall their way next weekend.