Rugby can be a very simple game. If you manage to go forward as a principle, more often than not you will be in control of the game. Both interprovincial games at the weekend proved that.
We can over-complicate the game at times but decision-making should nearly always be based on what is the best and most effective way to go forward. If you can do that, the next decision will become easier and your teammates or players will be on the front foot, expressing themselves for large parts of the game.
But is it a bit of a chicken and egg scenario? From the outside, supporters and critics will comment on the game plan on the weekends that their team loses, yet they will take that game plan for granted and not credit it as much when they win.
Does the game plan put you in the position to go forward or does every game plan work a little bit better once you gather momentum in the contact area?
There is the obvious aspect initially that you need to turn up in the right mindset. If your mindset is wrong, especially defensively, then you will leak yards all day long. If your attitude to attacking isn't right, if you don't look after the ball and throw 50/50 offloads then you'll be in danger of loose play and being hit back by modern aggressive defences.
However, it is a bit more technical than that. Surely professional players can't be mad keen one week and not want it on another week. Munster wouldn't be going to the Kingspan Stadium last Friday night not really wanting to be there.
It can be a difficult situation and the atmosphere can be hostile but it doesn't mean you just want to pack your bags and go home. There are many factors that add to the difficulty of winning away from home.
Munster played very flat at times in Belfast. That can be a result of nerves and eagerness to get the ball in hand so you jump the gun slightly and have less time to play and make decisions which can result in losing the contact area or making the wrong decision and being forced backwards.
The pressure can get to players and they creep forward before they get their hands on the ball. Munster played with a lot of one out carries when you compare their game to Leinster at home against Connacht.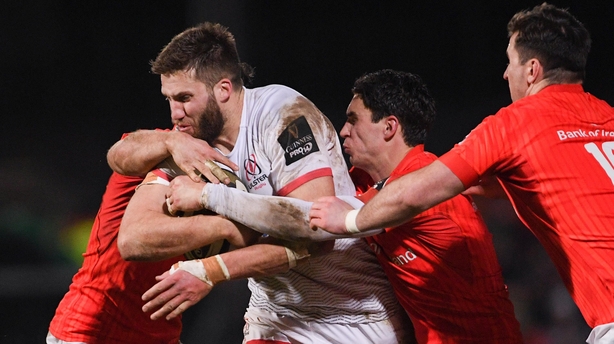 Despite Munster affecting a somewhat weak Ulster lineout, like Leinster did to Munster last week, they still struggled to stop the momentum of Ulster and their ability to cross the gain line, especially in the second half.
Sometimes going forward can merely be down to the pace of the game you set out to play and the urgency you create around the ruck. This is twofold. The player going into contact has to use their feet to create softer shoulders to go forward and once they hit the deck they must fight to turn back to their side and present the ball quickly and away from potential opposition poachers so the scrum half can play the next phase.
The other side is that the scrum-half or other players, as in the Leinster game last weekend, must be urgent to keep that pace on the ball and move it quickly into the next phase of play to keep the defence scrambling into position instead of being nicely set to increase their line speed and disrupt the attack.
You could see when Connacht did manage to get possession - not something they did easily in the first half - they were slow to move the ball because they were less sure of what they were trying to do and Leinster were able to affect their play even more. Their forward pods were way behind the gain line and it was easy to read the situation.
Leinster actually had 76% possession and 81% territory in the first half. They are so comfortable with the ball in hand and don't give it up easily. However it is still a phenomenal achievement to be 40-0 up at half time, no matter what the opposition is like.
In attack they had multiple options at the line which created uncertainty in the Connacht defence. Andy Friend's side couldn't get off the line defensively which gave Leinster more momentum in getting over the gain line and led to more decisions for the Connacht defence to make.
The more decisions you have to make, the higher the likelihood of getting some wrong. And when you pair that with the physicality of Max Deegan and the show and go from Ciaran Frawley, life becomes difficult in defence. Deegan was incredible at the weekend, being involved in most of the scores that Leinster got on Saturday night.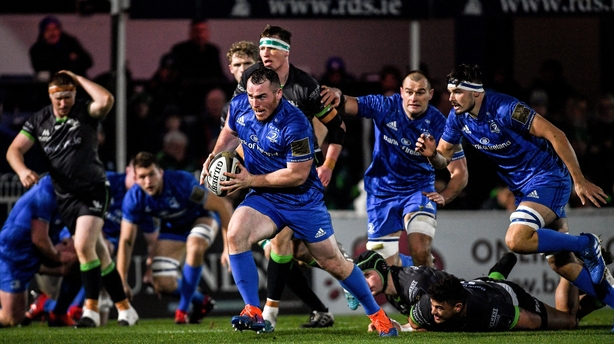 If you compare Munster's attack, they asked less questions of the Ulster defence at the gain line which made it easier for Ulster to front up physically. Munster did have some tricks up their sleeve but it all felt very much like pattern plays that aren't as hard to defend.
They ended up going laterally a lot and either running in to touch or their danger men like Keith Earls had to come back in off the touch line and run back across a few defenders to try to find some space to go forward. A very tough night at the office despite a great start with a try from Shane Daly, who had a very positive performance in the 15 shirt.
It won't get any easier for them this weekend with an away game in Paris against Racing to try to keep their European hopes alive. Sport is cruel. Munster failed to get an important score in the second half of the Leinster game which could have set them on their way to a victory against the standout team in the league.
Then they have a difficult night away to in-form Ulster and all of a sudden people are speaking about how poor they are, going into a crucial game in Paris. It could have been very different if they had gone in for a score in the second half of the Leinster match at home and the pressure wouldn't be half as bad. However, as it stands, the pressure is high this weekend and being out of Europe with one round still to go won't sit well with anyone from Munster.
In Europe, Racing, Leinster, Toulouse, Ulster and Exeter are all vying for top qualification spot. Ulster have to do it the hard way going to Clermont who aren't bad at controlling the forward momentum of a game with big ball carriers and strong evasive backs. But if ever there was a time that Ulster could get the win in France, it is now.
Connacht will need all the passion of the west to upset Toulouse, despite the French side being away from home and going down to Stade Francais last weekend. The interprovincial series hasn't been good to Connacht, maybe they can get their season back on track with an unlikely win against the French giants.