Attitude is a little thing that can make a big difference, in sport, and in life. Quinn Roux's attitude defines who he is, it always has, whether it was leaving his home in Pretoria at the age of 19 to make a better life for himself, to clearing out a ruck at a rain soaked Sportsground, or overcoming the disappointment of not making an Irish World Cup squad.
Roux's approach remains the same, be the best version of himself he can be.
A defining moment in his life came in 2012, aged just 21, Roux was chasing his dream of playing professional sport with Super Rugby side the Stormers. He was already making a name for himself as a promising second row, and was even being tipped for Springbok honours.
But then Joe Schmidt and the then European champions Leinster came calling. He was coming off an injury hit season and wasn't a regular in the team. He'd never been abroad so decided a year away would help his development.
"I was kinda shocked by it, but it came at the right time, it was a one-year offer, I'd never been overseas, I was still young, it was a chance of a change up, and I ended up signing for Leinster for one year. And I'm still here in Ireland eight years later".
He describes the move as "a shot in the dark" and while back then he had no plans to move to Ireland for the rest of his life, he feels it's move that has really worked out for him.
The only negative was leaving his mum, dad, and two brothers behind in Pretoria. Like any other professional sports person he has missed out on some important life moments. Not being home for the birth of his niece, and an important family wedding was tough, but most of all, he misses interaction with his family. These days he might only see them once or maybe twice a year.
"It's tough, but its something you have to sacrifice to make something of yourself."
He spent two seasons at Leinster but fell down the pecking order when Matt O'Connor replaced Joe Schmidt as the province's head coach.
Roux would work with Schmidt again with Ireland, but his club career has been defined by a move west to Galway. Again, it was only ever meant to be a short-term arrangement, but six years later he admits he wouldn't change a thing.
Galway is home now, he has put down roots with his wife Rentus, and they have a child on the way in the new year. There are lots of positives about living in the west, and only one downside.
"You could live in Galway for 100 years and never get used to the rain. There are some nice days though, and they make up for the awful ones."
Rain aside, Roux has thrived at the Sportsground. A tighthead lock rarely garners much limelight, but when it comes to clearing out a ruck, the physicality he brings makes him a vital cog in the Connacht machine.
He is a born leader, leading by example through his actions on the field, and by taking on the extra responsibility of calling the lineout which he feels has made him a better player.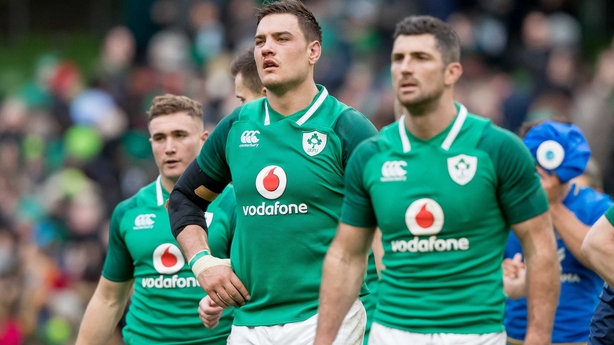 Schmidt has always been a fan, and he has been a regular fixture in Irish squads since qualifying for Ireland through the residency rule. He has earned 12 caps, but missing out on this year's Rugby World Cup was a tough pill to swallow. Despite the setback Roux has parked that disappointment and just got on with living life, hoping the opportunity to don the green jersey will come again.
"I've kinda tried to focus on myself, not on what other players in my position are doing." Easier said than done, but he goes on to elaborate on this point. His positive attitude shines through again.
"I've been enjoying my rugby this year, I'm going to be the best version of myself. If that gets me to another level, then I'll be really happy, and if it doesn't get me there and it's not good enough for other people I'll be fine too. As long as the people of Connacht, my team-mates, and the coaches are happy, I'll be content with that."
This week has been special for him, he has been invited along to new Irish coach Andy Farrell's pre-Christmas gathering, but this evening Roux will earn his 100th cap for Connacht when he faces Munster at the Sportsground. A special occasion, not because of the number, but because of what he feels is behind it.
He will also captain Andy Friend's side for the grudge match in Galway.
"One hundred opportunities to represent Connacht, to represent the fans, your team-mates, the coaches, it all adds to it, makes it that more special"
Professional sport is the most unpredictable career choice. The journey can be a rollercoaster of highs, lows and the in between. Sometimes it's all about survival, work hard and getting the attitude right. It's often said that anybody who gives their best in life will never regret it.
Quinn Roux has no regrets.
Follow Connacht v Munster via our live blog on RTÉ.ie/sport and the News Now app or listen to live commentary on RTÉ Radio 1's Saturday Sport.