Ireland scored 35 points en route to a bonus point victory against Russia but it hasn't set the Irish hopes alight with only one more runout before an expected quarter final against the All Blacks, the most consistent team in the world.
It's been a difficult tournament in terms of handling and the humidity and games just don't seem to be flowing as well as we are used to. There haven't been too many ridiculously high scores despite the obvious gap in the standard between tier one and tier two teams.
New Zealand have the highest points scored in a game in their win over Canada during the week but even at that there were opportunities squandered, one from Beaudan Barrett which we wouldn't expect. There were also 3 games this week that ended with the losing team remaining scoreless, Samoa were held scoreless for the first time in a World Cup. Maybe this shows that they are difficult conditions to play in but the best teams will be able to manage this, especially as the intensity rises going into the knock out stages.
Ireland started well against Russia with a set piece move that came from Joe Schmidt's archives. We've seen these variations before and had once been analysing Paul O' Connell for playing the blocking roles that both Jean Kleyn and John Ryan had in the ruck before the line break was made by Kearney.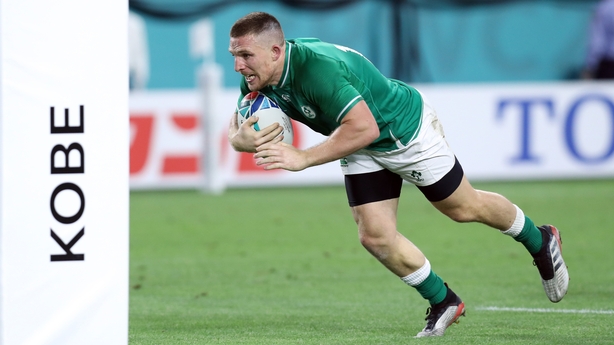 Jean Kleyn held the attempted poacher in the ruck so he couldn't detach and bounce back out to the edge of the ruck. John Ryan was also tasked with stopping the Russian defenders from folding around the corner to catch the inside runner who was Kearney in this case. Of course this is all positive from an Irish point of view because they made the perfect start to the game and got off the mark early yet again.
However, if you look closer at it John Ryan didn't even need to block the Russian hooker from getting around the ruck. As the lowest ranked team in the tournament, the Russians aren't as quick to react to these 'trick' plays. If that Russian player was on an Irish provincial 'A' team he would have been called out in an analysis session for not doing his role properly, never mind at a World Cup. Kearney juggled the ball through the contact but did well to regather and get over the line for his 3rd try in 3 games.
One of the key management areas of the execution of this set play was the second phase around the corner after Aki's carry. You could see McGrath trying to keep the play narrow. This is because if he sent the runners wider around the ruck then the short side no longer stays as the short side and Russia would fold more players back to the open side of the ruck which would leave more defenders defending their trick play. A nice touch of understanding by the Irish players with a play they would have worked on during the week.
Ireland quickly backed up this try with a Peter O' Mahony score about 10 minutes later. Ireland turned the ball over in the Russian 22 and Johnny Sexton kicked the ball through towards the posts for O' Mahony to gather and finish. Again, if you look at the Russian transition from attack to defence it was very slow. The scrum half didn't fill his role in transition to cover the backfield with his captain and full back Artemyev. Artemyev had closed very hard on the edge because of the threat of Kearney and Ringrose on the wing which meant that Russia had very little cover in their back field.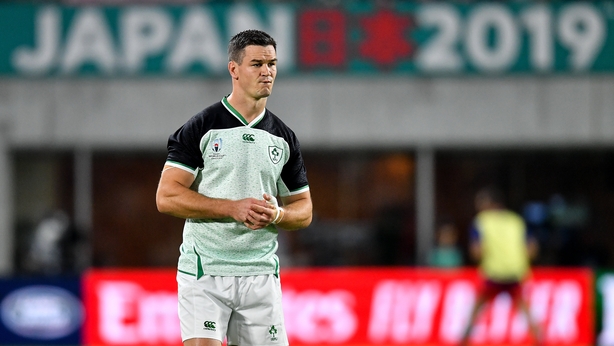 It still meant that Sexton and O' Mahony had to be on the same page and had to execute their respective roles in the try. Quite often when a team is low in confidence they can see these spaces opening up and don't have the guts to execute the play.
Sexton has never been like that and has always backed himself so it's good to see that Ireland will still take these opportunities should they offer themselves. The only problem here is that New Zealand or South Africa won't leave as many glaring gaps in their defence.
Ireland did play a tighter game against Russia than they did against Japan. Unfortunately for the neutral viewer I think that's where Ireland's strength lies. We started with a very wide attacking game against Japan but couldn't keep it up.
When Japan went ahead Ireland shut the game down a small bit with one out runners and latches on the ball carrier with everyone knowing where they were supposed to be and certainty over their ball in the ruck. It is a common way of teams regaining control when they haven't had possession in a while. This is the way Ireland won 6 nations tournaments and had more success over the last number of years.
I'm not sure the wider game plan suits them. When it's kept tighter they still have the ability to execute on the edges with a very decisive play which is more than likely called by Sexton. However, when we play a looser game against teams that want to play at that width and intensity I'm not sure how much we can keep that pace up, especially in the conditions in Japan.
Ireland also kicked the ball more than what they did against Japan. Admittedly, some of those were attacking kicks and were at the heart of the second and fourth try but it could also suggest that Ireland are going back to basics and turning teams around to put them under more pressure.
Peter O'Mahony 'very happy' with 30-odd point win over Russia and praises the opposition physicality #IREvRUS pic.twitter.com/YuLsZJFWMi

— RTÉ Rugby (@RTErugby) October 3, 2019
There are positives to take from Ireland's position. They kept Russia scoreless, something that the Japanese didn't do albeit at the start of the tournament with less Russian changes. There is now a 9 day turnaround for Ireland before the final pool game against Samoa, compared to 6 days before Japan and only 5 days before Russia.
The team will get some down time over the weekend which will hopefully freshen the squad. No doubt the analysts and coaches will spend some of that time looking ahead to possible quarter final tactics before focusing back on Samoa for next weekend.
There are a few injuries but compared to the last World Cup Ireland should be going into the quarter final stages with their front line players nearly all available, depending on how much game time Henshaw can get but Ringrose is playing some of his best rugby at the moment and it's still a strong squad as it stands right now.
There's still time to get things right and this team is capable of a huge performance. I just hope they can bring it out in time. There's one more chance to smooth over some cracks before it's time to let it all out in what should be a ferocious quarter final.
Follow Ireland v Samoa on Saturday 12 October (kick-off 11.45am) via the live blog on RTÉ.ie/Sport and the News Now App, watch live on RTÉ2 or listen to live match commentary on RTÉ Radio 1.