The message was clear. Under no circumstances was he to open his mouth.
Bad enough that he stood out with a shock of blond hair, Mullingar didn't want the opposition to hear their new full-back's accent.
It was 1991 and 25-year-old Josef Schmidt had just rocked up at the midlands clubs as their new player-coach.
Nowadays almost every club has its share of Antipodeans but back then Schmidt was a pioneer.
Midland League rivals Edenderry hosted one of the New Zealander's first games and the Mullingar captain told Schmidt that if the opposition pack heard that Fancy Dan was not exactly from these parts then they would prepare a special welcome for him.
Captain Mick Glynn warned: "Don't you speak during the match because if they cop the accent they'll only kick the shite outta ya".
That was good enough for Schmidt, who stayed quiet for the opening exchanges before quickly coming to a realisation.
"F... it! They were kicking the shite outta everyone so I might as well speak anyway."
That was how it was back then in those derbies.
Many of the players came from agricultural backgrounds and there were lots of Gaelic footballers keeping fit over the winter by dipping their toes into rugby.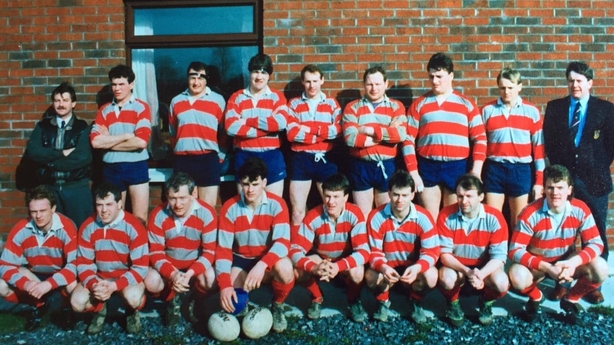 "It was 10-man rugby, wingers were only for decoration," Dave Farrelly, who captained Mullingar in the two seasons before Schmidt came, tells RTE Sport.
And why wouldn't it be? A winger, back in those days could go a whole season without getting a pass. (I know).
If it was good enough for Ralph Keyes to kick the leather off the ball and for Simon Geoghegan to go chasing after it then it was good enough for everyone else.
But the Kiwi, who had moved over with his wife Kellie during a gap year, thought otherwise.
He was employed as part of a FÁS scheme, which also brought recently deceased All Black Bruce Deans to Edenderry for a spell, and helped to coach the club's underage sides as well.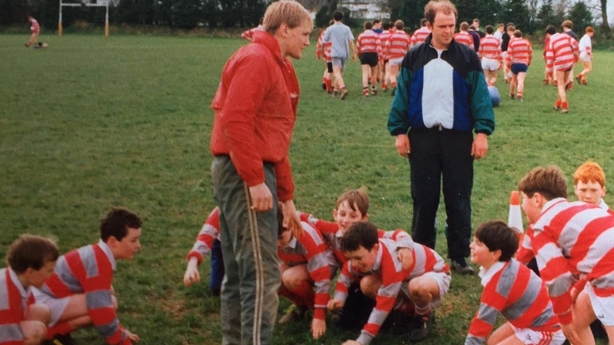 Farrelly was one of the first to meet Schmidt upon his arrival and remembers a "very chatty, affable, comfortable, approachable" young man.
A couple of days after arriving in Mullingar the gang sat down in Jim Gillespie's house to watch a video of Schmidt's Manawatu team playing France on their 1989 tour of New Zealand.
Schmidt scored a try, outpacing Jean-Baptiste Lafond to win a footrace after a kick through. Talk about good impressions.
They soon hit the training ground at Cullion but Schmidt wasn't slow to show concern over the equipment.
He wanted to know if there were enough balls available for training.
"Yeah, we've plenty of balls. Two per team," came the reply.
"He wanted a ball per player," recalls Farrelly of the radical suggestion.
"His minimum was a ball per two people. We're were like, 'what are you talking about? That's codology'.
"He had a completely different approach to coaching than what we were used to.
"After a while teams started to mark out Joe because we were using him so much. It was like England trying to take Johnny Sexton out, we were relying on him a lot. Once they took him out of it we were back to square one."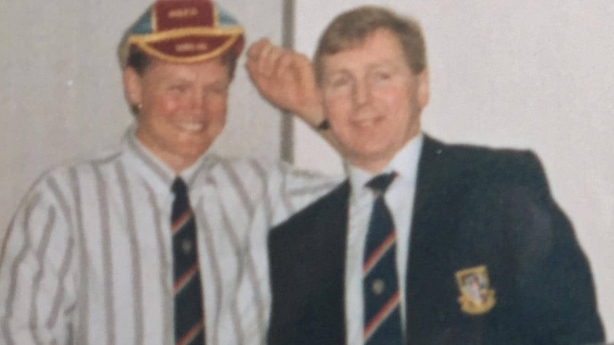 Schmidt spent just over a year with Mullingar before returning home to teach and coach and eventually landing a job with Bay of Plenty.
Moving up through the ranks, Schmidt found himself back in Europe and helped Clermont to Top 14 honours, a success that paved the way for his move to Leinster and eventually Ireland.
Yesterday's win over Wales moved Ireland top of the World Rugby rankings for the first time ever.
"It's a label," said Schmidt. "It's a nice label to get, and it's nice [that it's the] first time that we've been in that position.
"We have been lucky enough to tick a few firsts off with this group over the last six and a half years but that label is not going to be relevant to anyone."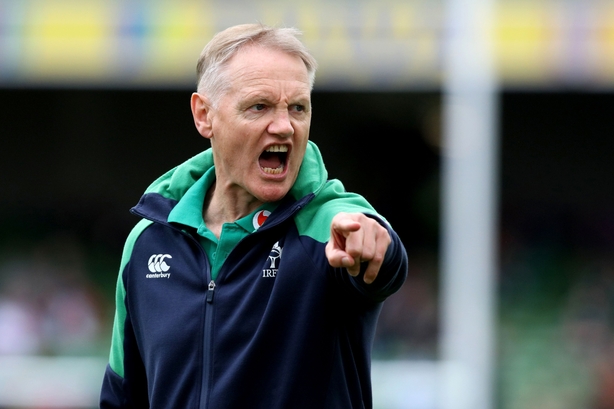 The firsts he refers to, of course, are wins over New Zealand (times two) and away to South Africa.
You can add three Six Nations titles, including a Grand Slam to that. He leaves Ireland with 52 wins from 71 games, and that includes a record 12 Test wins in a row between March 2017 and June 2018.
He has a minimum of four more games to improve that but the 2018 World Rugby Coach of the Year will want to make that seven.
"If things were bad, they'd get better, if things were good, they could be better again," Farrelly says about Schmidt's approach back then. Sound familiar?
The two, along with the Gillespie family, remain good friends and Farrelly can list off numerous examples of Schmidt giving up his personal time to help out with a charity or a good cause, all at the drop of a text message.
From dark days in midland derbies to top of the world, Josef Schmidt has come a long way.
Bring on the next chapter.