Ireland head coach Joe Schmidt said weighing past performance against current form was the trickiest task as he selected the 31-man squad for the World Cup in Japan.
The squad was formally announced this afternoon six days ahead of schedule with the omission of the hugely experienced Devin Toner the biggest surprise.
Elsewhere, Kieran Marmion also misses out as Schmidt has opted to bring just two scrum-halfs to Japan, Conor Murray and Luke McGrath earning their place on the plane.
Schmidt said after the Wales game that whittling down the squad would be extremely tough for him and the coaching staff, seeming to wince at the thought of it.
"We had a process whereby we looked back through every training, looked through the games," he told RTÉ Sport's Michael Corcoran.
"There were some guys who had more experience and probably had more credit in the bank and were more established.
"And there were other guys trying to force their way into the group. Trying to get a balance of current form versus previous performance is always a very, very difficult conundrum to solve."
Foremost in the Ireland coach's mind was the need for cover in certain positions, particularly across the "attritional" back row department and the back three, where several contenders have been vulnerable to injury.
To that end, versatility was a deciding factor in certain decisions, with Schmidt highlighting Tadhg Beirne and Garry Ringrose as players who can play a range of positions.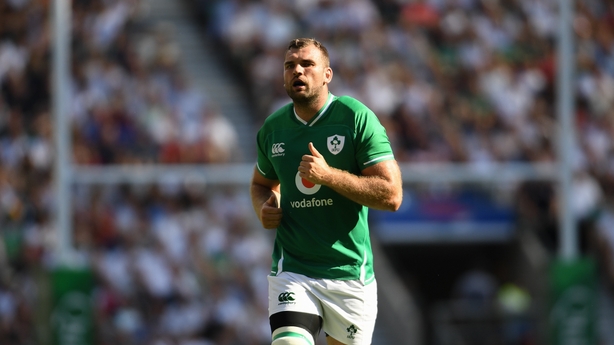 "It was one of those typical selection meetings where 20, maybe even 25, of the players are listed straight away.
"It's those ones where you're trying to get balance, where it's very difficult to choose between two players, or two players offer slightly different things. You're trying then to narrow down and get the best balance across the squad of the entire 31.
"That's part of what you need to do because you've got to make sure you're got cover that's immediate. Even though you can replace players, there's obviously a big time delay on that."
"We've had a few guys who've been vulnerable in the back three, who've picked up injuries or niggles. And the back row is the other place for us where it's most attritional. In those two positions, you've five players for three spots and then you've got to have some pretty good cover."
The selection of four centres illustrates the coach's thinking on the matter, with Schmidt immediately highlighting Ringrose's adaptability across a range of backline positions.
"Garry Ringrose played really well on the wing for us (against Wales). We feel he can cover the back three. He can play full back as well. He's got such a good kicking game. His versatility really allowed us to say we've got three pure centres and Garry, who is a very, very good centre for us, but has that versatility to move around the backline."
The jolt of the heavy loss in Twickenham and the badly malfunctioning lineout on display prompted questions over Rory Best's involvement.
At 37 and heading into his final months in an Irish jersey, Best has a mountain of credit in the bank but the worrying performance against England led many to wonder whether his place was secure.
Not for the first time, Schmidt stressed that Ireland shouldn't be aiming to peak for the warm-up schedule and said he knew the side would be "heavy-legged" at that stage.
Best, the coach insisted, had, despite a trying day at the set-piece, performed well around the park and improved again last Saturday.
"There's always doubt in your mind when you're starting a Rugby World Cup build-up. Because people have to get through that period of hard work. It's testing for everyone, including Rory.
"I felt he worked really hard. It wasn't a great day against England.
"Again, without taking all the responsibility off the players, I knew we were heavy-legged. I knew we weren't going to be at the top of our game.
"When do we most need to play well? It's still in three weeks' time. Nobody wins a World Cup at a pre-World Cup test match.
"We knew it was part of a process. Even then, it was incredibly disappointing. In that game, I still felt that Rory, despite the lineout not functioning overall well, did a good job around the park.
"In the last 20 minutes at the weekend, I felt he led the scrum. He made a dozen tackles in 20 minutes. That's not a guy who's miles away from being at his best."