Ireland coach Joe Schmidt is worried about Felix Jones' insider knowledge with new employers South Africa a potential World Cup quarter-final opponent.
Should Ireland win Pool A they will face the runners-up of Pool B, where back-to-back World Cup champions New Zealand are favourites ahead of the Springboks, who won the Rugby Championship earlier this month.
In 2017, Jones, who was then part of the Munster back-room team and an assistant to current South Africa boss Rassie Erasmus, toured with Ireland as a coach, taking in two summer Tests against Japan.
The Ireland boss could not hide his disappointment when asked about Felix Jones taking up a short-term defence analyst position with the Springboks.
"It's an awkward situation with Felix, I'd a long chat with him yesterday," Schmidt told RTÉ Sport after naming his team to face Wales on Saturday.
"Well, it's awkward because, you don't have to be a rocket scientist, he came with us to Japan the last time, so he was right in amongst us. So you don't have to ask really, do you?
"He was with us, he's seen everything that we deliver and would have a great knowledge of even the language we use in our camp, so it's awkward for us."
The former Ireland full-back, who retired in 2015 aged 28 due to injury, left his coaching role at Munster in May having declined a new offer.
The IRFU told RTÉ Sport "that other coaching opportunities within the Irish system were being explored with him in recent months" without revealing any details.
"There were a couple of opportunities here," continued Schmidt, "but I'd be a massive fan of what Felix has got to offer in the future, and it will be a great learning experience for him.
"I just hope that we don't suffer as a consequence because he's a smart coach, he already knows a lot about us and if we do get to a quarter-final it has to be either New Zealand or South Africa or Italy that we do play against.
"That would mean that he would be directly opposite us on a coaching bench."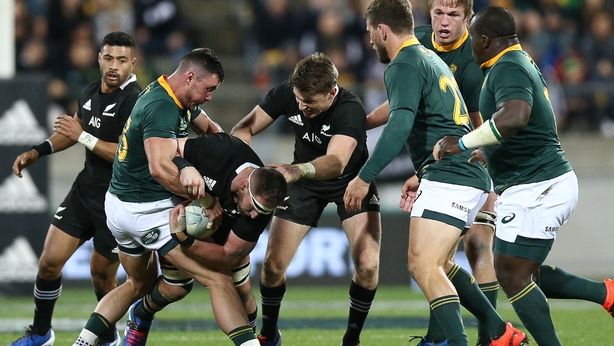 The choice certainly comes under the 'rock and a hard place' category but if things went according to plan then Schmidt could conceivably pick his quarter-final opponent as the All Blacks and the Springboks meet in the pool opener with the winner of that practically guaranteed top spot in a group containing Italy, Canada and Namibia.
Ireland face Scotland, Japan, Russia and Samoa in that order, meaning that by the time of the fourth game, on 12 October, the possibility exists that a win or a loss would decide if the 2018 Six Nations champs finish first or second.
Schmidt dismissed the idea, citing the fact that the Pool A winners earn an extra day's rest, however, that would be less significant given that Ireland could afford to rest a large portion of big-match starters for that game.
"It wouldn't affect our focus on Samoa," said Schmidt.
"One of the advantages is if you win our pool, Pool A, you play on the Sunday, not the Saturday, and we play later. I think South Africa would probably have a ten or maybe an 11-day break between their last pool game and that quarter-final, so either way you want to give yourself as much time.
"Whoever wins that first game will have a degree of control in Pool B, so they will be able to manage their players.
"It happened to us the last time [in 2015]. Ten of Argentina's starters against us didn't play in their last pool match, so they had this fresh influx of players on the upswing. We came off a French game that found really, really physical."
"So all those components come into it and all you can do is try to have as much control over what's immediately in front of you."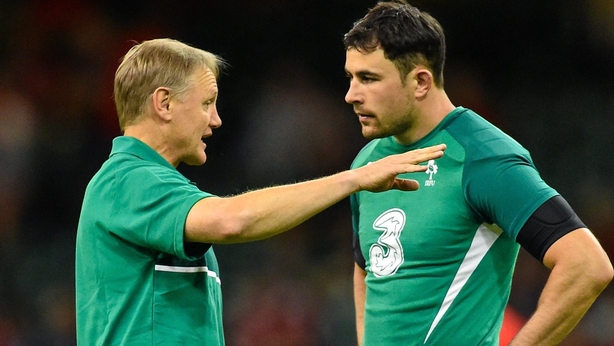 When the New Zealander was asked if he could be change the coaching "language" that Jones would know so well, he said: "Not really, because things happen so fast and sometimes if you have some prior knowledge and you say 'this means that' and 'that means this', sometimes when you've fatigued you're adding clutter, and not giving clarity.
"In the end you need to be clear. So if they become too cluttered, that might be a good thing.
"I can't control what Jonesy does. Those days are gone.
"Once he played full-back for me and I had a little bit of influence but even that, having coached him, he's a champion player, a champion bloke and I think he's going to be a really good coach.
"I just hope he delays that by a couple of months and is pretty average for the next two months. That would be good."
Follow Wales v Ireland via our live blog on RTÉ.ie and the News Now app, or listen to commentary on RTÉ Radio 1's Saturday Sport.