World Rugby is set to trial new rules designed to reduce the instances of injury in the game, according to the group's executive committee.
Six rules are set to be tested in "closed trials" following a meeting of World Rugby's law review group. Should the rules be deemed acceptable, they will then be recommended for trial within the next World Cup cycle.
Included is the introduction of below the waist tackles, and warnings over high tackles which could lead to match suspensions.
World Rugby says that poor tackling technique accounts for 76% of concussions that are suffered in games. Of these, nearly 95% are suffered by the tackler.
Elsewhere, the introduction of a rule which would see teams getting to take line-outs when they kick the ball indirectly into touch will be trialed. This would only relate to kicks taken from within the 22.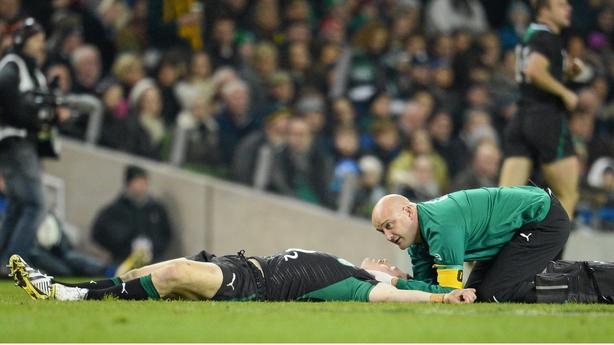 It's designed to encourage teams to move more players around the field, thus opening up the play and increasing scoring chances.
From a refereeing perspective, a review will be allowed in these closed trials which could see yellow cards upgraded to red cards, thus preventing players from escaping fitting punishment.
On top of that, an infringement limit is set to be trialed. This would see a player sent to the bin after his team had given away a certain number of penalties and free-kicks. The last player to concede a penalty or a free-kick would be the player to receive the card, regardless of the offence involved.
Finally, teams who hold up the ball to prevent a team scoring a try will be awarded a drop-out from their own goal-line. This is designed to encourage better defending, and to promote faster play.
"World Rugby is unwavering in its commitment to ensure rugby is as simple and safe to play as possible for all," said the group's chairman Bill Beaumont.
"While injury incidence in the sport is not increasing and concussion incidence is decreasing, we can, and must do more to reduce injuries at all levels. This is an important milestone on that journey."
World Rugby is set to confirm which competitions the rules will be trialed in soon, but they say they've already received interest from Austrialia, France, Georgia, Fiji, South Africa, and Italy, while the Americas Rugby Championship has also declared an interest.
Not all rules that were proposed earlier in the summer are set to be trialed. The idea of reducing the number of substitutions in games has not been included, with World Rugby saying that they wanted to do more research into the area of player welfare before approving the idea for trial.
On top of that, the idea of players having to move away from rucks immediately once they are formed is set for more research. World Rugby is promising to form a "specialist working group" to assess potential changes to the ruck and the breakdown.