Ireland international Jenny Murphy says it was simply a matter of getting the job done against an Italy side that are showing clear signs of improvement.
Joe Schmidt's side overturned a four-point deficit in Rome to eventually seal an unconvincing bonus-point win that keeps alive their faint hopes of retaining the Championship.
With France coming to Dublin and a trip to Cardiff to take on Grand Slam-chasing Wales on St Patrick's weekend, the odds seem stacked against Ireland delivering back-to-back titles.
There's a rest from action next weekend, which means there is even longer for the negativity to fester, but Murphy believes that the Azzurri are no longer the soft touch they once were.
"Not really," she responded on RTÉ Radio 1's Morning Ireland when asked whether she was concerned with the manner of the performance.
"We are lacking the near flawless performances of last year, but keeping that level of consistency is extremely difficult. This is one of the toughest competitions in the world and Italy are no longer the team they were in the last couple of years.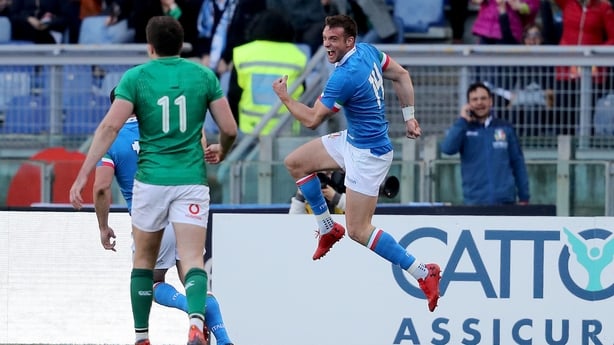 "The last four years we played them, we racked up 56, 54, 63 and 58 points. This doesn't happen anymore. Conor O'Shea is doing a stellar job with Italy. Scotland only beat them by 13, Wales by 11 and ourselves by 10. The gap is narrowing."
Quinn Roux, Jacob Stockdale, Keith Earls and Conor Murray claimed the tries in Rome which moved Ireland to nine points, one behind England and three adrift of Wales.
"An away victory, bonus point win, job done"
Despite the wider picture, Murphy says everyone involved will be focusing on an improvement next time out.
"An away victory, bonus-point win, job done. It probably wasn't the performance that the team or the fans would have been hoping for, but we achieved the target, just maybe not in the way we would have liked.
"A lot of balls that normally go to hand hit the deck and that 1% can make a big difference in a competition at this level."