They came, they saw, they scraped a narrow win.
It was never going to be a Roman holiday but the current Grand Slam champions, who reached such magnificent heights in last season's campaign and produced a near flawless performance against New Zealand just three months ago, look a shadow of that team.
The swagger, the confidence, the belief, all clearly missing. It's not that two away wins on the trot are to be sniffed at.
"It's difficult to win away from home in this competition because it's so competitive" said Peter O'Mahony. "To get five points away from home, I was proud of the lads. We're delighted with the result."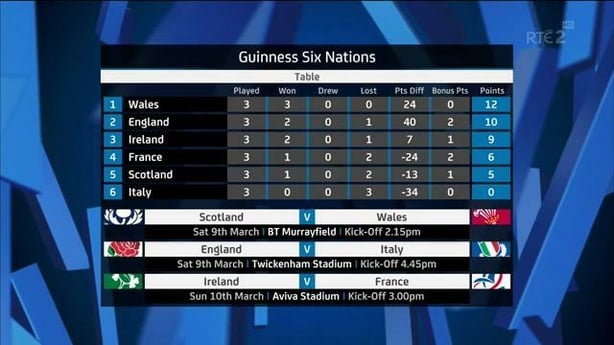 But, as was the case against England and Scotland, it's the manner of the performance that's the problem.
It's often said that the sign of a good team is one that can play badly and still win. That just doesn't seem apt in this case.
Italy might have justified complaints about the referee but had they been a bit more disciplined, they would have won this game.
Since the days of Brian O'Driscoll and Paul O'Connell, Ireland captains have spoken about a new identity. Gone were the plucky underdogs, no apologies needed for winning, and behaving like winners.
But heavy lies the crown.
They look like a team under pressure. The vaunted half-back pairing of Conor Murray and Johnny Sexton are making uncharacteristic errors and the rest of the team are following suit.
"There's a real danger when you start trying too hard, you tend to create pressure on yourself and then you don't play well," said the boss when asked to explain why they look tense, why the flow is not there.
"You play best when your confidence is good, you have a sense of responsibility and that you combine the two to be fluid in what you are delivering.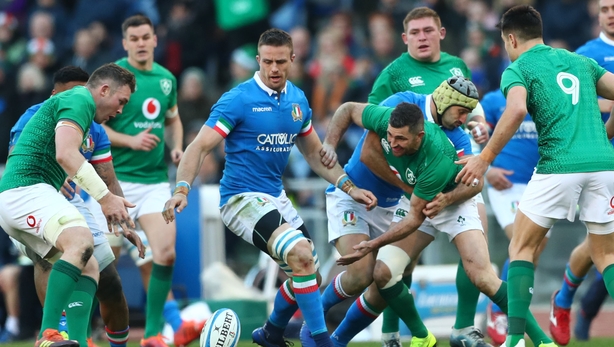 "There was a super pass from Conor to a player who drops it cold.
"When players don't get an early touch that's positive, that accumulates, that frustration. For us we weren't cohesive enough right through that first half, it grew, even in the second half we did enough to win. I'm proud of the players that they stayed calm enough to make sure we got the win."
After getting the brutal "reality check" from England, the result in Murrayfield was a back-on-the-horse showing, a bounce back against a team that hadn't been beaten at home since 2016.
"We felt we wanted to come here and lay down a marker and be really clinical," said Jacob Stockdale.
And this, as Schmidt spoke about beforehand, was to be a canter into a gallop.
So much so that his captain, Rory Best, could be rested, among four changes alongside the injury-enforced absences of Robbie Henshaw and Garry Ringrose.
"For a few players today it was a really big occasion," said the New Zealander, his tone making it sound like a sanitised version of what was said in the dressing room.
Whatever about the odd mistake here and there, the fact that Ireland got turned over 15 times and made a dozen-odd unforced errors meant the standards expected were not met, not by a long shot.
This is a team, remember, that has World Cup ambitions.
Of the five lost lineouts, he said: "They contested really well, it's the first time we've had that combination [hooker Sean Cronin, with locks Quinn Roux and Ultan Dillane].
"The very first lineout of the game doesn't help, if you don't hit the first one...we overthrow it, you are always feeling a sense of pressure. You want to get your confidence."
Ireland have two weeks to find the horse, shoe and saddle it before the French, who "look like they built a bit" when beating Scotland, come to town.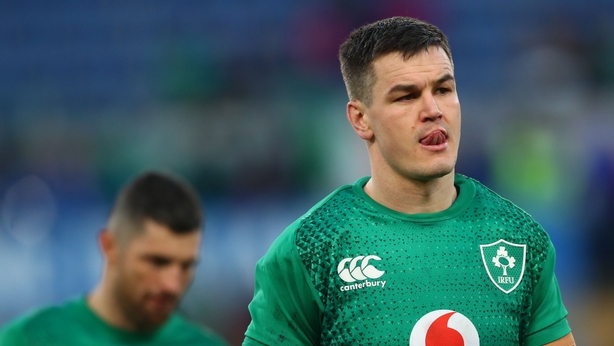 "We know it's there, we know we are not far off but we just need to figure out what we need to do to unlock it a bit," said the stand-in captain when asked how they can improve.
"It certainly isn't a lack of trying, guys are working hard in training to put it right and get our combinations right. Look, another two weeks together, we'll get away for a few hours, Monday back in and we'll put our heads together and get it sorted."
He can't say much else but it's an answer that could have come from the press conference after the Scotland game.
For all that, Ireland are still in with an outside chance in the championship, although England would be out of reach should they take their expected 10-point haul from home games against Italy and Scotland.
Wales, like Ireland last year, have that momentum that all players and coaches insist ad nauseam is so important in the Six Nations.
"We're obviously on the back foot," said Schmidt, struggling to hide the fact that his innate sense of realism tells him their title is gone.
"England have got 10 points. They didn't get a bonus point which opens the door for us and obviously Wales are in the strongest position now.
"They've only got the game away to Scotland now to play away and then us back in Cardiff, that's going to be huge match for us.
"We've got to make sure we, over the next two weeks, keep building, there'll be a few guys who come in and out for the build-up to the France game.
"We've got to put a better performance together, France look like they built a bit yesterday, that's going to be tough for us."
Ireland have stalled. Why? "That's the million dollar question," said Stockdale.
They have two competitive games left before the World Cup and thus two chances to regain the confidence needed in order to reach a semi-final.
Without that, the horse may well have bolted before Ireland set foot on the plane.