Leinster have yet to face the real Ulster, according to head coach Leo Cullen, and will be cooking up a plan over the next two months to take down their provincial rivals in the Heineken Champions Cup.
The reigning champions brushed past Wasps on Sunday afternoon to ensure they'll be on home soil for the last-eight clash. Toulouse's failure to secure a bonus point ensured Leinster qualified as third seeds.
Meanwhile Ulster advanced to the knockout stages for the first time in five years with a one-point win at Leicester yesterday.
Leinster romped to a 40-7 Pro14 victory against Dan McFarland's men at the start of the month but Cullen is paying no heed to that phony war.
"We haven't really played Ulster in terms of their new set-up with Dan there," he said.
"We played them a couple of weeks ago in the RDS but it's a very very different team. They didn't send a particularly strong team down.
"The side we face in the quarter-finals I'm sure will very, very different. We'll have a good look at them, see the different threats they pose. It's a long way away but we'll try and make a plan as well as we possibly can and work form there.
"We will look forward to the quarter-final. It is nice to be at home as well."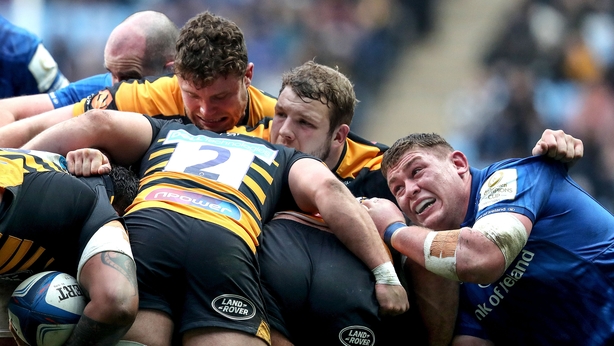 Sean O'Brien - a late addition to the starting 15 in place of Jack Conan - and Robbie Henshaw made welcome returns at the Ricoh Arena. Both have endured miserable luck with injuries but will hope to sharpen up up just in time for a crucial part of the season.
"I think they bring real physical present to the team and great leadership as well," added Cullen.
"Robbie looked very, very strong in contact. Seanie, he's still working his way back. He's been a little bit inconsistent in terms of what he's been able to deliver but it was very positive steps for the two of them today. Hopefully they can kick on now.
"It is a lot of reward for the work that has gone in from a lot of people. We played the game in the right areas today. We managed the game well.
"We were able to build some pressure, and we were able to turn some of that pressure into points. It's a reasonably simple formula. To have that 20-point lead at half-time was very pleasing."
With the Six Nations on the horizon Leinster will lose most of their big guns for the spring. After that, it's back to business as they look to make a go at defending both their European and Pro14 crowns.
"Overall we're pleased where we are," said Cullen.
"We turn our attentions to the next challenge but it's a while away yet in Europe. That's the unique nature of the tournament. A lot of our players will go away now for the Six Nations and hopefully do well.
"When they come back we'll see what sort of shape they're in. It's a very quick turnaround to the quarters then."