It's back to the bread and butter of the Pro14 for Leinster, but Jamison Gibson park is licking his lips at the prospect of a derby treble that could "define" their season.
The scrum-half has been in Ireland for over two years and admits playing over the festive period was a shock to the system at first.
Now, he's loving it, and looking to churn out three wins - against Connacht, Ulster and Munster -  to bounce into the new year in good spirits.
"This is an exciting block for us," the 26-year-old New Zealander told RTÉ Sport's Michael Corcoran.
"These three inter-pro games went a long way to defining our season last year. We brought a lot of momentum with us into the next block in Europe. We'll be looking to do the same again.
"We want to keep building and keep winning. It's an exciting time. It's certainly taken a bit of getting used to because in New Zealand you get Christmas and that off. It's awesome, and it's awesome for the people.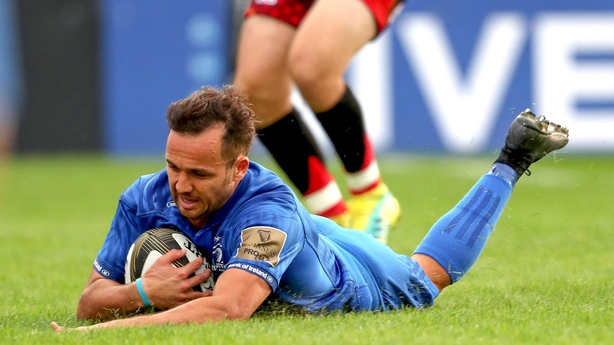 "They enjoy getting out, having a few drinks and going to the footy. We can't relax that much! It's the joys of what we do."
Gibson Park was on the bench for last weekend's six-try dismantling of Bath, replacing Luke McGrath with 19 minutes to go. He accepts the ferocious competition in the ranks means every player has to show patience, and grasp their chance when it comes. But with some monster clashes looming, the motivation to get into the 15 is huge.
"It's the nature of being involved with Leinster - we're not always going to have the same team.
"If you play well there's someone waiting in the wings to come and snaffle your jersey. That's something that drives us all on. It's a competitive environment.
"There's a load of talented guys and there's people waiting in the wings to get their shot in this very prestigious jumper. You have to do it proud or someone else will. 
"Toulouse are still in control of our pool but they have to come to us in January, so we look forward to that."
First up is that RDS meeting with Connacht on Saturday night. Victory would be the perfect Christmas gift.
"They're a pretty solid team under Andy Friend, a new coach - they've improved out of sight," Gibson Park added.
"Obviously Leinster is a scalp they'll want so they're going to come flying into the RDS. We have to be prepared to weather that storm."