Bath have provided a further explanation for the safety fears behind their decision to ban Leinster supporters from bringing flags into the Rec last weekend for the Heineken Champions Cup tie.
Seats at the Recreation Ground were adorned with Bath flags, but the Gallagher Premiership club said Leinster's flags failed safety criteria.
The club issued a further statement today and acknowledged that while the threat of injury was low, they were duty bound to follow new regulations published by the Sports Grounds Safety Authority.
The Guide to Safety at Sports Grounds, also known as The Green Guide, was updated on 1 November and the club insisted it was left with little choice.
"No fire certificate was provided to Bath Rugby at any time with regards to the batch of Leinster supporter flags"
"The decision not to approve the use of the flags was made by Bath Rugby's independent safety officer who has very significant experience across the industry in large scale sporting events including football as well as rugby," the statement read.
"No fire certificate was provided to Bath Rugby at any time with regards to the batch of Leinster supporter flags.
"Due to this, and regardless of weather conditions, Bath Rugby would have been in breach of the Green Guide, and therefore its Safety Certificate by allowing the official distribution of this item within the ground.
"Leinster are not bound by the Green Guide as they sit outside the UK and so the club will not have been aware of its guidance."
Bath say Leinster flags failed the three industry standard tests which all flags are subject to.
Both clubs use the same flag manufacturer, but Bath use a different model of flag and comply with the Green Guide.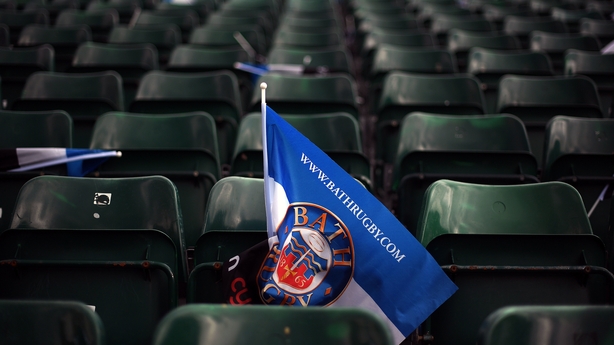 "Whilst we understand that flags present a low risk of injury, we cannot and will not ignore the guidance that we are mandated to as part of our safety certificate," Bath's Operations Director Alex Cohen said.
Bath said they don't envisage any similar issues for their travelling supporters at the Aviva Stadium this weekend as they seek to avenge the 17-10 defeat as they have provided Leinster with a fire certificate for their flags.
Club representatives will be collecting flags after the game on Saturday evening and donating them, as well as any money collected outside the ground, to Temple Street Children's Hospital in Dublin and the Children's University Hospital in Bath.