Former World Cup-winning boss Clive Woodward says he is "almost filled with despair" that Andy Farrell is not part of the England coaching set-up.
It was announced yesterday that the Ireland defence coach would succeed Joe Schmidt as Irish head coach when the New Zealander "finishes" with rugby after the 2019 edition of the Webb Ellis Cup.
"With Andy Farrell taking over from Joe Schmidt after next year's World Cup, you can only conclude Ireland's gain is England's loss," said Woodward, writing in the Daily Mail.
"First, congratulations, yet again, to Ireland for their clever and intelligent handling of their coaching succession.
"As for England missing out on a brilliant home-grown coach, I am almost filled with despair. Farrell has always been an outstanding individual, a great player and a coach of massive potential."
Farrell was a member of the England coaching team of Stuart Lancaster, now at Leinster, but departed when Eddie Jones took over after the host country failed to make the knockout stages in 2015.
"Yes, he was part of the coaching team that failed to deliver at the last World Cup, but where is the joined-up thinking at Twickenham about grooming coaches?" asked Woordward.
"Every national coach or assistant coach, as Farrell was, will at some time be associated with failure.
"Eddie Jones, Graham Henry, Steve Hansen, Warren Gatland, myself and many others have been there and got the T-shirt. But that didn't make us bad coaches.
"In fact, that losing experience can be the making of a coach, and for the last few seasons Ireland have benefited massively from the hard yards Farrell put in with England.
"The feedback from Farrell with England was always positive, so where was the necessity to ditch him after the World Cup?"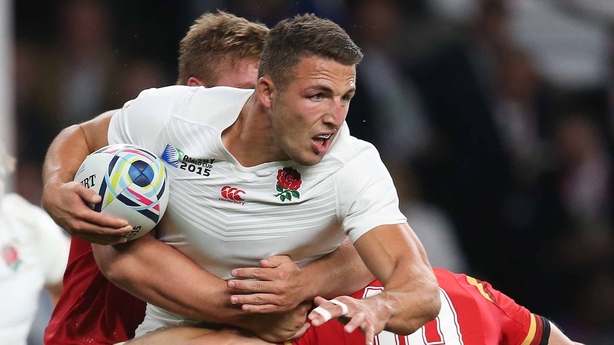 Meanwhile, Sam Burgess has claimed that "individual egos" and "selfish players" contributed to England's demise in the World Cup four years ago.
In a series of tweets on Tuesday, rugby league star Burgess, who won five union caps for England in 2015 - including three at the World Cup - during a stint with Premiership club Bath, has hit out following criticism on social media of his role in that tournament.
Burgess tweeted: "I seem to be getting a few tweets regarding the Rugby WC in 2015....Still. If people actually rewatched the games I participated in you will see I added to the team. What cost us an early exit was individual egos and selfish players not following our leader. Which ....
"Essentially cost the coach and other great men their jobs. Tournaments are not won by the coaching staff or one player. It takes a commitment from the full group. I guarantee you this, I was committed but others had their own agendas. I have fond memories of my time in RU
"And some great friends. One day I will tell my side of the story, but for now I love watching @EnglandRugby and cannot wait to see them as they prepare for the 2019 WC in Japan."
Burgess returned to rugby league following the 2015 World Cup, signing a lucrative deal with South Sydney Rabbitohs.