Michelle Claffey comes from good sporting stock.
She's a niece of Kieran Claffey, the totemic midfielder who helped power Offaly to the 1971 All-Ireland SFC title, and it was Gaelic games that first got under her skin.
Now, Claffey has her first Ireland start under her belt and is heading to Twickenham, the home of English rugby, relishing the chance to shine on the big stage.
"I played a bit of GAA back home in Offaly when I was younger," the 28-year-old said.
"Ailsa [Hughes] played camogie and I played football. I think I won a Division 4 League B [title] in 2002! A winner's a winner. I have the jersey, I don't care.
"My uncle Kieran played midfield for Offaly and won an All-Ireland in 1971. I don't get the height from him!"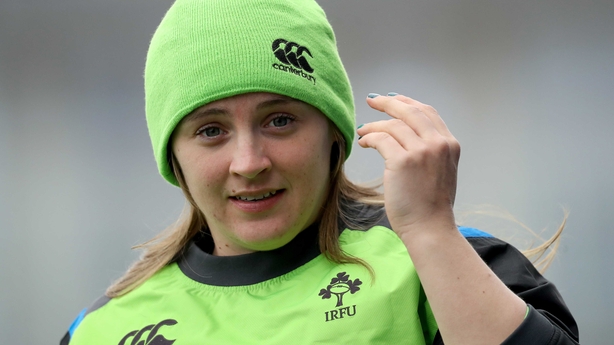 Claffey is playing her club rugby with Blackrock, under the guidance of former Ireland head coach Philip Doyle.
She got her first cap in the Six Nations against Italy off the bench last spring and then started in last weekend's defeat to the USA at Energia Park, partnering Sene Naoupu in midfield.
"It was pretty emotional, a big day," she said. "I was delighted to get my first start, especially at home, in Donnybrook. It was massive. My family was there - my mam, dad, brother, the whole lot. The crowd was amazing. It was packed.
"Myself and Sene have played together for probably about three years between Leinster, Ireland and also we played touch together in the summer. We play well off each other. My voice only came back Wednesday morning! We were chatting the whole time [during the game].
"The chance to wear 12 is incredible. You look at the people who've worn it before. I never thought I'd get an opportunity to start for Ireland, never mind at 12. We've had a lot of influential Irish rugby players involved. To continue to play with Sene, and she's outside me, it's fab."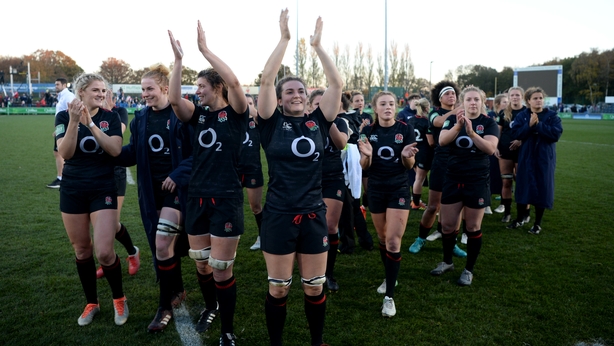 England pose a huge challenge tomorrow (kick-off 5.40pm), but when Ireland face them again in February, to kick off their Six Nations campaign, the Red Roses will be even more formidable.
From January, they will be a fully professional outfit, and although Claffey, who works at accounting firm Ernst & Young, admitted she'd love to have that luxury, she's keen to take the positives from any step forwards in the game.
"I wouldn't call it envy. I'd say it's kudos towards the English Rugby Union to take that step. They have the ability to do it at the minute. I'm sure it'll be somewhere in the future for Ireland.
"I wouldn't call it envy, it's just... fair play to them for doing that kind of move. We just have to focus on ourselves and our own preparation. We have the resources here in Ireland.
"Yes, we all have our jobs, but we do have the resources and the amenities in order to train as hard as we can and be as prepared as we can be then for the first of February.
"I've never played at Twickehnam. To play against England there this weekend is going to be amazing.The atmosphere will be there - hopefully there'll be a big crowd sticking around from the men's game.
"Obviously we have our own supporters going over as well so it's going to be an occasion. My mam and dad are coming over.
"We're as prepared as we can be for this weekend. They'll raise it. We'll rise it also for February, but that's a long way away. I'm just going to look forward to Saturday first."
Follow Ireland v USA this Sunday via our live blog on RTÉ News Now or RTÉ.ie/sport and live updates from Twickenaham on RTÉ Radio 1's Saturday Sport with Gary Moran and Lynne Cantwell