It's one thing knowing your rival's weakness, it's another proposition entirely to execute a gameplan to exploit it.
As Joe Schmidt and his coaching team pored over New Zealand match footage in the build-up to Saturday's Test, they focused on one particular area they felt could lead to some Irish joy.
Chasing a third World Cup on the trot next year, still the dominant force in the Rugby Championship and the standard-bearers of the game, areas to exploit the All Blacks are generally few and far between.
Still, in the post-match euphoria at the Aviva Stadium, Schmidt admitted that Jacob Stockdale's try was borne out of studious preparation.
"One of the things with the All Blacks is they work so hard to get into that chip line, they work across to get to the far side of the defence up, so we felt we could go down that short side," the head coach told reporters.
Practice on the training ground paid off, and speaking to RTÉ Radio Sport's Michael Corcoran, lock Iain Henderson was proud of the way the men in green carried out their tasks.
"Everyone is delighted with the weekend's result obviously," the second-half replacement said.
"You don't get a shot at these guys often. It's been building from a few weeks ago. Beating them in Chicago was brilliant, but we really wanted to beat them in Dublin as well.
"That was something we had been really excited about.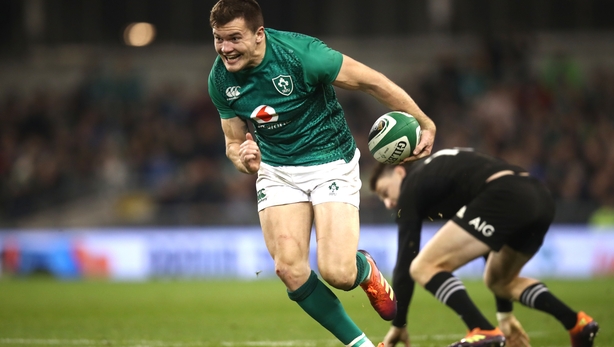 "We saw their strengths and their potential weaknesses. I thought we did really well at exploiting them [weaknesses] at the weekend."
The Ulster lock says there hasn't been a "proper review" of the game yet, but attentions have already turned to the visit of the Americans.
Schmidt has released a number of front-line players from his squad, and the entire team could be changed, but Henderson insists it won't dilute the attitude of the chosen matchday squad.
"You have to be able to hold yourself accountable to high standards week in, week out," he says.
"Everyone who is there knows when they step into that role, whether they are playing Italy in Chicago, New Zealand at home or USA at home, they realise that they have a massive responsibility in doing the best possible job they can do."