Joe Schmidt played down his role in the play that saw Jacob Stockdale claim the only try of the game against New Zealand, but it was borne out of the head coach's mantra of repetition on the training ground.
For just the sixth time this century, the All Blacks were held tryless, while the Ulster winger crossed in the second half with a superb chip and regather, all the more impressive having almost come a cropper minutes earlier with a similar move.
Stockdale was fortunate that Kieran Read could only fumble his block down with Jack Goodhue poised to run in unopposed, though it didn't dent his confidence for the crucial score of the game.
Schmidt downplayed the set move, modestly stating that he has had "many" poor attacking plays down through the years that were quickly consigned to the scrap heap.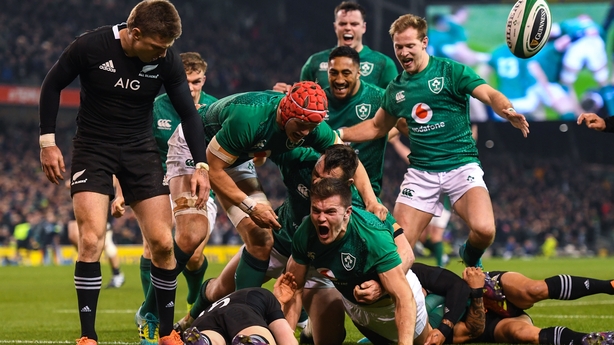 Luke McGrath, a second-half replacement for Kieran Marmion, revealed it was just reward for hard work on the training ground.
"That play Jacob scored off, you do that during the week and you're never quite sure if it is going to pay off in the game. Thankfully it did," he told RTÉ Sport.
"Once Jacob gets those opportunities, he's absolutely ruthless"
"Once Jacob gets an opportunity, he saw Ben Smith come up into the line and he chipped in behind.
"And once he gets those opportunities, he's absolutely ruthless, he's an unbelievable try scorer."
It was Stockdale's 12th try in 14 appearances for Ireland and while team-mates and management paid tribute to his finishing qualities, it was also a nod to the level of detail Schmidt and his backroom team put into their opponents.
"One of the things with the All Blacks is they work so hard to get into that chip line, they work across to get to the far side of the defence up, so we felt we could go down that short side," explained Schmidt post-match.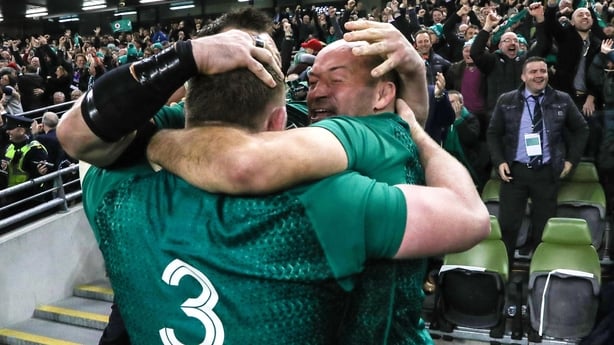 "We prepare really well to make sure that we know we can execute things," said his provincial and international captain Best.
The hooker was in close proximity to the flying winger having held his position from the lineout and subsequently running a support line, but Stockdale was happy to take on the scoring responsibility.
"Jacob's a fantastic player and he got his opportunity. It was a really well-worked move, Bundee put him into a bit of space. I was outside him, probably not in as much space, and he put it over the top."