Conor Murray has urged Joe Schmidt to stay on as Ireland head coach.
Under the New Zealander, who took over in 2013, Ireland have won three Six Nations titles, including a Grand Slam earlier this year.
The team has risen to world number two and won a Test series in Australia.
However, the coach's contract expires after next year's World Cup and some of the language used by the IRFU recently suggests that they are preparing for the eventuality that Schmidt, 53, decides to return to New Zealand, where he was linked to a role with the national team, or take up a new challenge elsewhere.
Murray, who recently signed a new deal for Munster and Ireland that keeps him in the country until 2022, wants Schmidt to stick around.
"He brings an awful lot, he's brought an awful lot to the team as a whole and to me as an individual since I started," said the 29-year-old.
"His attention to detail, his knowledge of the game, how he reads the game, what he can pick out of you in a game.
"I mean, you'd miss an awful lot of it.
"What he brings to that and how he implements it in training and then on game day it tends to come to life and more often than not works.
"Hopefully Joe stays on. He's a massive asset for us and where we're going and a massive reason why we've been successful in the past."
One of the reasons Murray, who isn't due to return from a neck injury until the end of November, wasn't tempted to join the likes of former team-mates Donnacha Ryan and Simon Zebo in sunnier climes was the IRFU's player welfare policy, which sees the union manage workload - in contrast to how clubs in France and England hold sway.
Schmidt and the union have constantly stressed that taking up a job outside of the four provinces does not exclude a player from selection - as happened with Johnny Sexton at Racing 92 - but that home-based players are preferred.
While, in the the case of Zebo for example, Schmidt has plenty of back-three options, Murray would be considered to be in the same bracket as Sexton - that is, a position where an exception could be made.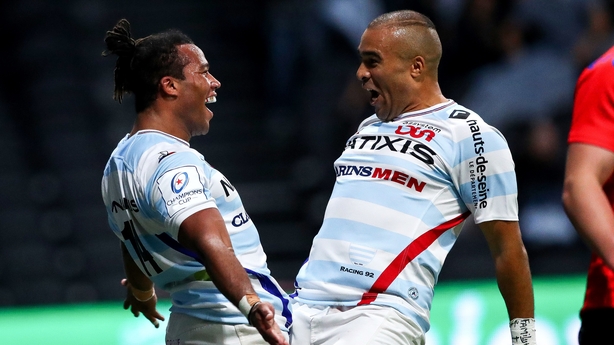 Murray said that he didn't factor in his unique value to the side when making his mind up about a new deal.
"There is no rule in the contract that says if you leave, you can't be selected," he said.
"That would be your own choice, your own risk at the end of the day.
"We're very well looked after here in terms of game management. It's a small country, we're quite tight-knitted.
"Access to the national medical team, physios, everyone talks, it's a really good system we have.
"Zeebs knew that going away; before he left, he knew it would be a risk.
"He's playing really well over there but you wouldn't know if he'll be involved in an Irish jersey in the future.
"He could be, he's not written off from what I gather.
"That's the risk about going, I know they'll see you play but you're out of that system.
"Everyone knows it's a little bit of a risk to go. I know when Johnny was there, he was selected.
"He was sore and he had to go away during the Six Nations and play for Racing.
"He was a bit beat up, a little bit, from his days in France - you'd have to ask him, did he feel like that?
"It certainly did look like it was a tough task to play international rugby for two weeks and then go away and play Top 14 which is a slog as well. It will a tough one."