Johnny Sexton expressed the hope that Leinster could "wrap up" James Lowe for another five or six years following another scintillating display in the 52-3 hammering of Wasps in the RDS. 
Lowe scored two of Leinster's eight tries - the second of which was created by an under-the-legs pass from Sexton - and earned the Man of the Match award as the hosts inflicted a record defeat on Wasps. 
Speaking to RTÉ Sport shortly after the match, Sexton said that the rest of the team had learned from the New Zealand-born winger. 
"I love playing with him. It's a pity we can't play with him every week because of the rule about three foreign guys. But another year and he's Irish-qualified.
"He's different to Isa [Nacewa]. They're different personalities. But by God, they both played good rugby." 
"Hopefully, we can wrap him up for the next five or six years. He's only 25 or 26. He's a pleasure to play with.
"Physically, he's got one of the biggest heads I've ever seen. And now he's probably going to have an even bigger head mentally because the crowd were giving him such a reception. But he deserved it because he was immense.
"He's different to Isa [Nacewa]. They're different personalities. But by God, they both played good rugby.  
"You want foreign guys coming in and adding to it. You don't want them just fitting in and coming for the wrong reasons.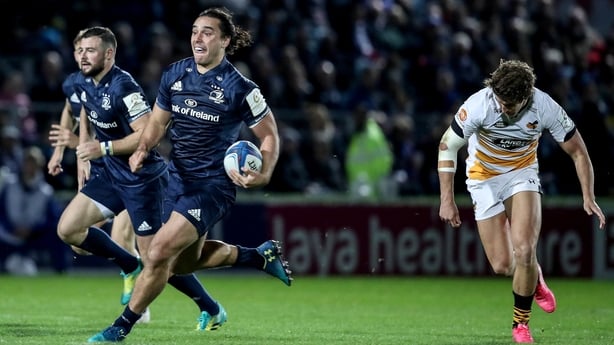 "He's brought things from the Chiefs. He's taught us how they operated. We've adopted bits from what they've done. And that's what we want. We want to learn from them.
"Like, the amount Isa taught me and Felipe [Contepomi] taught me, the amount Rocky Elsom taught Sean O'Brien and Kevin McLaughlin. It's invaluable to sign the right guys and he's definitely one of them."  
It wasn't until the second half that the floodgates blew open and Leinster breezed in for six tries. But Sexton credits their efforts in the first half in tiring out a Wasps side which were stretched thinner than usual due to absence of Nathan Hughes and Joe Launchbury. 
"I thought we started the game well. We brought an energy which ultimately paid off towards the end of the game in that we tired them out.
"We knew that the players they were missing - Launchbury, Hughes and Dan Robson - that, despite them still having such a strong XV, if we could tire them out their bench mightn't have the same impact and that proved to be the case."