Leinster head coach Leo Cullen says his side is preparing to 'achieve something special' after edging out rivals Munster to book their place in the Guinness Pro14 final.
Leinster were one-point winners in the end at the RDS but they influenced proceedings from the outset and were 10-3 in front at the break.
Having already secured Champions Cup honours last weekend, they will now hope to achieve an unprecedented double by adding a Pro14 title to the cabinet when they renew their rivalry with Scarlets next Saturday.
"I think there was always going to be a game where we were going to have to show a lot of character and it's pleasing that we were able to dog out a win," Cullen told RTÉ Sport after the win over Munster.
"It wasn't perfect by any stretch of the imagination but we're delighted to get a win and delighted to have another game to look forward to.
"Scarlets have a slight edge on us this time, one day extra preparation, but for us now it's just about trying to recover well and get over what was an unbelievably physical win.
"We'll try and manage the group as best as we possibly can and make sure guys rest up because it's been an unbelievably intense period of games for us. But we've got to go again and try to achieve something very special."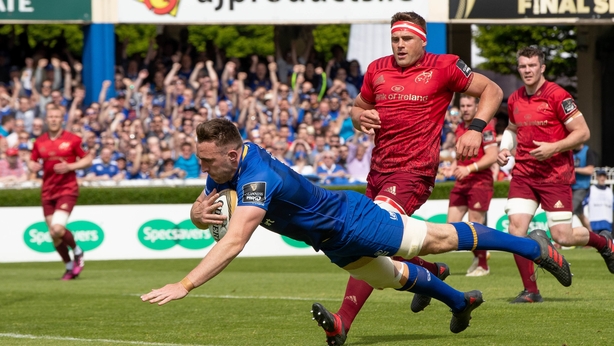 The series of recent games has undoubtedly taken its toll on the Leinster men, and a number of players were rested for today's game, including Johnny Sexton.
Robbie Henshaw was unable to play due to a knee injury, while team captain Isa Nacewa was withdrawn at half-time against Munster with Rory O'Loughlin coming in to replace him.
Cullen said that Nacewa is more likely than Henshaw to be ready for selection next weekend, where he will be hoping to bring the curtain down on his Leinster career with a major win.
"He did well to come through, he was a bit bashed up after last week. He was immense in that first half, he's a remarkable character. I can't speak highly enough about him what he's willing to do for this team. We'll see how he is and give him every chance."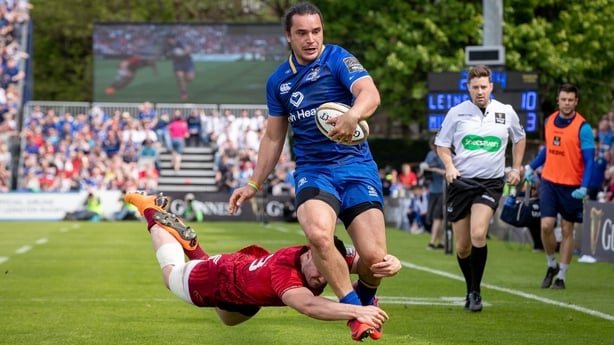 Leinster's James Lowe missed out last weekend but put in a strong display on the wing.
The Kiwi said his side are excited about the prospect of claiming a Pro14 crown next weekend on home soil, but cautioned that the Scarlets will also be keen to avenge their heavy Champions Cup semi-final defeat to Leinster last month.
"They're just as excited as us. They've got a point to prove, the last time they came we got the better of them. They'll look at that game hard, they'll look at our last two games very hard and we'll do the exact same. Hopefully on Saturday we can do what we've done for the last two weeks.
"I've never been anywhere in the world that has so much depth. To have 53 players playing a campaign says a huge [amount] about this province and shows how passionate the boys are. [The] boys don't want to go anywhere else, they want to stay in Leinster. They want to put on a blue jersey so it's huge."
"I'm just happy that the boys won. It's Isa's last game at the RDS. I mean the stars are aligned, he gets his farewell at the Aviva. It was emotional, we knew we had to step-up for him and I'm bloody glad we did."