Irish rugby fans may be dreaming of a Munster-Leinster European decider, but history shows that the odds are very much stacked against such a scenario in Bilbao.
Fans from both provinces have already sorted out accommodation, travel and/or tickets for next month's final. Should either or both sides fail, it will simply become a holiday weekend with far less emotional investment.
If Johann van Graan and Leo Cullen lead their sides past the penultimate stage, it will be turn out to be a financially prudent move for those aforementioned supporters.
Not that anyone is dismissing the challenges that await this weekend.
First up are Leinster, and they need little reminding of the firepower that Scarlets possess. The Welsh side arrived in the capital last year at the same stage of the Pro12 competition and dashed hopes of silverware.
The following day in Bordeaux, Munster will set a new record in the European Cup with their 13th semi-final appearance, where Racing 92 lie in wait. Only twice have they won on their travels at this particular juncture.
What should be a bigger cause of concern is the past history of Munster and Leinster on either side of the semi-final draw. On the three separate occasions it has happened, both sides have been sent packing on the same weekend.
2003
Toulouse 13-12 Munster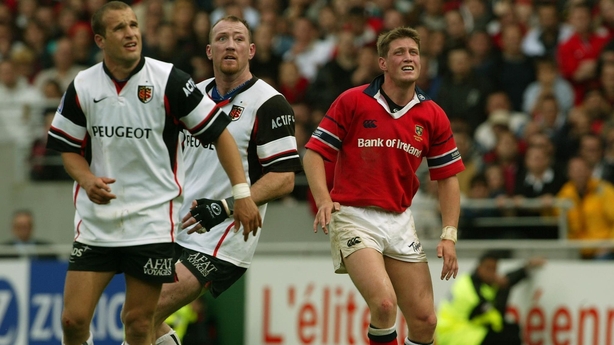 A potential all-Irish final turned out to be a French affair as Toulouse and Perpignan put paid to lofty Irish notions.
Man-of-the-match Freddy Michalak scored Toulouse's only try, while Ronan O'Gara was Munster's only scorer in a titanic tussle in front of a sold-out at Stade Toulousain.
Three years previous, Munster's European journey really cranked up when they lowered Toulouse's colours, and winger Anthony Horgan says it was a factor in the build-up.
"There was probably more of an expectation going there than in 2000," he says. "We thought we had a better chance.
"You look at the Toulouse team at that time, it was absolutely star-studded."
Not that Declan Kidney's team were getting bogged down with how to curb the world-class French side. The primary concern was getting the most out of themselves.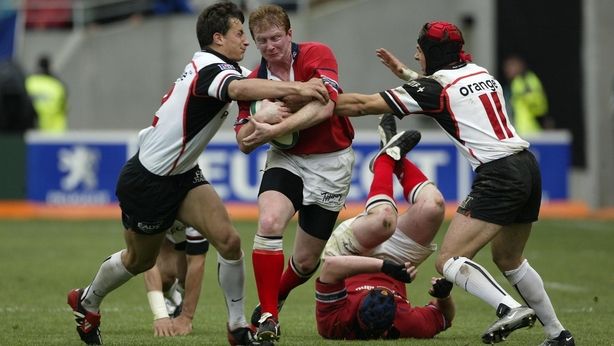 "Match analysis wouldn't have been massive back then. We concentrated on ourselves really and you didn't want to get too caught up on the opposition."
A reported 12,000 supporters made the journey and witnessed a first-half tactical master class, orchestrated by Ronan O'Gara, to ensure a 6-3 interval lead and the raucous Red Army was dreaming of a third final in four years.
"There wasn't much in it at the end, but we were always really chasing our tail"
A second O'Gara drop-goal after the interval pushed the lead to six points, but Toulouse took control and forced Munster into mistakes. O'Gara had two late drop-goal efforts, but it was the French side, under the guidance of man-of-the-match Michalak, who advanced and would go on to claim their second title in Dublin.
"To be perfectly honest, they were better than us on the day," Horgan concedes. "There wasn't much in it at the end, but we were always really chasing our tail.
"Their class showed and by the closing stages we were out on our feet."
Leinster 14-21 Perpignan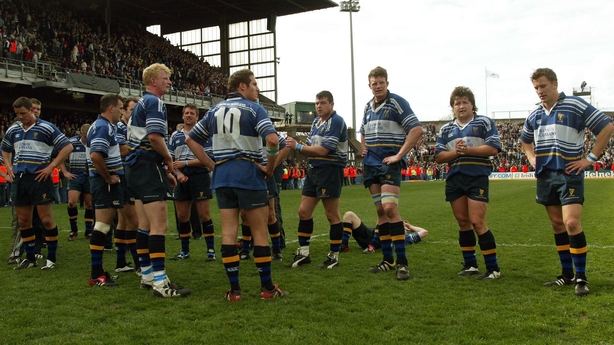 The following day and French opposition again struck a deadly blow.
Leinster were red-hot favourites to see off Perpignan at Lansdowne Road, but a Brian O'Meara penalty was the only score of a cagey first-half. As the tensions grew, the scrum-half failed on four other occasions to stretch the lead from the tee in blustery conditions.
In truth, Matt Williams' charges looked like a side who hadn't played in six weeks. The Top 14 side received two yellow cards before Gordon D'Arcy claimed the first try of the game in the 57th minute, but the underdogs struck back five minutes later as they hit 15 points in as many minutes to stun the majority in attendance.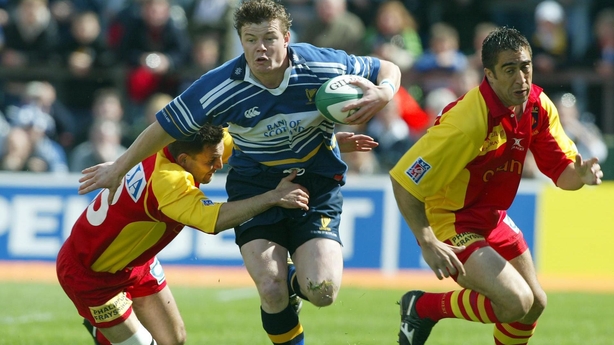 "Our error rate was far too high right through the match," Williams told reporters. "You can't do that at this level."
Writing in the Irish Independent, Tony Ward reflected on a deflating weekend for the provinces.
"Munster's trip to Toulouse was always deemed the tricky bit with Leinster taking a third French scalp against Perpignan representing much the easier route and a guaranteed Irish presence at least on the biggest rugby day in the Heineken Cup calendar in Dublin on May 24th," he wrote.
"Well yesterday, before a near capacity but largely muted Lansdowne crowd, we were made to eat humble pie as the nightmare scenario from an Irish perspective came to pass."
2010
Toulouse 26-16 Leinster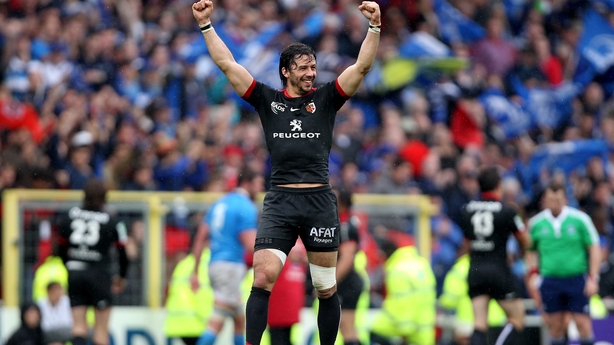 It would be another seven years before Munster and Leinster were again pitched on either side of the semi-finals, but this time both teams were on the road after contrasting quarter-finals.
Reigning champions Leinster, helped in part by Brock James' difficulties in front of the posts, edged past Joe Schmidt's Clermont by the bare minimum, while a Doug Howlett brace powered Munster past Northampton at Thomond Park.
At a wet Stade Municipal in Toulouse, Leinster threatened only briefly to dump out the three-time champions before the French aristocrats came good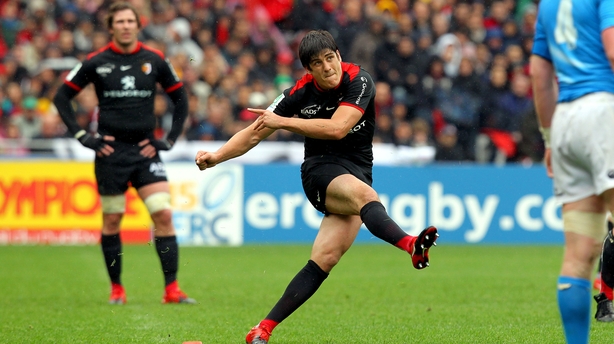 In a tense first half, the hosts led 9-3, with David Skrela (above) and Shaun Berne on the mark, before Yannick Jauzion crashed over for the opening try short of the hour mark. Jamie Heaslip's try breathed life back into the contest, but Skrela added another penalty 10 minutes from time to seal a 26-16 victory.
"We were destroyed up front to be honest," says Bernard Jackman, a replacement on the day. "We were under massive pressure throughout, but Toulouse were still a very strong team then, stacked full of internationals."
One positive aspect, according to the current Dragons coach, coupled with Munster's struggles up front the following day, was that it led to structural changes in the scrum. Roly Meades was scrum coach at the time, but the mentality, Jackman says, was far removed from what it is today.
"After that, there was a massive focus in Ireland in trying to produce quality front-rows. Leinster hired Reggie Corrigan as a scrum development officer and in later years the IRFU hired Greg Feek as national scrum coach."
Biarritz 18-7 Munster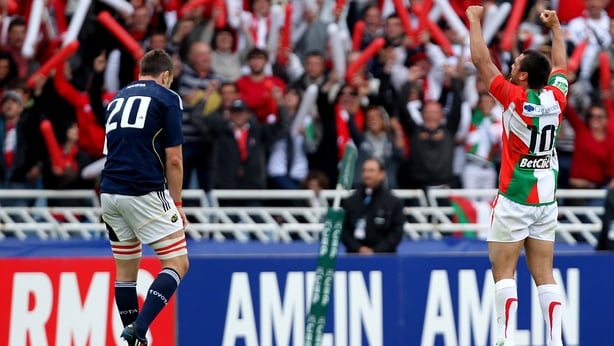 A day later and Biarritz ensured another all-French final as they exacted some degree of revenge for the 2006 Heinken Cup final defeat in seeing off a battling, but second best Munster.
The build-up for Munster wingers Liefemi Mafi and Denis Hurley was less than ideal. Doug Howlett was ruled out before the start of the final training session that week so Mafi stepped in. Ian Dowling was only ruled out afterwards, so Hurley's preparation was even more limited.
"I got a few run throughs in the car park that day, not ideal preparation for a European semi-final. Sometimes things just don't fall into place right."
Dimitri Yachvilli was the Munster scourge on the day nailing all six of his penalties, with Keith Earls claiming the only try of the game; an impressive finish from the winger who was struggling before the game.
"He was getting sick in the changing room before kick-off," Hurley recalls. "He was so adamant on being hydrated before the game, he drank too much water. Then he goes out and scores a try."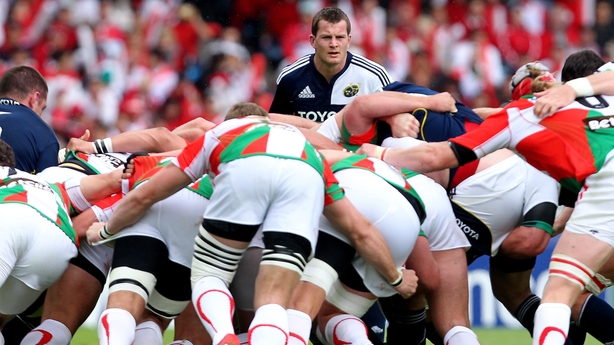 Talismanic captain Imanol Harinordoquy was singled out before the game by Munster, who decided to kick to the number eight and chase him down with two diligent chasers. The plan didn't exactly succeed.
"In the second half he was unbelievable," Hurley recalls. "He was taking everything that was being thrown at him. Even at the kick-offs you'd swear he had played in the middle of the field for Kerry for years the way he was catching the ball. The fans fed off him and they all grew in stature.
"Chasing the game away from home in a semi-final, you are always up against it."
2017
Munster 10-26 Saracens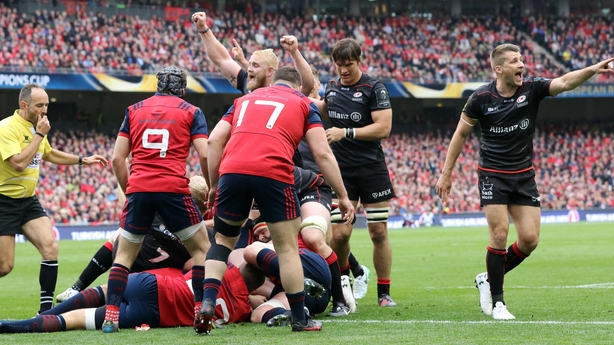 Munster's emotional rollercoaster of a season was continuing on an upward trajectory by time reigning champions Saracens came to Dublin.
Mark McCall's side were clinical in their application however, and stifled the two-time European champions, who couldn't find that bit of invention to create holes in a watertight defence.
"I think it was gutsy and tactically really smart for about 45 minutes but then we lost the plot a little bit. Overall we weren't clinical," Rassie Erasmus reflected.
Out-muscled from the first-whistle, the dream scenario of a European final in the same season that saw the passing of Anthony Foley, such an influential figure in the competition as a player, was ended in a ruthless manner.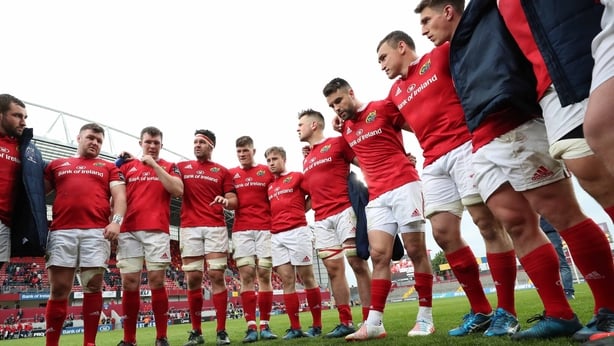 Erasmus however, despite the fact he was being wooed back to his homeland by the Springboks, was positive in his outlook for what the team could achieve.
"We know we'll grow into a great team and we know we'll grow into a competitive team at this level, at European level. It will take time but we'll get there."
Clermont 27-22 Leinster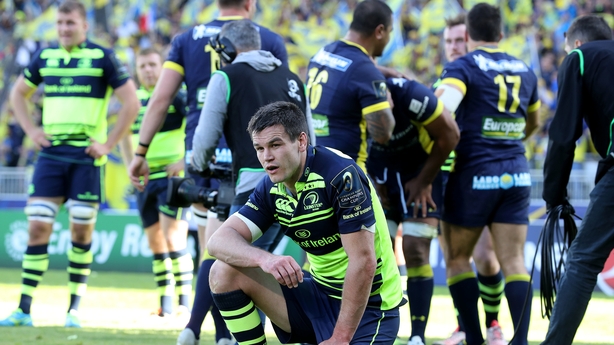 Twenty-four hours later and Leinster also made their way through the exit door after a powerful first-half display from Clermont laid the foundation for victory.
Trailing 15-3 at the interval, Johnny Sexton booted a resurgent Leinster to within three points. Dan Leavy thought he had nudged the visitors ahead for the first time with a fine try, but touch judge Ian Davies alerted the TMO to holding at the ruck.
"We certainly didn't handle the first 15 minutes as we would have liked and planned going into the game," was Cullen's honest assessment afterwards.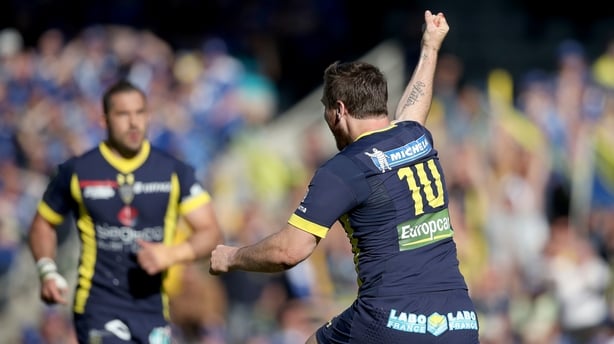 Garry Ringrose's try would close the gap again, but two drop goals from man-of-the-match Camile Lopez (above) steered the French side into a third consecutive Champions Cup Final.
Cullen too took positives from a disappointing day in the south of France.
"There is a lot more to come from them. It's a very young group that we have, who will have gained experience.
"The most pleasing part is the character that they are able to show, so we just need to keep bringing that level of character, while at the same time keep working on little parts of our game that will leave us in a better position when we are playing these big games."
2018?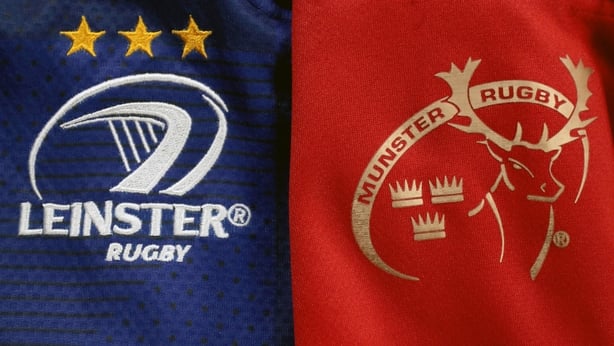 So what are the chances of both Munster and Leinster advancing? According to the bookmakers, the final in Bilbao will feature Leo Cullen's side and Racing 92.
Munster's challenge can't be underestimated. They have won just two of their seven semi-finals on foreign shores, while 28 of the 44 European Cup semi-finals to date have been won by the team with home country advantage - a 64% success rate.
Anthony Horgan however expects Munster to make light of Racing's short price.
"Munster will go to Bordeaux confident," he said. "I think the game will be won up front.
"Munster have a massive chance. I think they will win, I really do."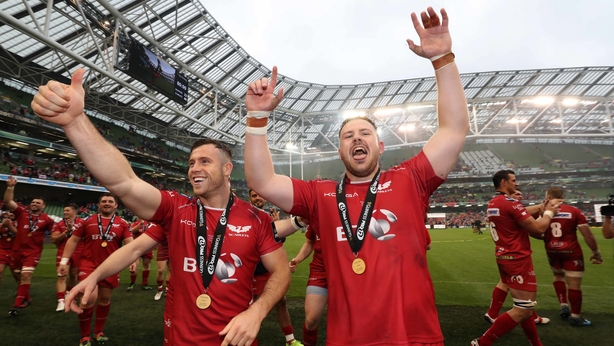 Jackman has seen plenty of Scarlets at close quarters in Wales and says their game plan is focused on opposition mistakes and that they have the ability to score from long range. The loss of centre Jonathan Davies, however, is a significant blow and the squad's strength could come under pressure in Dublin.
"Leinster will be confident that if they play to their best, they will win."
He acknowledges Munster face a bigger ask on the road against a side more than capable of winning the competition outright.
"I'd never write them off in Europe. If any Irish side are capable of pulling off a big result away from home away in France it's them."
Follow Leinster v Scarlets via our live blog on RTÉ.ie and the News Now App (kick-off 3.30pm), or hear live updates on RTÉ Radio 1's Saturday Sport. Follow Racing 92 v Munster (kick-off 3.15pm) via our live blog or listen to live and exclusive radio commentary on RTÉ Radio 1's Sunday Sport.