Some billed it as England v Ireland Part II, some said that the number of those involved in Leinster v Saracens and the Grand Slam match wouldn't dictate how the game played out.
But two men who started both matches never missed a beat or a tackle (well, one between them), and made the switch from green to blue look seamless.
During the 30-19 win that sets up a home semi-final against Scarlets, Dan Leavy made 82 metres from 16 runs, James Ryan 28 from 18, all of them hard.
"I thought Dan was outstanding," said Leinster boss Leo Cullen.
"He was very strong in the carry, he was in the thick of everything."
The crucial try, Leavy's touchdown in the 47th minute, came off the back of an interchange between the two young stars.
Cullen hailed the duo for their quick thinking.
"[Dan] is very good in and around the rucks, he's clever at spotting some of the windows that are there.
"We'd seen from Saracens, they'd presented that picture a number of times this season. I thought the lads went after that space well.
"It came off the back of a series of very strong carries and that's the thing.
"Saracens have a very strong wall of defenders, you have to try and break that wall somehow. The build up allows us to be in a dominant position.
"Suddenly the space opens up and between Dan and James, they are good enough to exploit that gap."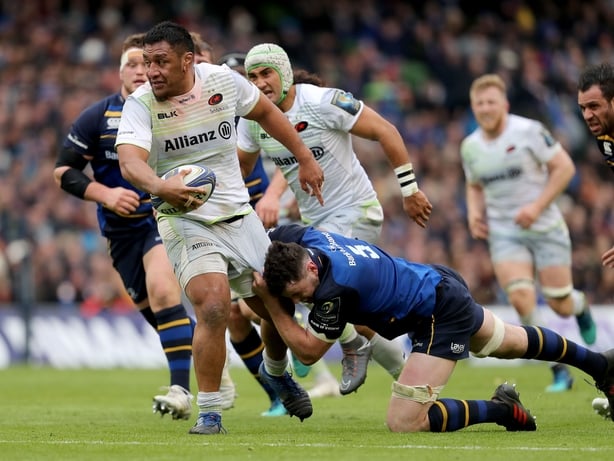 Ryan, 21, whose unbeaten run as a senior rugby player continues, was also singled out for his contribution, which included 15 tackles. His star will continue to rise, says Cullen.
"James has been great since he came in," Cullen said.
"He's been one that has been earmarked for quite a while, such a big physical specimen but he's got a great mindset in terms of looking to improve, very competitive on the field.
"I thought he put in a very positive performance. He's young, hopefully he will get better."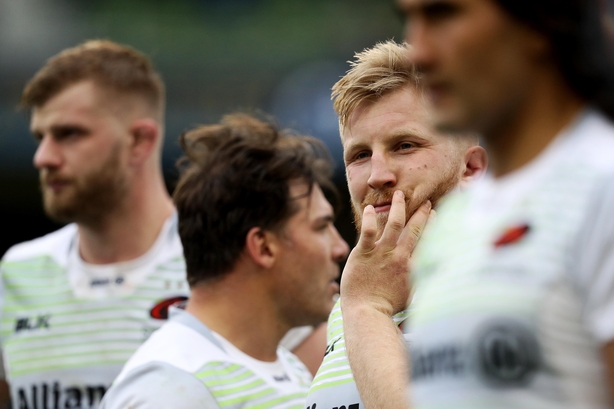 Saracens boss Mark McCall conceded that his team were beaten by a better side on the day.
"In the first half I felt it was an even game," said the former Ireland centre. "I thought we responded well to the bad start that we had, the first try.
"We started the second half poorly. It was the kind of game that was tough to chase down and giving a team like Leinster a 10/11 point lead [is hard].
"We were a little bit disappointed that their tries weren't as as result of relentless pressure, under the pump, I felt they were tries we could have avoided.
"In fairness to Leinster, they defended superbly all day...they're outstanding and they were the best team in the pool stages.
"When we analysed them there was not many weaknesses, they were good today, they had to defend for a long time and they did it pretty well.
"They are a team that can really hurt you in attack as well so a very good all-round team.
"Today we were beaten by a better side on the day."
We need your consent to load this Facebook contentWe use Facebook to manage extra content that can set cookies on your device and collect data about your activity. Please review their details and accept them to load the content.Manage Preferences