Johnny Sexton says that Stuart Lancaster was someone Leinster 'needed' in their camp when the prospect of his arrival first emerged in 2016.
He did some research about the former England head coach and after speaking to some trusted sources, he determined that his side could prosper with his services.
He decided to send Lancaster a friendly text message, offering to help get the move over the line and without realising it, he had already fulfilled that promise.
Lancaster recently revealed to Vincent Hogan of the Irish Independent how that simple gesture gave him the reassurance to link up with Leinster.
"It was only a two-line text message," he said. "But it meant a lot. We'd never met, but to have someone I obviously respected so much as a player and a person do that was definitely a big factor in me coming."
This was an approach that Sexton had used before. He was one of the players at Leinster who created a welcoming atmosphere for former head coach Joe Schmidt at the beginning of his tenure.
And when the opportunity to secure Lancaster's services presented itself, Sexton wanted to reach out to him.
"It was probably from being involved when Joe first came into Leinster, " he told RTÉ Sport. "A few of the senior players met him.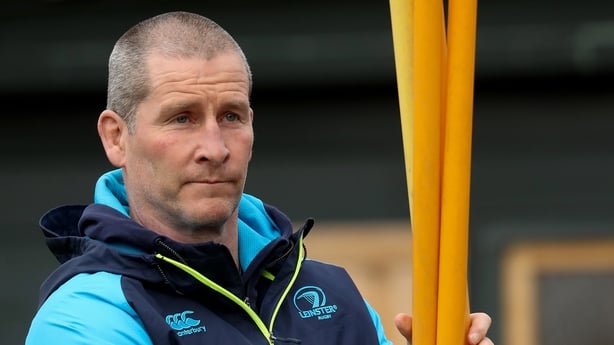 "I remember Joe saying at the time that was a big contributory factor to him taking the job. He knew a lot about Leinster from looking on. But, he didn't know the individuals that were required. By meeting him, it made him feel more comfortable.
"It was the same with Stuart. Leo had been talking to him and I had spoken to a few of the English boys, spoke to the Farrells about him really.
"They spoke very highly of him and it was something we needed at the time, someone to come in and help and he has been brilliant since he has come in."
Sexton has rejoined the Leinster camp this week ahead of their Champions Cup quarter-final against Saracens. Having already achieved Grand Slam success with Ireland, the out-half is eager to hunt for more silverware with the province against the defending champions.
Saracens' form has been mixed this season and they have the added burden of travelling to face Leo Cullen's side in the Aviva Stadium in front of an estimated crowd of 50,000.
Out-half Owen Farrell suffered a thigh injury in England's defeat to Ireland in their Six Nations clash and is a doubt for the game, but Saracens boss Mark McCall is hopeful that he will be fit for selection.
Leinster don't need to have the Englishman on the pitch in order to get motivated for the challenge, according to Sexton, and should they prevail without him in the opposition half, his absence won't devalue the win.
The status of the visiting side is enough to sharpen the focus of this Leinster team.
"If you want to win the European Cup again," says Sexton, "you are going to have to beat Saracens at some stage so there is no better time than to get them at home in the quarter-final.
"It is going to be a huge challenge, I don't think they will have any fear based on what they did last year, so, yeah, it is a going to be a big challenge and it is one that we are for and we can put our best foot forward.
"There will be big midweek prep and see get the result that we need.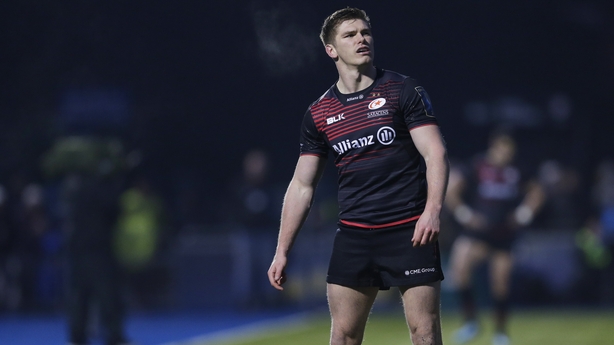 "They are back-to-back champions and we are sorta striving to get back to where we were and become that champion team ourselves. We came close last year. We weren't quite good enough. We are hoping to take that experience and put it into our lessons for this week."
He added: "They've still got themselves into second in The Premiership. They've still got themselves into a quarter-final in Europe. They know if they beat us, they get a home semi-final as well.
"I don't think they're too fussed about the position they're in. They've got guys that will come back now that will make them stronger. They are firmly in both competitions and that is where you want to be at this time of the year."
Elsewhere, Lancaster provided an injury update of some of the players who are fighting to be fit for that clash against Saracens.
Seán O'Brien has returned to training after sustaining a shoulder injury against Scarlets earlier this month, and a hopeful Lancaster says they will know more about his fitness by Wednesday.
"Seanie has done really well to get himself back into this position, because at the time we thought it was a bit more serious, bit more longer term than it hopefully will be," he said.
Jack Conan will also train this week after picking up a knee issue in their defeat to Ospreys at the weekend, and was forced to sit out training on Monday.
Rhys Ruddock has returned to training after a hamstring problem, and Lancaster says the club is pleased with his progress so far.
"He's passed all the markers – not just passed them, but he's flown past them," said Lancaster.
"He's done one of the best fitness tests that we've ever had from a forward, he is faster on the GPS than he has been before… he has done brilliantly to get back, and credit to not just him, but the S&C and medical staff for turning it around. It's a real bonus to have him back training today."